Netflix subscribers using iOS phones can now find new movies and series that interest them using a feature that the video streaming platform is testing called "Collections." The most exciting part about this new feature is that the tab, which includes different movies and T.V. shows organized in different categories are curated by real human beings and not by an A.I. algorithm.
The new feature is currently being tested in iOS only, but if proven successful, an Android roll-out may be expected in the near future. Netflix is already curating movies, and T.V. shows suggestions to their users using an intricate algorithm that suggests exciting content to users lumped into different themes. However, Netflix says that this new feature is entirely different as it does not only consider the theme of the show in curating a category in the "Collections" tab.
Netflix said that with the new feature, the titles are curated by their in-house experts in their creative team that segregates and categorizes shows and movies according to different factors like genre, tone, storyline and character traits.
Netflix's old content suggestion algorithm has been very dependent on themes in making targeted suggestions to the users. Netflix uses topics like genre and curate articles in categories like "Action," "Drama," "Documentary," among others. The algorithm also tracks the users' recent activities in the platform and suggests shows according to the previous shows that the user has been watching. With the new additional curated content section, users will be able to see collections that are intricately built by Netflix's team based on a specific mood or plot type.
If a user has been opted-in the feature, as it is a test, so not everyone was opted-in by Netflix, the "Collections" section can be seen in the at the top right of the 'app's homepage — where My List would have been otherwise.
Jeff Higgins, a social media director and who first spotted the new feature, posted a Tweet saying that the "Collections" is "your new way of finding what you want to watch, fast."
When a user clicks on the "Collections" tab, they will be taken into a news section that lists different categories and human-curated collections that users can choose from.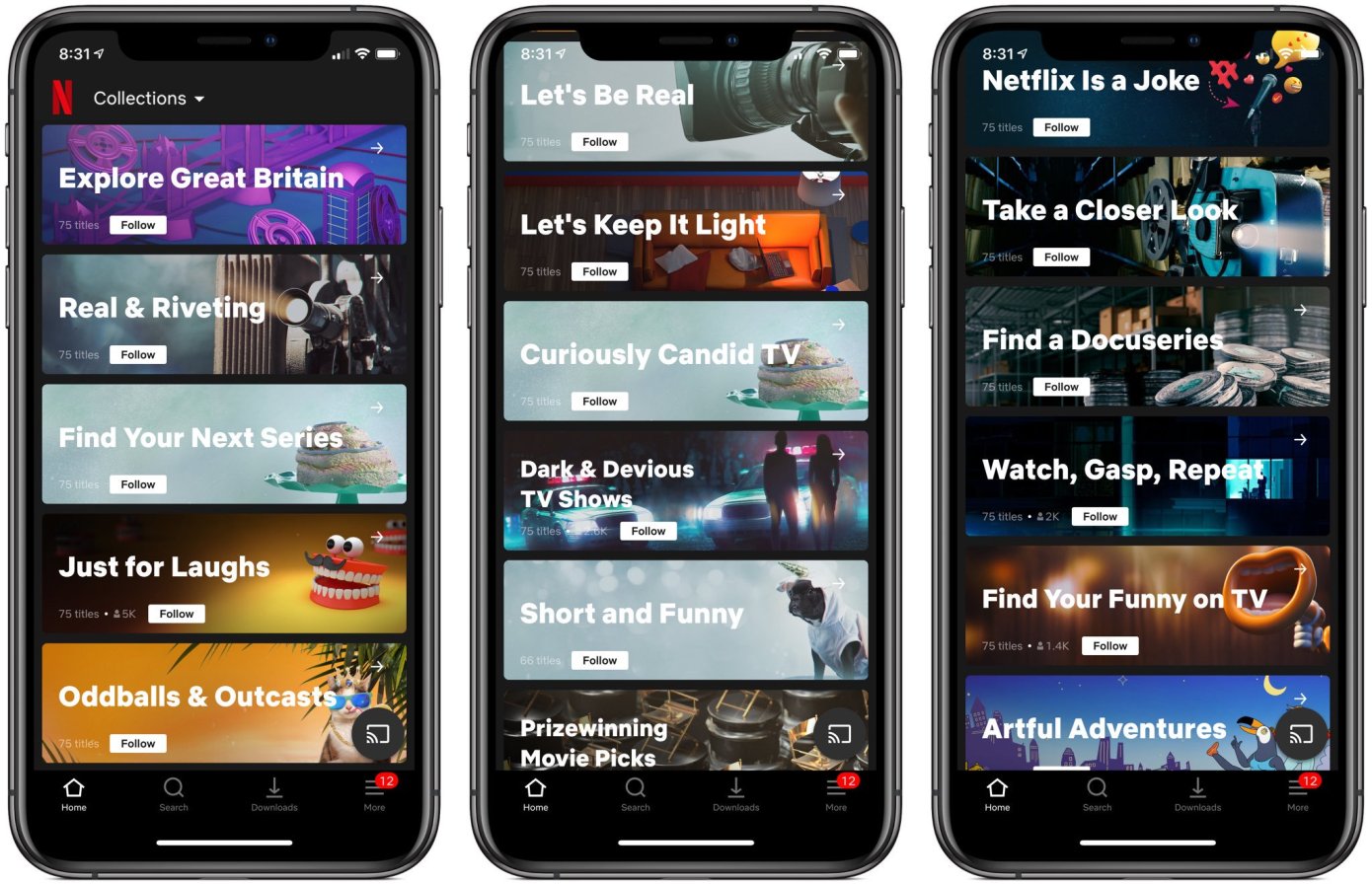 Interestingly, the new curated contents are also organized in fresh categories and editorial titles as well. Users can choose to follow "Let's Keep It Light," "Dark & Devious TV Shows," "Prizewinning Movie Picks," "Watch, Gasp, Repeat," "Women Who Rule the Screen," and many others. Users also have the option to follow and subscribe to one title, and they will be notified once a new show is added to the list.
When asked about the new feature, Netflix said in an interview that the new feature is part of their efforts to bridge their users to the shows that they think they will like.
"We're always looking for new ways to connect our fans with titles we think they'll love, so we're testing out a new way to curate Netflix titles into collections on the Netflix iOS app. Our tests generally vary in how long they run for and in which countries they run in, and they may or may not become permanent features on our service," Netflix said in an interview.
The rolling out of the new feature is part of Netflix's moves in order to retain their subscribers to the platform amid growing competition in the market. Rivals like isney+ and Apple TV+, among others that have been creeping their way up to earn a huge chunk of Netflix's market share.
In the second quarter of 2019, Netflix had over 151 million paying streaming subscribers worldwide as well as over 6.56 million free trial customers. Of these subscribers, 60.1 million were from the United States, according to the data from Statista.
While the popularity of Netflix's streaming service has been increasing, the company saw its DVD section decline. In 2018, there were 2.73 million subscribers to Netflix's DVD rental service in the United States, a drop from 11.17 million in 2011.
However, as competition becomes more complex, Netflix has been launching different new features in order to persuade subscribers to stay on the platform. Recently, the video streaming platform also launched a feature allowing users to track new and soon-to-launch releases, as a means of keeping subscribers anticipating what comes next.