The hackers who infiltrated the Metropolitan Police Department's website and social media accounts got no chill as they tweeted "F*CK THE POLICE. FREE THE GANG" on Friday using the police department's MyNewsDesk platform.
UK's Met Police was shocked after seeing cryptic messages and weird tweets coming from their social media accounts and websites last Friday after an unidentified hacker has infiltrated the police station's third party news publishing platform and expressed his anti-police sentiments.
The unauthorized messages posted in Met's official Twitter account and website relates to the rapper and online celebrity Keemstar, who runs a YouTube channel called DramaAlert. The hacker appears to call for the release of both personalities and published his protest to 1.22 million followers of the Met Police Department's twitter account.
"FREE DIGGA D ON FOENEM GANG," another unauthorized tweet said.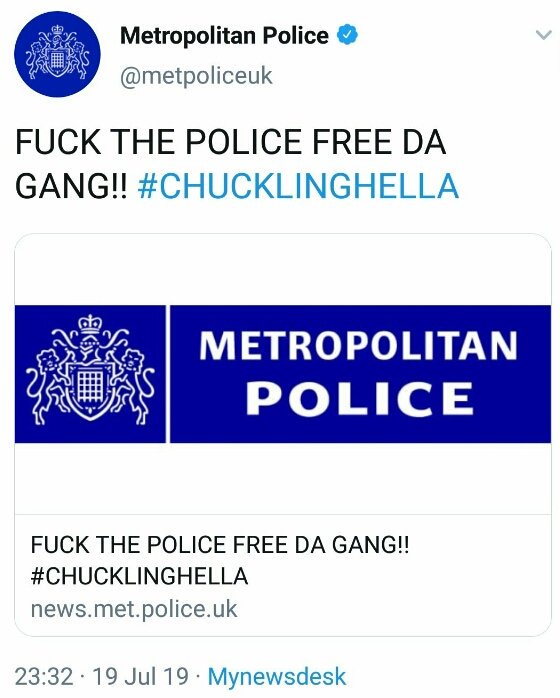 The messages were posted on 22:30UTC on July 19, 2019, and the Met Police has confirmed the breach through an official statement on its newsroom website.
"Last night, Friday 19 July, unauthorized messages appeared on the news section of our website as well as on the @metpoliceuk Twitter feed and in emails sent to subscribers," Met Police announced.
According to them, they are using an online publishing website called MyNewsDesk to issue news releases and other content. When a story is published via MyNewsDesk, it appears on the Met's website and Twitter accounts and generates an email to those who've subscribed to receive our news updates.
The hacker was able to brute force into gaining access to the platform, making it possible for him to publish the malicious tweet both in the law enforcement's website and Twitter account.
Since the breach, Met Police said that they are coordinating with MyNewsDesk to prevent similar breaches from happening in the future. "While we are still working to establish exactly what happened, we have begun making changes to our access arrangements to MyNewsDesk," they said.
Furthermore, they confirmed that the infiltration is only isolated to their MyNewsDesk account and that there is no "hack" that affected their internal IT infrastructures.
In response to the breach, Roy Smith, superintendent at the Met Police Department said in a Twitter post earlier that "We are aware that the @metpoliceuk has been subject to unauthorized access and our media team are working hard to delete the messages and ensure the security of the account. Please ignore any Tweets until we verify that it is back under official control."
Twitterverse reacts
Nonetheless, the police department was able to take over their accounts from the hacker quickly but not as fast as Twitter citizens in taking screen grabs of the unauthorized messages.
"What I am saying is, @metpoliceuk issued an official press release saying "FUCK THE POLICE" and until an official press release revising that I think we have to consider any other statements suspect," one Twitter user captioned a screenshot of the FREE DIGGA D tweet.
Another Twitter user said that it was "not good" to know that the Met Police has been hacked. "@metpoliceuk
twitter appears to have been hacked judging by what I've just seen on my twitter feed… 🤔 Not good!," @RossEwing97 penned.
"Oh, and another one. Tweets appear to be gone from
@metpoliceuk feed now – interesting to see whether they will publically comment soon. Somewhat concerning given the amount of personal info, the police will inevitably hold," he added.
One Twitter user sarcastically asked if the Met Police Department's Twitter account was "compromised by some drunk Scottish hackers?" Another one called the hackers as "a bunch of kids on the razzle."
Hacking a government agency and law enforcement is relatively not uncommon. Sometimes, taking over authorities' social media accounts have become one of the tactics used by hackers and extremists to send their message across.
A few months ago, ransomware attacks plagued different US cities in the course of a few months. One attack has effectively shut down a city's entirely online and digital operation, making it hard for the government to issue social services. Another ransomware attack in the US has caused a town to spend billions of dollars on rebuilding its digital infrastructure following the aftermath of the attack.
Incidents like this highlight the vulnerability of government agencies and law enforcement to malicious threat actors that leverage technology to infiltrate government systems. It stresses the need for them to improve their data security protocols and safeguard their IT infrastructure.
In the end, Met Police said that they are "assessing to establish what criminal offenses have been committed" after the incident.