In the age where the majority of human life is centered around the internet, passwords are one of the most important things to secure, especially that data breaches and system infiltrations seem to become a commonplace. In order to protect user passwords, Firefox is launching a feature that would alert the user who saves their passwords in the browser whenever those passwords have been compromised in a breach.
Last year, teach giant, Mozilla Firefox have collaborated with Hunt to develop a built-in password monitoring feature that would alert users if their passwords were part of a publicly disclosed breach. Furthermore, the Monitor tool from Firefox would send users notifications to users whenever the saved data in their system has the potential to be compromised aside from running a scan retroactively.
"It can be hard to keep track of when your information has been stolen, so we're going to help by launching Firefox Monitor, a free service that notifies people when they've been part of a data breach. After testing this summer, the results and positive attention gave us the confidence we needed to know this was a feature we wanted to give to all of our users," reads a blog post from Mozilla.
Now, Mozilla Firefox is said to be in the works to integrate the feature to Lockwise password manager, a system that protects and encrypts users passwords. They are working on launching the new feature along with the new version of the browser, the Firefox 70.
The feature works with cross-referencing data with the popular data breach database, Have I Been Pwned. The integration will scan and detect all saved login credentials in both Locwise password manager as well as Mozilla Firefox browser and cross-referencing those entries to a massive database of data leaks reported by Have I Been Pwned, while simultaneously and continuously alerting users if a match has been made.
"Visit monitor.firefox.com and type in your email address. Through our partnership with Troy Hunt's "Have I Been Pwned," your email address will be scanned against a database that serves as a library of data breaches. We'll let you know if your email address and/or personal info was involved in a publicly known past data breach. Once you know where your email address was compromised you should change your password and any other place where you've used that password," explains Mozilla on how the Monitor works.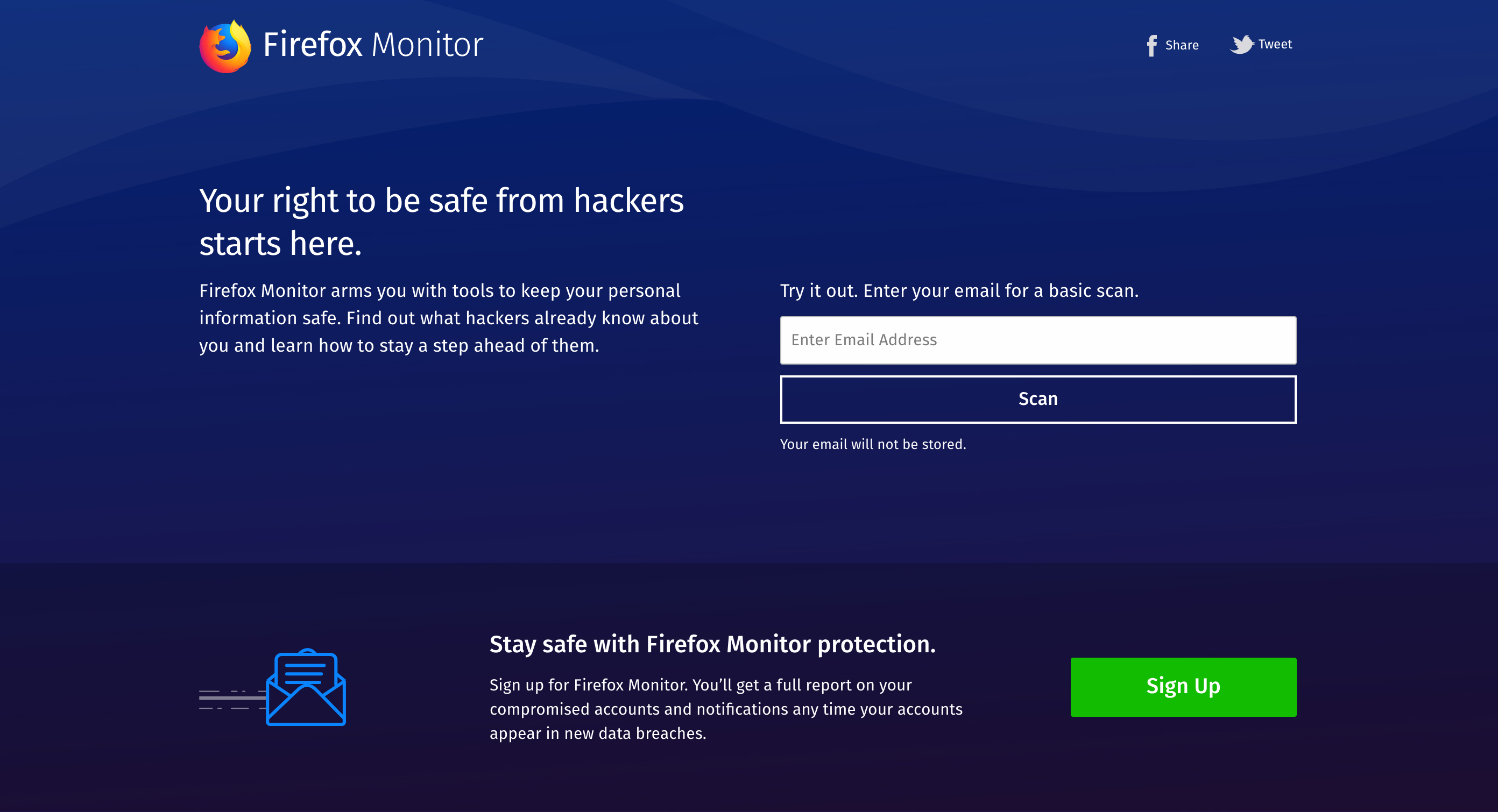 According to Mozilla, Firefox Monitor has already had 635,000 people have signed up for alerts, and they are expanding with Lockwise to increase this number and help people secure their passwords.
The notifications and alerts will be curated in the Firefox Monitor Dashboard. Through the breach dashboard, users will receive a quick summary of updates for all registered email accounts and passwords. They will be able to easily identify which emails and passwords are being monitored, how many known data breaches may have exposed their information, and specifically if any passwords have been leaked across those breaches.
"Being part of a data breach is not fun, but keeping track of and knowing where your private information may have been made public is one of the first steps in taking control of your online privacy," Mozilla penned in a blog post.
However, for Locwise users, the monitoring will not work retroactively. That means that users have to manually check if their passwords were part of an older breach.
Nonetheless, the new feature has been updated to include more detailed stats will also be displayed on the extent of the impact on your account, including the number of email addresses affected, amount of breaches they are involved with, and the number of passwords exposed in the breaches.
For those who are wondering how Mozilla will be handling the submitted emails to their monitoring system, they said that they would do their best to protect the emails submitted for scanning.
"If you're wondering about how we're handling your email address, rest assured we will protect your email address when it's scanned. We talked about the technical details on how that works when we first launched the experiment. This is all in keeping with our principles at Mozilla, where we're always looking for features that will protect people's privacy and give them greater control when they're online."
Firefox 70 is expected to be out in October.