Mozilla Will Roll Out A Feature That Would Alert Users If They Passwords Were Compromised
The new feature is expected to rolled out with Firefox 70.
In the age where the majority of human life is centered around the internet, passwords are one of the most important things to secure, especially that data breaches and system infiltrations seem to become a commonplace. In order to protect user passwords, Firefox is launching a feature that would alert the user who saves their passwords in the browser whenever those passwords have been compromised in a breach.
Last year, teach giant, Mozilla Firefox have collaborated with Hunt to develop a built-in password monitoring feature that would alert users if their passwords were part of a publicly disclosed breach. Furthermore, the Monitor tool from Firefox would send users notifications to users whenever the saved data in their system has the potential to be compromised aside from running a scan retroactively.
"It can be hard to keep track of when your information has been stolen, so we're going to help by launching Firefox Monitor, a free service that notifies people when they've been part of a data breach. After testing this summer, the results and positive attention gave us the confidence we needed to know this was a feature we wanted to give to all of our users," reads a blog post from Mozilla.
Now, Mozilla Firefox is said to be in the works to integrate the feature to Lockwise password manager, a system that protects and encrypts users passwords. They are working on launching the new feature along with the new version of the browser, the Firefox 70.
The feature works with cross-referencing data with the popular data breach database, Have I Been Pwned. The integration will scan and detect all saved login credentials in both Locwise password manager as well as Mozilla Firefox browser and cross-referencing those entries to a massive database of data leaks reported by Have I Been Pwned, while simultaneously and continuously alerting users if a match has been made.
"Visit monitor.firefox.com and type in your email address. Through our partnership with Troy Hunt's "Have I Been Pwned," your email address will be scanned against a database that serves as a library of data breaches. We'll let you know if your email address and/or personal info was involved in a publicly known past data breach. Once you know where your email address was compromised you should change your password and any other place where you've used that password," explains Mozilla on how the Monitor works.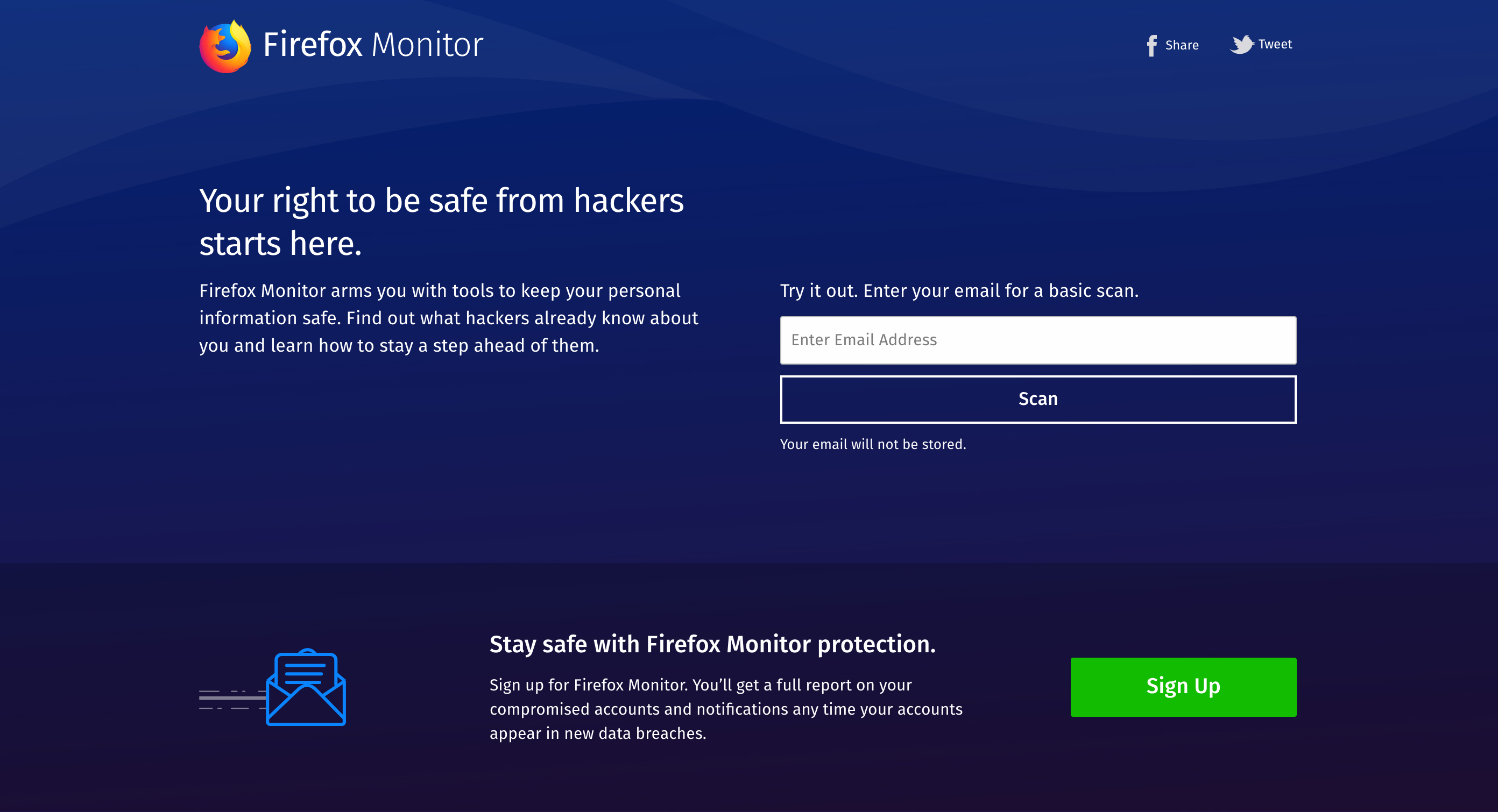 According to Mozilla, Firefox Monitor has already had 635,000 people have signed up for alerts, and they are expanding with Lockwise to increase this number and help people secure their passwords.
The notifications and alerts will be curated in the Firefox Monitor Dashboard. Through the breach dashboard, users will receive a quick summary of updates for all registered email accounts and passwords. They will be able to easily identify which emails and passwords are being monitored, how many known data breaches may have exposed their information, and specifically if any passwords have been leaked across those breaches.
"Being part of a data breach is not fun, but keeping track of and knowing where your private information may have been made public is one of the first steps in taking control of your online privacy," Mozilla penned in a blog post.
However, for Locwise users, the monitoring will not work retroactively. That means that users have to manually check if their passwords were part of an older breach.
Nonetheless, the new feature has been updated to include more detailed stats will also be displayed on the extent of the impact on your account, including the number of email addresses affected, amount of breaches they are involved with, and the number of passwords exposed in the breaches.
For those who are wondering how Mozilla will be handling the submitted emails to their monitoring system, they said that they would do their best to protect the emails submitted for scanning.
"If you're wondering about how we're handling your email address, rest assured we will protect your email address when it's scanned. We talked about the technical details on how that works when we first launched the experiment. This is all in keeping with our principles at Mozilla, where we're always looking for features that will protect people's privacy and give them greater control when they're online."
Firefox 70 is expected to be out in October.
Apple iPhone 11 rumored to unveil on September 10
A13 chips?
The announcement date for the iPhone 11 is said to be found on the beta version of its new operating system. This news follows Apple's release of iOS 13's beta version to developers last August 15.
Within the seventh beta version of iOS 13, there is an asset labeled "HoldForRelease" that suggests the latest iPhone models could be announced on September 10. The image found in the systems files indicating the said date was first spotted by iHelpBR.
In 2018, just before the official event date for the iPhone was revealed, a similar leak happened to Apple. The leak indicated that the launch of the iPhone XS, iPhone XS Max, and iPhone XR would fall on September 12. The prediction proved to be correct.
Apart from the announcement date, there have been rumors that the newest iPhone line would be released on September 20. The president of Japan's Softbank Ken Miyauchi implied that the new iPhones would be unveiled during the Apple keynote event on September 10, and they will be released to the market ten days after.
In the past four years, Apple has scheduled the release event in September. The Cupertino-based tech giant has been holding its iPhone event either on the second Tuesday or Wednesday of the month.
It is unlikely that Apple would be hosting the said event on September 11. This makes September 10 as the most probable date. If the rumor proves to be accurate, pre-ordering would most likely start on September 13, and shipping would begin a week after.
While Apple's announcement is only a few weeks away, there have been leaks and tips regarding the names of the latest iPhones. According to phone case company, ESR, the newest phones would be called iPhone 11, iPhone 11 Pro, and the iPhone 11 Pro Max.
With the growing anticipation for the release of the 2019 Apple iPhone models, the question of what these smartphones can offer is brewing. Apple has recently experienced a 12% decrease in iPhone sales, and it has reported a dip in its quarterly profit as well.
Its rivals — Samsung, Google, and Huawei — recently released their latest smartphones, and they are priced cheaper compared to Apple's recently released iPhones. With these issues at hand, Apple is expected to deliver a product that can attract new customers and keep its current users.
According to analysts, they don't see major changes in the iPhone 11. The more extensive changes would be happening in 2020. This might include features like 5G support and 120Hz OLED Retina display.
One of the biggest changes being anticipated with the release of iPhone 11 is its camera set-up. In a Bloomberg report made in January 2019, it seems Apple would be giving at least one of the 2019 iPhone models three rear-facing lenses. This feature would allow the phone to take greater and better wide-angle shots.
The iPhone 11 is rumored to come in four different colors — gold, white, black, and dark green. There are also reports saying that Apple will be dropping the 3D Touch feature this year. Apple might be incorporating a new Haptic Touch technology dubbed as "leap haptics."
If your other Apple device is running out of battery, the iPhone 11 might be able to give it some juice through its bilateral charging feature. Similar to Samsung's Galaxy 10 phones, and their ability to power the Galaxy Watch Active and Galaxy Buds, you can use the iPhone 11 to charge the 2019 Apple AirPods or other iPhones.
There is a prediction going around that the 2019 iPhone models would include larger batteries. This means that there is a possibility that their battery life would be much better compared to the older iPhone models.
When it comes to the phone display, Apple is likely offering another LCD phone this year. In last year's release, the iPhone XR had an LCD display while the iPhone XS and XS Max had high-resolution OLED displays.
With last year's iPhone releases, the smartphones were equipped with the highly-powerful A12 Bionic chip. Rumors are saying that the iPhone 11 might be powered by a processor that's quite similar to the one found in the iPad Pros called the A12X. Apple could also be using the new A13 chip.
Kaspersky Antivirus zero-day could ironically allow hackers to track users
Kaspersky has already issued a patch to resolve the vulnerability.
A German journalist discovered a flaw in the system of Kaspersky Lab's antivirus that led to a significant security risk which allowed cybercriminals to track Kaspersky customer without their knowledge.
This all started when Ronald Eikenberg began testing antivirus programs for his own publication. A few months later he discovered that on a website, Kaspersky's antivirus has been injecting some code. Eikenberg said that it seems that Kaspersky is trying to find ways in interacting with the site even though there is no browser extension on the system.
"One of the purposes of the script is to evaluate Google search results displayed in the user's browser. If a link is safe, the Kaspersky software will display a green shield behind it," he added.
In this era, most of the companies and websites would require tracking users across the internet to identify them and learn their interest to provide the target advertisements to be shown to them. Usually, this would require 3rd-party cookies, and this would allow even Facebook or Google to track your movement throughout multiple websites.
The problem however when using Kaspersky Antivirus is that it exposes a user by tagging them with a unique identifier that will record and keep track of what you visited in the past four years, which would allow some sites and third-party services to track them even though users have already blocked them. This will be putting the users at risk since everything that the user does is being monitored or kept track of.
"That's a bad idea because other scripts that run in the context of the website domain can access the HTML code at any time—and thus the injected Kaspersky ID. This means in plain language that any website can simply read the Kaspersky ID of the user and misuse it for tracking," the researcher says.
Instead of using unique identifiers, they were given a specific ID assigned to a particular computer; thus, it does not change after several days.
This attack could lead to scamming people by either asking their personal information or bank account information through the form of a payment system. One good example would be that a pop-up will show up and say 'your license has expired, please enter your credit card information to renew your subscription.'
This process would affect multiple users that are using Kaspersky Antivirus.
There was a patch that was issued last month to update all Kaspersky antivirus program for all the user of a specific version. However, there is still a version of the security tool that still allows a malicious hacker to know that antivirus software is installed on the machine.
Another way to somehow mitigate the problem is to manually uncheck in the software settings depending on the situation that you feel you are being spied on.
Kaspersky has already removed the unique identifiers for the GET request to enhance somehow the process of checking web pages when it comes to malicious activity. The change was provoked by Eikenberg after he notified Kaspersky about the possible risk of personal information disclosure when using unique identifiers for the GET request.
A statement released by Kaspersky revealed that based on their research, there is a minimal chance that this could be carried out in practice, but it is theoretically possible to happen. The complexity of the program would help fend off the leak of private information and also its low profitability would somehow be a discouragement for the hacker.
Nevertheless, the company would still need to improve their system in order to prevent further mishaps, the private information that should be protected by the company is a due responsibility that should not be taken short for. Thus it is a severe issue if Kaspersky does not resolve the problem at hand right away.
On a brighter note, if users want to disable tracking altogether, they can manually disable the URL advisor feature from the settings – additional – network- uncheck traffic processing box. This procedure will allow the user to be safe and not be monitored for the meantime while using the said application.
Users of specific tools that sole purpose is to protect our information and protect the user, having this kind of issue will bring distraught to the public in trusting some of the protection programs to install on their devices.
Huawei warns Trump of disrupting the dominance of Apple, Google
Huawei CEO said that if the U.S. government continues to deny them of using Android, they will be forced to use HongMeng OS on their new smartphones, disrupting the dominance of Google and Android.
Huawei is poised to take over and disrupt the dominance of two long-standing tech giants in the smartphone industry, Google and Apple, and when pushed by the U.S. government to their last recourse if Washington continues denying the Chinese company access to the Android operating systems for their future smartphone products, it will have no choice but to fight against Google and Apple, which is bad for the U.S., Huawei CEO Ren Zhengfei warned.
Ren stated in an interview that if Google strips them from the Android operating system, then the world will know a third operating system. Ren also claimed that releasing a third operating system will not be the best choice for the two major companies since there will be more competition.
The blacklisting was announced last May, and since then, Huawei has been claiming to launch a new smartphone with a new operating system. The operating system, named HongMeng or Harmony OS, will be better than both the current operating system available, the tech giant said.
People have been wanting a better version of the smartphones that we are using now, instead what we got instead are clever phones that have low-latency, better smart-TVs and even watches that are able to connect to the internet.
Huawei claimed that they don't have a "plan-B" if ever the banning of Google would happen, according to Ren. If ever Google is not used, they plan to shift HarmonyOS to be viable to smartphones, but it would take some time since the shift would require them to create a whole new system that would be on par when it comes to its performance.
The problem all started when there were claims that due to the coziness of Huawei with the Chinese government, it is feared that the devices would be used as a tool to spy on other countries. This was all the reason that caused the U.S. to ban companies from using equipment from Huawei way back in 2012.
An executive order from President Donald Trump placed Huawei on the list of the U.S. Department of Commerce's Bureau of Industry and Security on May 15. However, Trump agreed to be more lenient on the restriction as a part of a deal to resume business trade talks with China in June.
If the U.S. really does deny access to Google's operating system, then Huawei has no choice but to create an alternative, and it will be backed up by China for Huawei to create this alternative.
Ren warned Google, "you cannot rule out the chance that the third operating system might outrun them someday."
The U.K. can't practically decide on what to do right now as other major telcos still work hand in hand with Huawei by continuing to sign agreements with them. While the U.S. still is still tangled in trade talks with agriculture, so the cycle of their industry is still the same, fast-moving and no change.
Supplying 'authoritarian regimes'
In an interview, Ren also admitted that Huawei supplies "authoritarian regimes."
"I actually do not make any prejudgement of a government first before we sell to our customers. Because every country has a sovereign system, it's not in our position to interfere with the sovereignty of other states. If we did, then we would be playing the game of politics, right? And that's a matter for sovereign states."
The situation where Huawei is on right now might be a little difficult since it will require a gamble if ever they were denied access with Google's operating system. Right now, Huawei still does not have any 'plan-b' course of action, but they will have to make an alternative when the time comes. They also plan to compete with the two biggest Operating system provider (Google and Apple).
The U.S. is still pondering on whether to continue the relationships with Huawei or to completely ban them and make them a permanent blacklist on U.S. Department of Commerce's Bureau of Industry and Security, halting any form of trade with Huawei and demolishing the support that they are still currently having with Google.
The long term plan is still hazy, but if ever the U.S. does force China into a full-scale Android alternative, others will jump on board. And, despite the rhetoric, the U.S. really does not want that.