The United Kingdom's Department of Health Secretary Matt Hancock challenged social media companies to improve upon their practices when it comes to handling eating disorders like bulimia and anorexia.
The Health Secretary hosted a round table discussion with the social media giants to lessen instances of influencing vulnerable teens into self-harm. Content that encourages self-harm, eating disorders and misinformation leads to the increase of reported cases.
"Today the meeting was called to be about the promotion of self-harm and suicide material, but we also spoke about tackling eating disorders and some anti-vaccination messages which are so important to tackle to ensure they do not get prevalence online," Hancock says to the reporters.
Hancock is pleased that the social media companies agree and started discussing actions that each would take.
"I feel the tech companies are starting to get the message, they're starting to take action – but there's much more to do."
Instagram has affirmed its commitment to the challenge. The photo-sharing app has announced that it will remove posts that promote eating disorders.
Aside from removing harmful content, Instagram and other tech companies involved also agreed to pay a reward for anyone who will help them remove content that encourages suicidal behavior.
Instagram has been facing pressure on improving its content since the suicide case of 14-year-old Molly Russell. Ian Russell, the victim's father, has come out and shared that Molly's Instagram account was following self-harm accounts. The accounts were filled with photos related to depression.
In April, the Department for Digital, Culture, Media, and Sport created a consultation series for the Online Harms White Paper. The UK government spearheaded consultations to identify the best measures to keep UK users safe online.
In the white paper, the government has acknowledged that online platforms can be used to affect one's mental health and well-being. It lists that one of the problems are social media algorithms that do not showcase other points of view.
For example, if a user follows an account that promotes body-shaming, the social media platform's algorithm will suggest the user follow similar accounts. This creates an unhealthy balance of the information received by the user.
The white paper also acknowledges the use of social media platforms to bully, harass, or intimidate other users. It also recognizes that these instances usually target public figures like celebrities.
Eating Disorder in Social Media
A BBC report launched an investigation on how teens are interacting in social media platforms such as Instagram. The report detailed the story of Jodie-Leigh Neil, a teen battling anorexia.
Neil says, " I spent hours and hours going through this content and this material, and that then added to the more competitive side of anorexia."
Neil shared that even if Instagram did not cause her anorexia, it exacerbated it. She shares that other user's posts about their lowest weights with pictures that show skin and bones. Those posts triggered Neil's anorexia encouraged her only to eat 20 calories per day.
After battling anorexia for three years, Neil continues to be on Instagram. In this case, she has now dedicated her account in spreading the positive message about eating. She highlights the positive journey she's had in overcoming her eating disorder.
According to BBC, there's an increase of more than 130% of teens suffering from eating disorders since 2011 based on National Health Services data.
Detox Teas and Promotions from Celebrities
One of the highly criticized uses of social media platforms are the ads of celebrities promoting products. Millions of followers consume content that is made to benefit businesses. One business that many claims to promote an unhealthy lifestyle is detox teas.
Detox teas are laxatives that help in one's weight loss journey. Celebrities like the Kardashians, Amber Rose, Cardi B, and other influencers have been seen promoting detox teas, crediting the product for their bodies.
In 2018, the Kardashian-Jenner sisters were criticized for posting Instagram stories that are encouraging anorexia. In the story, Kim is showered with praise by sisters Khloe Kardashian and Kendall Jenner for being skinny.
In the short video, Jenner said "No, like I'm really concerned, I don't think you're eating. Like, you look so skinny." However, the model continued to compliment Kardashian on how good she looks despite being concerned about her eating habits.
The content has upset many fans as it seems that the sisters were encouraging Kim to continue "not eating" because she "looks so skinny."
Jameela Jamil, an actress, and body positivity advocate slammed celebrities who promote the detox teas and unhealthy weight loss options.
Wave Spell Music Festival Returning to Belden, California
The small town of Belden, in Northern California, will host the Wave Spell music and arts festival later this month for the second year in a row. The annual festival is held and curated by the veteran electro-jam group, Sound Tribe Sector 9, or STS9 to those familiar. The festival begins on August 15th.
Sound Tribe, originally known as simply "Sector 9", began their career around Atlanta in 1999 and is now based out of Santa Cruz, California, although they spend a significant amount of time on the road as one of the top touring acts in the game.
The Wave Spell festival is now in its second year, both being held in Belden-a small town on California's Feather River with a population of only 22 people (as of 2010). With the inaugural year being a success by consensus of fans and insiders alike, there was much anticipation and delight among STS9 constituents with the announcement of another year in Belden. Fans especially found great excitement at the idea of returning to the banks of the Feather River for Wave Spell.
In hosting the event, Sound Tribe Sector 9 will offer their own unique sound as the headlining entertainment and backbone of the weekend. Just as they did last year, the band will play 9 sets of original music over three nights in Belden. Among these performances, three sets will consist of completely improvised music by STS9, dubbed the "Wave Spell Sets". This format mimics the first year and is the festival's namesake.
Last year, Sound Tribe introduced the concept of their Wave Spell Sets and eventually brought them to the stage, getting an extremely enthusiastic response from their devoted fan base. The band has presented only a handful of these improvisational performances, both at the festival and on the road, adding to the allure for their followers.
While STS9 is the main attraction in Belden, Wave Spell also boasts a heady lineup of other musical acts, as well as visual artists for festival attendees to enjoy. Live music is promised until at least 5 A.M. every morning of the event, and early morning performances are known as "sunrise sets" suggest that music will go deep into the day. As it did last year, the festival will also feature installations from painters as well as live painting during musical performances. A new addition to the festival this year even offers a display of geological specimens billed as "Crystals by Isometrica".
The very small town of Belden, California plays host to several festivals a year. These events take up the entirety of the town, which consists of only a few homes, a hotel/lodge, a few cabins, and a beach along the river. The scenic grounds offer camping space for the 1,200 or so festival-goers as well as limited space for RV's. For a VIP experience, and at a VIP price, fans can also rent one of the cabins for the weekend or get one of the few rooms in the lodge. The lodge is also home to a diner-style restaurant and a small convenience store where attendees can purchase supplies.
The beach in Belden offers not only a beautiful space to relax on the river, but during the Wave Spell festival, it also provides the Beach Stage, where fans can enjoy live music throughout the day. The beach stage is also the site for the fan-favorite "Sunrise Sets", starting shortly before dawn and going on through the sunrise and into early morning daylight.
Last year, in the festivals first year, the Beach Stage quickly became a favorite spot for STS9 fans, who loaded up the area of the Feather River directly in front of the stage with giant inflatable lounge apparatuses shaped like unicorns, ducks, and even a slice of pizza. The river quickly became a large cluster of floaties, all of which were responsibly retrieved at the end of the weekend by the environmentally conscious crowd.
The lineup for the second year of Wave Spell is almost entirely fresh. Aside from STS9, only a few of the groups performing are returning from last year. Among the veterans of the festival coming back is the Portland, Oregon electronic trio, Yak Attack, who were standouts at the first Wave Spell. For the most part, however, festival-goers will experience a brand new roster of acts.
For electronic music fans, Wave Spell submits an exciting schedule of artists and groups. Amid the lineup of live electronic performers, a legend of the genre promises to be one of the most anticipated sets of the weekend. DJ Mark Farina will take the stage in Belden to provide the crowd with his now iconic style of sound, dubbed by Farina as "Mushroom Jazz". Farina and his Mushroom Jazz have become synonymous and his sound has held the attention of the electronic music world for nearly three decades, dating back to his first Mushroom Jazz compilation in 1992.
Over on the Beach Stage, early morning sunrise sets have become a popular fixture in the electronic music festival scene. Often specially assembled to go along with the experience of watching the sun come up in the morning, these sunrise sets have become a favorite among fans.
A new addition to the Wave Spell lineup this year almost seems to specialize in this type of first thing in the morning/end of the night performances. Hailing from the San Francisco underground, Random Rab has seemingly perfected the art of the sunrise set. A Burning Man legend in his own right, Rab seems to fully understand the important mix of laid back and beautiful along with intense and spiritual that makes for a fantastic sunrise set. His early morning performances have become one of the most sought after in the game.
Also returning to Wave Spell this year, diehard STS9 fans are particularly excited for solo performances from members of the headlining band. On the festival schedule for the weekend are special solo sets from David Phipps (Keyboard/Piano) and Zach Velmer (Drums), of Sound Tribe Sector 9. Along with Phipps and Velmer, STS9 bassist, Alana Rocklin also has something special in store for fans. Rocklin's previous band, Sub ID, will be reuniting for a set at Wave Spell. This will be only the second Sub ID performance since Rocklin joined STS9 in 2014.
Wave Spell Live music festival will be held August 15-18, 2019 in Belden, California. Tickets can be purchased at:
Tinder Travel Alert To Notify Users Entering LGBT-Hostile Countries
Traveler Alert notifies Tinder users if they are entering a LGBT-hostile country.
Tinder is rolling out a new feature in its application that will adequately protect users who identify themselves as part of the LGBTQ community. The update aims to safeguard LGBT users who wish to enter a hostile country.
Tinder's latest safety feature is called "Traveler Alert" and will come to all iOS and Android devices tomorrow and will be available to approximately 70 countries around the world, all of which have barbaric laws that criminalize LGBTQ status.
The dating app is popular for allowing users to connect and meet within a provided distance. Depending on the type of service a user has—free version or paid premium—Tinder can connect people from different countries.
In the past, registered Tinder users are automatically seen in the countries they arrive at, no matter if they have opened the application or not. All it needs is to determine the type and location of the Internet the phone is connected.
Recognizing that this feature can potentially put its users in harm, Tinder launched Traveler Alert.
The new safety feature automatically hides Tinder accounts that identify themselves as part of the LGBTQ community the moment the application discovers that it is in any of the 70 hostile countries indicated.
Tinder's press release explains, "Once users have left the country or changed their location, then they will be visible again on the app."
The Travel Alert will also pop up on the screen of Tinder users to notify them about the possible threat that they are situated. Users living in these countries will see the same alert when they open the app for the first time.
Still, users will be able to decide whether they can stay hidden in that country or if they want to make their profile public. If they do opt to be shown, their sexual orientation or gender identity and location information won't be shown on their profile until they leave that specific country.
The same safety feature will also be available to Tinder's Passport feature that connects and match people anywhere in the world.
"The purpose of this is to protect users who could be persecuted for their identity in these countries," a spokesperson from Tinder said.
People who want to learn more will be sent to ILGA's resources on sexual orientation laws.
ILGA World or the International Lesbian, Gay, Bisexual, Trans and Intersex Association is a "worldwide federation of 1592 member organizations from 155 countries campaigning for lesbian, gay, bisexual, trans, and intersex rights," per its site. Specifically, it gave Tinder information on where and when to deploy this alert, based off of data from its latest State-Sponsored Homophobia report.
ILGA's executive director André du Plessis praised Tinder's effort to warn its users.
"We work hard to change practices, laws, and attitudes that put LGBTQ people at risk — including the use of dating apps to target our community — but in the meantime, the safety of our communities also depends on supporting their digital safety," he said.
Although the world has seen a more positive direction for the LGBTQ community, especially for developed countries, being gay remains illegal in other parts of the world, including 34 countries in Africa.
In March, ILGA found 69 countries considered same-sex acts illegal. Nine of which, including Iran, Sudan, and Saudi Arabia allow extreme measure that lets prosecutors pursue the death penalty against same-sex acts and relationships.
Earlier this year, Brunei's Sultan initially wanted to move against the LGBTQ community by allowing prosecutors to whip them in public legally or to throw stones at them until they die.
Fortunately, after receiving tremendous backlash and condemnation from the international community, Brunei decided to back down from the oppressive law.
"We serve all communities – no matter their gender identity or sexual orientation – and we are proud to offer features that help keep them safe. This alert is an example of the many steps that we are taking to protect our users around the world," Elie Seidman, CEO of Tinder, said in a statement.
"It is unthinkable that, in 2019, there are still countries with legislation in place that deprives people of this basic right," Seidman said.
Furthermore, the latest update to the application was part of the company's belief that "everyone should be able to love who they want to love."
This Designer Came Up With A Stylish Facial Recognition Shield
The problem is: it's not for sale.
In May, a man is walking along the streets of London with his green jacket when he noticed a van that he thought to be a police surveillance vehicle. While he walked passed the car, he covered his face with his hoodie in fear that there might be some sort of facial recognition system around. Much to his surprise, he was stopped by the UK police and fined him more than a hundred pounds for "disorderly behavior."
Facial recognition systems are everywhere. It is in your car to automatically unlock it without a key. It is in your smartphones and smart homes. It is even in airports to help you board your flights without hassle. The reality with facial recognition is that it becomes a staple technology in many aspects of human life that it becomes almost impossible to get away from.
Thankfully, Ewa Nowak, a graduate from the design department at the Academy of Fine Arts in Warsaw thought of an ingenious and very stylish way to shield your face from the gawking eyes of facial recognition cameras. He has created a jewelry design that can trick facial recognition systems and hide key facial features to prevent them from identifying someone.
"I was just amazed how they could identify our gender, age, and mood," Nowak explains her curiosity towards securing oneself from unauthorized and unconsented facial recognition. "But also how the development is constantly leveling up. I was surprised about how even if we have our face partially covered, how [face recognition] can still follow us and distinguish us."
Nowak is currently co-founding a design and arts venture called NOMA together with another artist Jarosław Markowitz.
According to Nowak, she was inspired by the release of light-up glasses that was developed by Japan's National Institute of Informatics to fight facial recognition systems. Because of her creativity, she developed a device, or more like face jewelry. Her design included two brass circles that hang down from the cheekbones and an additional long piece of brass that stretches up to the forehead. A long wire can be used to attach the entire piece into your head, similar to how glasses work.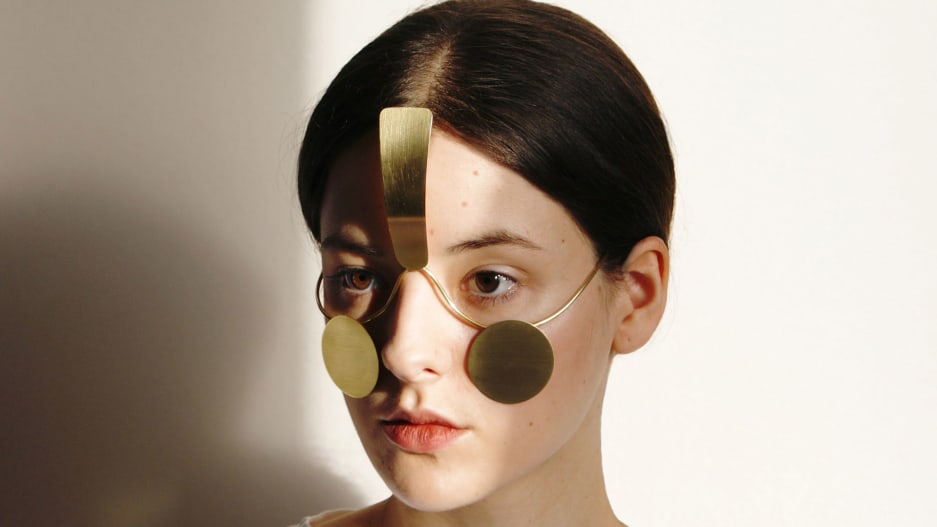 Nowak has previously worked with other designs too, but this specific jewelry design is the first that worked and has actually prevented a facial recognition system from recognizing her facial features.
Mazda Design Award granted her the trophy at the recently concluded Łódź Design Festival for her ingenious way of preventing facial recognition from identifying someone.
"I worked on the [face jewelry] for two or three months, and then it waited," Nowak says. "The reason I showed in Łódź is that there was a competition. I entered, and the project won. It's the easiest way to get displayed. There are so many projects stuck at the university level. When we were studying, a lot of people asked how to show their work to people and share ideas. Education and business are disconnected from art."
There is one big problem, though. Because Nowak considers the design more as a conceptual work of art rather than a product, the Polish artist said that she has no plans of mass-producing it; especially that the product has to be molded to someone's face and to be perfectly fitted in order to work.
While it is unfortunate that Nowak's design is not much of a help to people; apparently, it opens a wide door for designers and technology experts to develop their own version of a facial recognition shield.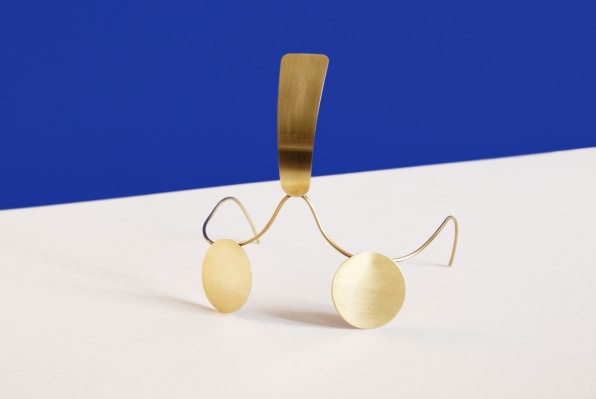 Her design can also serve as baseline design for innovations in the area of facial recognition shielding and could inspire younger people to develop their own.
With the growing popularity of facial recognition, a market for it it is very much open, and that serves as a strong incentive for businesses and intellectuals alike to produce something that could help people protect themselves from the privacy-violating facial recognition.
The unregulated technology that is facial recognition has continued to steer public dialogue on the protection of people's privacy. Human rights advocate that the growing prevalence of the systems makes legislation and regulation lag from their intended purposes. They hope that with innovators like Nowak, the world will see a balance in the benefits of facial recognition and people's privacy.