The consumer tech giant, Microsoft, is not new when it comes to security flaws, especially following a recent Windows update. And this time, another vulnerability has been discovered which involves the latest update for version 1903 of the company's flagship operating system.
Cybersecurity researchers from Windows Latest discovered a new issue affecting Windows 10 May 2019 Update (version 1903) on Build 18362.207 (KB4501375). A bug in Windows 10 May 2019 Update's latest build breaks down the Remote Access Connection Manager service and affects the operation of VPN services.
Microsoft also confirmed that the new issue exists and it is currently patching up the problem that has affected tens of millions of its users.
"RASMAN service may stop working and result in the error "0xc0000005" The Remote Access Connection Manager (RASMAN) service may stop working, and you may receive the error "0xc0000005" on devices where the diagnostic data level is manually configured to the non-default setting of 0. You may also receive an error in the Application section of Windows Logs in Event Viewer with Event ID 1000 referencing "svchost.exe_RasMan" and "rasman.dll," wrote Microsoft in their announcement.
How to fix the problem?
According to Microsoft, a workaround does exist, and affected users are required to manually configure the default telemetry settings by modifying Group Policies or Windows Registry.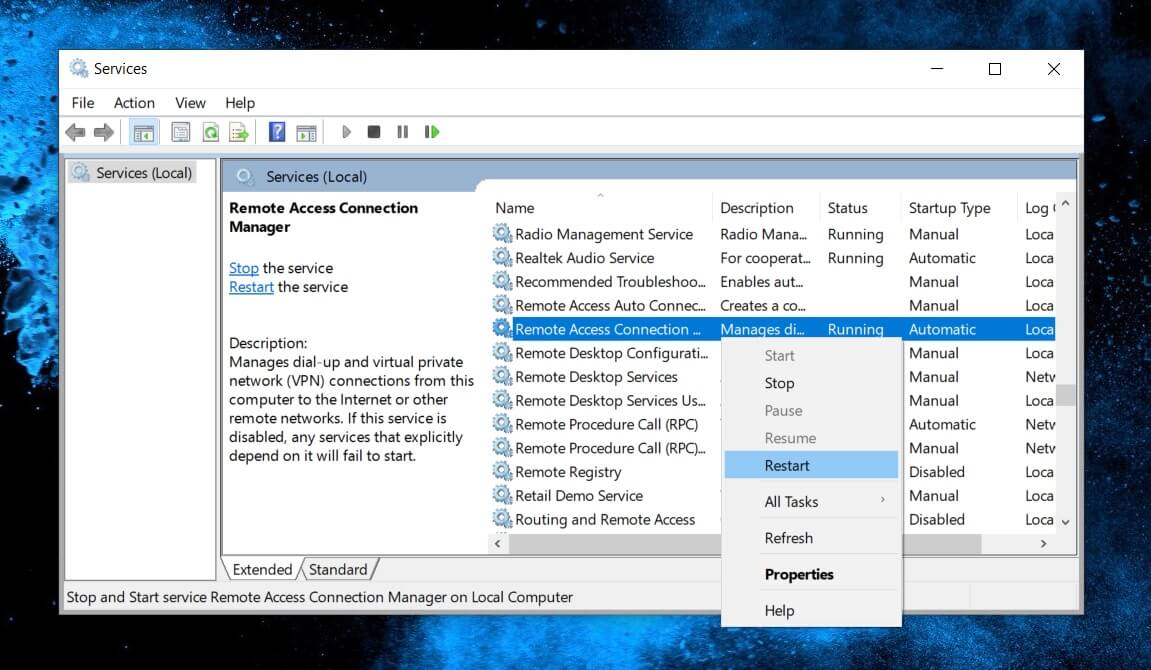 To fix RASMAN error 0xc0000005 with Group Policies, follow these steps:
Launch Group Policies (gpedit.msc) from Start or Windows Run.
Browse to the following path:
Computer Configuration\Administrative Templates\Windows Components\Data Collection and Preview Builds\Allow Telemetry
Double-click on the policy to enable it.
Choose one of the three levels – Basic, Enhanced, and Full.
Open Start menu and search 'Services'
On the Services tab, look for Remote Access Connection Manager.
Right-click on RASMAN and restart it.
You can also fix RASMAN error 0xc0000005 with Windows Registry:
Launch Windows Registry.
Browse to the following location: HKEY_LOCAL_MACHINE\SOFTWARE\Policies\Microsoft\Windows\DataCollection
Look for entry 'AllowTelemetry'.
Double-click it and enter value 1, 2, or 3 (Basic, Enhanced, Full respectively).
In case the AllowTelemetry does not exist, you can create it manually. To create the entry, right-click the right-pane blank area and create DWORD (32-bit) named 'AllowTelemetry.'
After applying the changes to Registry, you may need to restart RASMAN from Windows Services settings.
Version 1903 also broke Microsoft's Sandbox feature
This RASMAN issue isn't the only major flaw in Windows update in the recent months. Last month, Microsoft announced that there had been a significant vulnerability in the company's Sandbox feature offering.
The tech giant admitted in an information release that Sandbox feature failed to launch after some users completed a system update. They wrote: "Windows Sandbox may fail to start with "ERROR_FILE_NOT_FOUND (0x80070002)" on devices in which the operating system language is changed during the update process when installing Windows 10, version 1903."
On May 2019, Windows rolled out the Sandbox feature to premium clients and those who signed up for their beta testing program. The feature is designed to run an application on an isolated environment that is independent of a users installation server. To simply put it, Sandbox allows a computer to run a program or an app in a safe environment that is not connected to the network to prevent malicious programs especially those with malware and other forms of online threats from infecting the central installation.
In a bubble, the Sandbox feature is technically a virtual machine that mirrors an actual computer created on demand using Microsoft's hypervisor using the same OS image as the one on your device. One key feature of the Sandbox virtual machine is that it is lightweight and only takes up a little more than 100MB, which has been optimized to boot and run faster, its focus is on security, and it works more efficiently using integrated kernel scheduler, virtual graphics, and smart memory management.