E-Cigarettes Hamper Brain Development, Study Says
Prolonged e-cigarette use could hamper brain development and might lead to neural cell death or disease.
Researchers from the University of California, Riverside found evidence regarding the continued use of electronic cigarettes or e-cigarettes causes significant brain damage. The rise of electronic vaporizers among adolescents is considered an epidemic.
The research team discovered that continued and prolonged use of electrical cigarettes might affect the user's neural stem cells, based on an experiment conducted on rats' neural stem cells.
UC Riverside describes these stem cells as an essential factor in brain development where they are present throughout life. Furthermore, stem cells eventually become specialized cells with more specific functions, such as brain cells, blood cells, or bone.
The sensitive structure of stem cells allows it to become excellent models for experiments that can yield result particularly on to the effects of toxicants exposure, such as cigarette smoke.
Using cultured mouse neural stem cells, the UC Riverside researchers identified the mechanism underlying EC-induced stem cell toxicity as "stress-induced mitochondrial hyperfusion," or SIMH.
"SIMH is a protective, survival response," said Prue Talbot, a professor in the Department of Molecular, Cell and Systems Biology who led the research on a UC Riverside article. "Our data show that exposure of stem cells to e-liquids, aerosols, or nicotine produces a response that leads to SIMH."
Researchers deem that electronic cigarettes can cause significant damage with neural stem cell growth through prolonged use of nicotine-abundant electronic cigarettes.
Atena Zahedi, the first author of the research paper who received her doctoral degree in bioengineering this year, explains that SIMH is a valid defense mechanism in stem cells' mitochondria—the part that provides energy to a cell. Through SIMH, it prolongs the life of the cells, making them less vulnerable to degradation.
"If the nicotine stress persists, SIMH collapses, the neural stem cells get damaged and could eventually die," Zahedi said. "If that happens, no more specialized cells — astrocytes and neurons, for example — can be produced from stem cells."
Zahedi added that damaged stem cell mitochondria could accelerate aging and lead to neurodegenerative diseases. Neural stem cells can get exposed to nicotine through the olfactory route, she explained. Users inhale the fumes, which can travel through the olfactory tracks to reach the brain.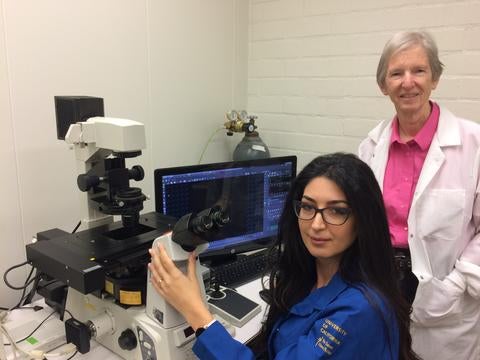 Electronic cigarettes have been marketed as a better alternative to conventional light and burn cigarettes since it reduces potential toxicants from the burning of tobacco. However, it only proves true for people who have prolonged experience with the typical cigarette.
With the enticing varieties of electric cigarettes with its flavors and scents, however, it has attracted other markets such as adolescents and pregnant women. Today, one in five U.S. high school students and one in 20 middle school students currently use e-cigarettes, the Food and Drug Administration said.
U.S. Surgeon General Jerome Adams has declared e-cigarettes an epidemic among youth, stressing that the electric devices are making younger generations hooked on nicotine at more convenient circumstances. Notably, it also impacts brain development which can induce mood disorders and lower impulse control.
"Their brains are in a critical developmental stage," said Talbot, the director of the UCR Stem Cell Center. "Nicotine exposure during prenatal or adolescent development can affect the brain in multiple ways that may impair memory, learning, and cognition. Furthermore, addiction and dependence on nicotine in youth are pressing concerns. It's worth stressing that it is nicotine that is doing damage to neural stem cells and their mitochondria. We should be concerned about this, given that nicotine is now widely available in ECs and their refill fluids."
It is noteworthy to highlight the fact that no matter how much nicotine products such as e-cigarettes are sold with the perception of being a healthy alternative, the idea of being a "nicotine product" remains.
"Even short-term exposure can stress cells in a manner that may lead, with chronic use, to cell death or disease. Our observations are likely to pertain to any product containing nicotine," Zahedi said.
In light of the situation, San Francisco recently banned the sale of any form of electronic cigarettes in the city. The new law also put a stop to any online transaction from delivering to a San Francisco address.
The city cited that the ban will be lifted once the FDA sets proper measures i regulating e-cigarette devices and monitor and control the sale on younger markets.
Drugs Flushed Down The Toilet Affect Wildlife — And Humans Too
Improper disposal of drugs and other medicinal paraphernalia down the toilet affect wildlife but, ultimately, humans too.
Police officers from Tennessee are urging residents to put an end to flushing down their drugs in their toilets, as it may easily affect nearby wildlife once the sewer system meets animal habitats.
The warning came via a Loretto Police Department Facebook post after a suspected person was found trying to flush meth and several items of paraphernalia
The Loretto Police Department discovered the incident upon entering the suspect's home on Saturday. The suspect reportedly tried to improperly dispose of 12 grams of meth and several items of drug paraphernalia via his lavatory.
The suspect was charged with drug possession with intent for resale, possession of drug paraphernalia, and tampering with evidence.
In light of the situation, police warn that if drugs make it far enough, it will end up being consumed by gators in Shoal Creek. "They've had enough methed up animals the past few weeks without our help," police wrote in the post. They even jokingly added that "meth-gators" could be created in Tennessee and Alabama if the meth made it far enough downriver.
According to the post, the Tenessee government are doing their part in ensuring that they are processing the sewer system properly with great consideration to the nearby wildlife that greatly impacts from both the treatment pods and farther down the streamline.
"Now our sewer guys take great pride in releasing water that is cleaner than what is in the creek, but they are not really prepared for meth," according to a Loretto Police Department post. "Ducks, Geese, and other fowl frequent our treatment ponds and we shudder to think what one all hyped up on meth would do."
Particularly, the Loretto Police are not only raising awareness specifically on illegal drug disposal but in all drugs in general as they all contain potentially harmful ingredients that could disturb the natural habitats.
"When you send something down the sewer pipe it ends up in our retention ponds for processing before it is sent downstream," police said. Instead, the Loretto Police urge residents to bring in any drugs, including prescription medication, into their offices for proper disposal instead of flushing.
Furthermore, the issue goes on to a much broader issue regarding improper drug disposal such as flushing them down the toilet. For example, a recent report last June said that the world's rivers are found to have unsafe levels of antibiotics. For some, rivers exceed 300 times than the recommended level.
As a repercussion, Prof William Gaze, a microbial ecologist at the University of Exeter who studies antimicrobial resistance said that "a lot of the resistance genes we see in human pathogens originated from environmental bacteria." He also said that even faint traces of antibiotics could have big effects on the development of resistance.
In other words, wildlife exposed to improper doses of antibiotics can easily develop resistance from various infections which they can easily transfer to the human population. This is a grave threat since antibiotics provide a safety blanket against most, if not all, infections that could easily cause life-threatening circumstances if untreated.
As of 2014, around 80% of aquatic pharmaceutical pollution comes from domestic medicines—those taken at home rather than the hospital. A large contributor of which is due to human excretion but it cannot be denied that deliberately flushing down these drugs also make a significant impact especially because they're in larger doses as compared to those already processed by the human body.
Other than antibiotics and its risk of resistance in the wildlife, antidepressants in sewage are also known to disrupt the reproduction of molluscs and crustaceans. Meanwhile, anti-inflammatory painkillers such as diclofenac have contributed to the deaths of millions of vultures. In 2013, the EU added diclofenac and the hormones 17α-ethinylestradiol and 17β-estradiol to an environmental pollutant "watch list," meaning that their levels in surface water are now being monitored – though not yet controlled, The Guardian reported.
In other cases, medicinal waste products flushed down the toilet also contribute to the rapidly growing pollution. Furthermore, these products can also affect their physiology in different ways as an example is from the contraceptive pills that skew sex ratios in fish.
In the end, people are not completely getting rid of their waste by simply flushing them down the toilet since they still find a way back to bite human society back.
Ketamine Drug To Lower UK Suicide Rate
This drug called ketamine could reduce the UK's suicide rate.
Suicide remains to be a leading cause of death for younger people in the United Kingdom and has grown to be an issue that needs immediate attention. Suicide is often linked to mental illnesses such as depression, which is one of the most significant causes. Researchers are looking at a drug named ketamine to try and minimize people committing suicide.
In the UK, rigid and thorough supervision and access to healthcare have allowed its suicide statistics to see an annual decrease from the past three years. However, a total of 5,821 suicides were registered in 2017 alone, the UK Office of National Statistics posted.
The statistic was an age-standardized rate of 10.1 deaths per 100,000 population or one death by suicide every two hours and many more who attempted within the same period. Furthermore, it showed to be more prevalent in younger generations aged 20-34 years old.
From the same report, the UK's Mental Health Organization noted that suicide is considerably higher in men, with around three times as many men dying as a result of suicide compared to women. In fact, it is the leading cause of death for men under 50 in the UK. Those at highest risk are men aged between 40 and 44 years old.
Significantly, suicide has long been linked to depression. Depression is a common mental disorder that causes people to experience a depressed mood, whereas it can include a loss of interest or pleasure, feelings of guilt or low self-worth, low energy, and poor concentration. In worse cases, people suffering from severe depression tend to isolate themselves from others such as friends, family, and even people who can help alleviate the illness–ultimately making the situation even worse.
Fortunately, a drug called ketamine is looking to be a favorable solution in addressing suicide by providing a more immediate remedy to the negative effects of depression.
Basically, ketamine is the popularly known drug that is raved at parties and other drinking scenes because of its hallucination and other psychedelic effects but, formerly, the drug was used as an anesthetic in battlefields and operating rooms, especially during the Vietnam War.
Researchers found that ketamine can be a new and effective way of addressing depression since it targets brain functions through brain pathways that other drugs don't usually use. Furthermore, it is lauded as a fast-acting drug that could take effect within hours after taking a dose, as compared to conventional anti-depressants that need up to 8 weeks of continued intakes.
Also, ketamine is consumed via a nasal spray that is supposedly meant to reach the brain faster; add that to the part where the drug only needs to be consumed in lesser doses compared to others, which significantly affects the experiences for people going through a severe depression.
According to Harvard Health Publishing, one likely target for ketamine is the NMDA receptors in the brain. The drug binds to these receptors and appears to increase the amount of a neurotransmitter called glutamate in the spaces between neurons. Glutamate then activates connections in another receptor, called the AMPA receptor. Together, the initial blockade of NMDA receptors and activation of AMPA receptors lead to the release of other molecules that help neurons communicate with each other along new pathways. Known as synaptogenesis, this process likely affects mood, thought patterns, and cognition.
At the moment, critics are still arguing over the other side-effects of the drug that could potentially affect other brain functions such as it to cause hallucinations. Others are also saying that it could become a gateway drug to stronger medications such as opioids. But what medical providers are looking to implement with the drug is strict supervision at least two hours after intake before patient release.
As soon as November, ketamine could be available for sale in the UK through private clinics. The drug recently gained attention after selling fast in the US, which Johnson & Johnson sells in under the brand name Spravato.
The Harvard Medical School's publishing also noted that "if a person responds to ketamine, it can rapidly reduce suicidality (life-threatening thoughts and acts) and relieve other serious symptoms of depression. Ketamine also can be effective for treating depression combined with anxiety."
UK's Department Of Health Focuses On Sleep
Cabinet ministers are aiming to help the public with their insomnia problems.
The United Kingdom ministers plan to issue guidance on how much sleep each person needs. This plan is part of the government's proposals that aims to improve the public's health in the UK.
A leaked draft emphasizes that lack of sleep links to multiple physical and mental health problems. Illnesses tied to sleep deprivation is obesity, strokes, heart attacks, anxiety, and depression. Aside from being susceptible to diseases, lack of sleep also hinders the process of recovery from surgery or illness.
Patients, especially those who just finished having surgery, should have "protected sleep time" that will ensure the patient receives the rest it means. There's no word if there will be guidelines on how to implement this in hospitals. Staying in a hospital sometimes leads to compromised rest due to the constant noise such as the beeps and clicks of machine monitors, the busyness of doctors and nurses attending to patients, and a steady stream of visitors walking around.
However, the government emphasizes that good sleeping habits are essential not just to post-operation patients. In the United Kingdom, three out of four adults sleep less than seven hours every night.
The government will be reviewing the evidence presented in the draft and then create concrete actions to promote better sleep. One of the ideas is to improve good "sleep hygiene."
Sleep hygienes are practices and habits to achieve good sleep quality. A crucial part of sleep hygiene is the duration of sleep a person gets. An appropriate amount of time to sleep is needed to ensure enough rest and full rest alertness for the rest of the day. Sleeping too little or too much affects a person's lifestyle and health.
Aside from sleeping guidelines, Health Secretary Matt Hancock will publish a full list of proposals in a public health green paper. The plans will tackle different health issues ranging from quitting smoking to lessening obesity. The aim is to prevent the public from getting minor illnesses, which will save the National Health Service (NHS) money in the long run.
Director of the Sleep and Circadian Neuroscience Institute and Oxford University professor Russell Foster affirmed that there is overwhelming evidence that links sleep to conditions like diabetes, dementia, and depression. He further added that the minister should also consider individual preferences and variation when they come up with the final recommendations.
"What's emerged over the last few years is that some really important things are going on within the brain. Our ability to consolidate memories, to process information, coming up with innovative solutions to complex problems are all really important functions within the brain at night. In essence, our ability to function during the day is defined by the quality of sleep we had at night," Foster said in a report.
Sleep-related Products and Services
In recent years, business for sleep-related products and services have increased. Products have also improved from trivial items like pillows and mattresses.
Now, there are special treatment pillows and mattresses that address different sleeping issues for its users. Innovations on how to market it were also launched.
Business like Casper launched mattress-in-a-box in 2014, which allowed buyers to test their mattress for 100 days. If the customer was not satisfied, the bed could be returned and would be picked up by the company.
Aside from the essentials of sleep, understanding how to develop good sleeping is also important. Nowadays, wearable technology is helping to understand users' sleeping patterns. Sleep trackers are now a default feature in most fitness trackers.
If the trackers and comfortable pillows and mattress still don't do the trick, hire a sleep consultant. New parents, who are most affected by sleep deprivation, can hire sleep consultants to help improve their baby's sleeping patterns. Sleep coaches will help train the baby sleep consistently in a regular pattern, allowing parents to enjoy night's rest at the right time, too.
Adults can also find technology that will help them sleep immediately. For insomniacs, products ranging from wearable technology to meditation apps can help soothe one's mind and lull them to sleep.
Companies have also learned that taking care of their employees meant providing facilities for them to rest. Offices are now equipped with sleeping facilities where employees can take a quick nap while on their break. Employers noted that their staff is more productive and alert after they've implemented these facilities.