The popular music streaming app, Spotify, is all-in with podcasts as it launches a redesigned user interface (UI) that refocuses Spotify into two different audio categories: Music and Podcasts. While it is not new that podcasts and audio shows are already thriving in the app, Spotify makes it easier for listeners to navigate the app to search for their favorite podcast shows.
The new redesigned UI is only available for a limited number of users as of now, though, and was first reported last week. The new design emphasizes bolded headings for both "music" and "podcasts" on the app's library page. Currently, Spotify users have to sift through six categories at the top of their library pages to find a dedicated podcast section. While Spotify confirmed that they were testing "new products," they declined to comment on when the new redesigned UI would roll out to all users.
According to Spotify, last year, "seven million people in the US produced podcasts—and even more, people consumed them." And it makes sense why the app company is putting money on podcasts on its platform. Spotify has spent up to $500 million on podcasts alone. The spending included their acquisition of major companies like Gimlet Media. The equivocal emphasis of Spotify to spend on promoting podcasts on its platform says so much about its goal to compete with Apple and Luminary to try to become the go-to place for podcast listeners, and improving "discoverability" and ease of use is necessary to achieve their goal.
A few days ago, Spotify also released a tool called Soundtrap for Storytellers to encourage podcast producers to produce more shows on Spotify. Soundtrap for Storytellers is a comprehensive podcast creation tool that offers recording, remote multi-track interviewing with video chat, smart editing of audio as a text document, full audio production, direct-to-Spotify publishing of the podcast, and transcript publishing to optimize SEO all in one service.
In an event hosted by Spotify for the launch of Soundtap for Storytellers, they invited popular podcast producers to talk about their craft and how they can use the new tool in their podcasts. Hannah Berner, the host of the popular podcast show Berning in Hell, said that she "think(s) a lot of podcasters don't have any knowledge about the importance of SEO, or getting found in unique ways, besides just promoting on our social media. So having a transcript of what you're saying that also helps with SEO is incredible."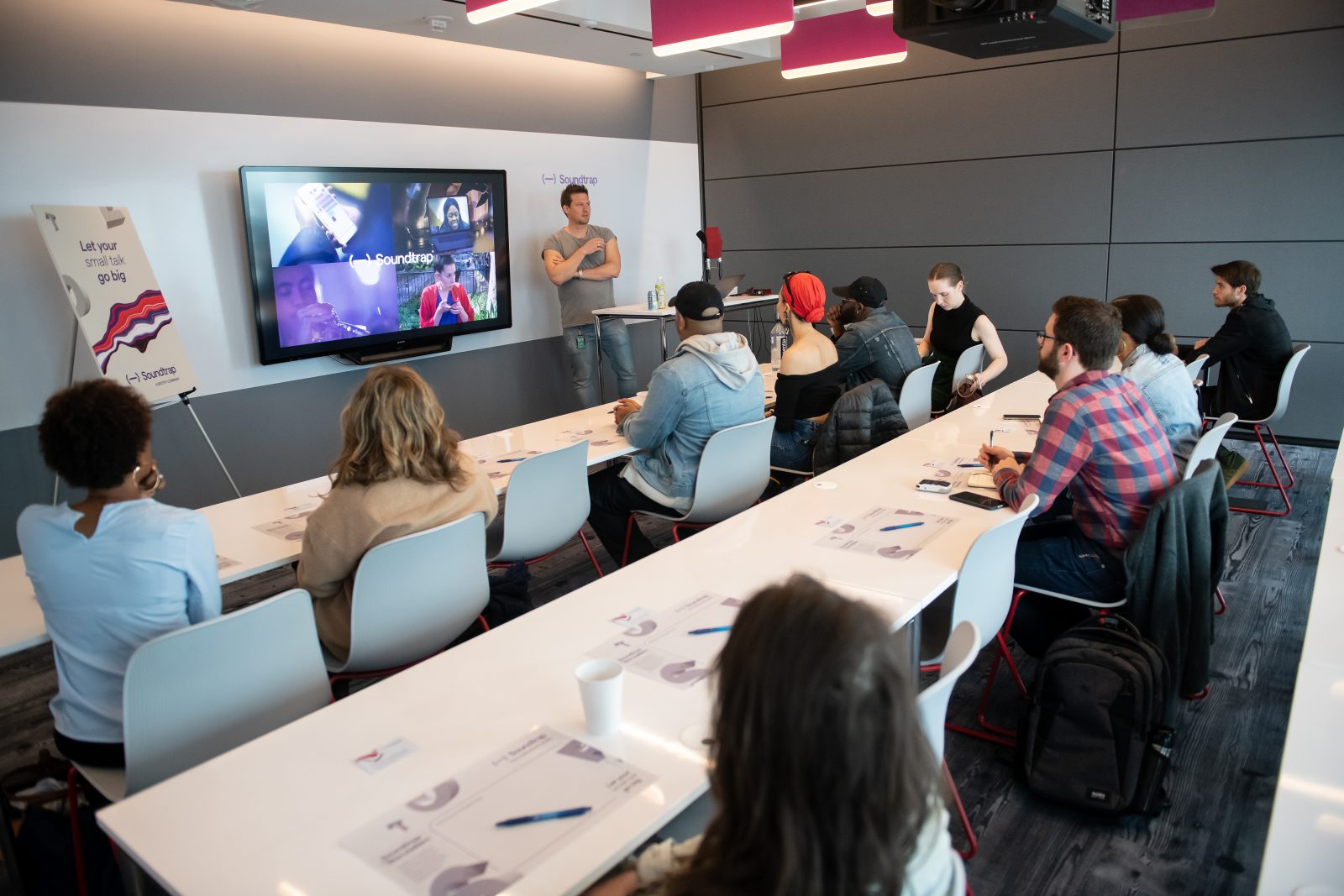 Lindsay Metselaar, host of We Met At Acme, said that the prospect of being able to record with people who are not physically with her is what excites her the most about the new podcast creation tool.
"The fact that you can record with someone when they're not physically with you is huge. I'm not able to do that right now because the sound quality is just not the same with other programs or over the phone. But Soundtrap allows two computers to have the same recording situation set up. That's huge for podcasting," she said.
The new podcast tool is available starting May 14 online and on iOS and Android, with pricing starting at $14.99/month and an annual plan starting at $11.99/month.
In addition to Soundtrap for Storytellers, Spotify is also encouraging new artists to create more podcasts on its newly acquired tool called Anchor. Anchor is a free-to-use podcast creation, distribution and monetization platform that says its mission is to "democratize audio." It was one of two New York-based podcast companies (alongside Gimlet Media) acquired by Spotify in February for $343 million combined.
"There's no doubt that podcasting is expanding like crazy, and if you have a story to tell, someone out there is dying to hear it," writes Spotify in the news post.
"For those who are ready to experiment, have fun, and try out a new way to connect with fans, here's why it's time for you to start using Anchor."
Spotify is making a concerted effort to encourage more of its platform's 3.9 million artists and dedicated-podcast creators to use its marketplace tools – like Anchor and Soundtrap for Storytellers. If successful, Spotify will make itself a one-stop-shop for podcast producers, hosts, and artists, and might be able to top competitors like Apple and Luminary in the podcast wars online.