Boeing is over a century-old aircraft manufacturer that built its reputation for producing safe and reliable planes through the decades. They have consistently got approval from the Federal Aviation Authority (FAA) effortlessly with every new aircraft release. The Boeing 737 Max was no different, that is until two of which crashed.
Notably, Boeing is one of the only two large-scale aircraft manufacturers in the world. So when the rival company, Airbus, announced that they were going to release a new and more fuel-efficient plane to the market, Boeing knew that this wasn't going to be good for business. Aircraft that uses less gas makes more money for the airline company.
In an attempt to counter Airbus, Boeing hurriedly developed the 737 Max 8 Jet and marketed that it would be the fuel-efficient version of their best-selling A320. With their impressive rapport with the FAA, they were able to push the plane into production and zooming past runways all around the world.
Crisis averted and business as usual for Boeing until one of its 737 jets crashed over the Java Sea from Jakarta, Indonesia. At that point, the crash was considered to be a one-time, isolated incident. After all, Boeing is known to be a producer of safe and reliable planes.
However, when another 737 Max 8 plane crashed in Ethiopia 6 months later, that's when things started to look bad for Boeing and started a global outcry that ruined a century-long reputation of being 'safe and reliable.' Frankly, two similar planes crashing for no reason on a sunny day is definite grounds for a thorough investigation.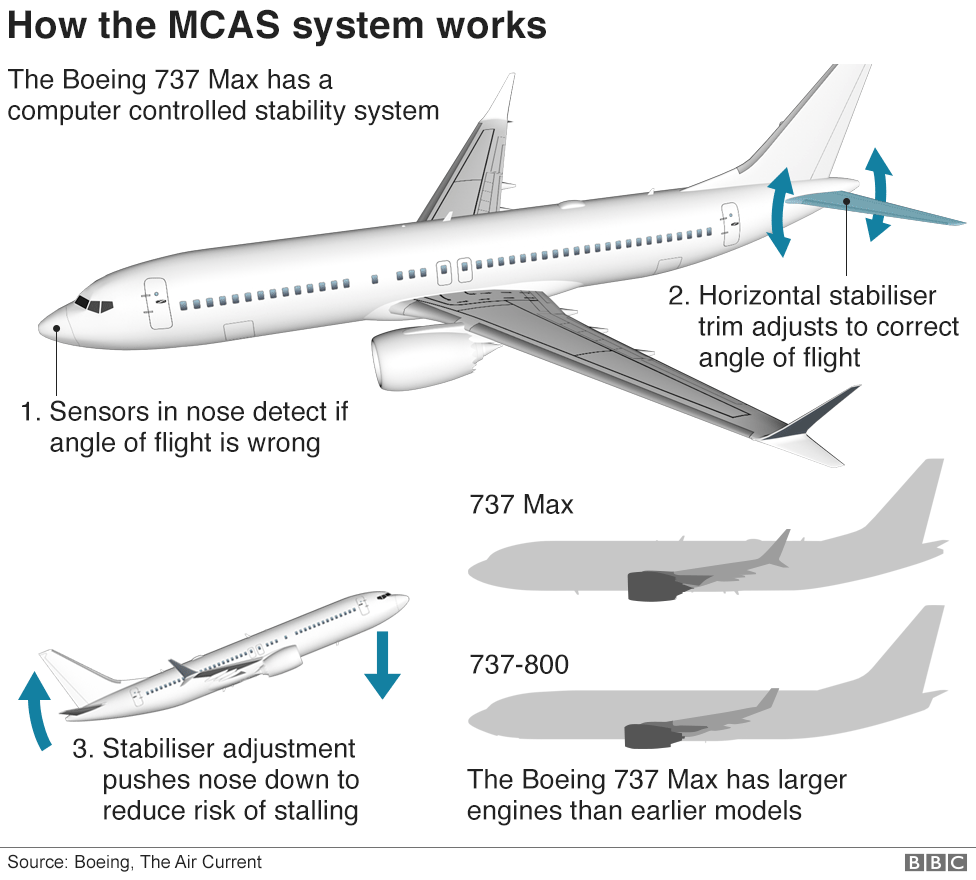 Reports discovered that Boeing failed to elaborate fully on how their new 737 Max 8 planes were fuel-efficient in the first place. The aircraft manufacturer placed a new coding system called MCAS or the Maneuvering Characteristics Augmentation System that made the plane's tail tilt and its nose dip lower to avoid drag that causes planes to consume more gas.
Moreover, the new 737 planes also had larger engines that made Boeing engineers mount them higher and farther front on the wings.
The combination of the pilots' lack of knowledge regarding the changes made with the new planes, the new coding system, and the engineering resulted in unprecedented destabilization issues that pilots weren't able to overcome on-flight.
It was like fighting an enemy they couldn't see as they struggled to lift the plane's nose, but the coding system kept tilting it down. Unaware, they couldn't manually override the system to pilot manually, ultimately resulting in the plane crashing.
In a statement by Boeing released last Thursday, it says that they have addressed the issues surrounding the problems that they were faced with the 737 Max planes and are ready to submit them for certification. As of date, Boeing has said that it has flown the 737 MAX with updated MCAS software for more than 360 hours on 207 flights.
The statement also indicates that they are looking forward to working with the FAA to receive a certification on the 737 jets. "With safety as our clear priority, we have completed all of the engineering test flights for the software update and are preparing for the final certification flight," said Boeing Chairman, President, and Chief Executive Officer Dennis Muilenburg.
However, even if Boeing is successful with their renewed 737s, a new question arises: will they be able to regain public trust? Especially when a few months ago, over 400 737 Max jets were grounded globally after its second crash and both pilots and the public expressed their sentiments against the unnecessary plane crashes.
As of the moment, Boeing is sure to face a more critical scrutinization from FAA following the loss of 346 lives. Additionally, they would also have to win over other regulators around the world since the FAA's rapport may have lost its touch when they were one of the last regulators that grounded the 737 jets.
But from another perspective, based on people's attitude when getting on planes, they won't be able to tell the difference between an Airbus and a Boeing plane much more what model. Also, there are about 14,000 single-aisle planes that are operating globally, and half of those are from Boeing. In other words, it would be most likely that Boeing will return to the skies. We can only hope that when they do, it's safer and done more securely where these incidents can be a learning curve for the future.