Boeing Is Getting Ready To Get Back In The Air
Boeing is over a century-old aircraft manufacturer that built its reputation for producing safe and reliable planes through the decades. They have consistently got approval from the Federal Aviation Authority (FAA) effortlessly with every new aircraft release. The Boeing 737 Max was no different, that is until two of which crashed.
Notably, Boeing is one of the only two large-scale aircraft manufacturers in the world. So when the rival company, Airbus, announced that they were going to release a new and more fuel-efficient plane to the market, Boeing knew that this wasn't going to be good for business. Aircraft that uses less gas makes more money for the airline company.
In an attempt to counter Airbus, Boeing hurriedly developed the 737 Max 8 Jet and marketed that it would be the fuel-efficient version of their best-selling A320. With their impressive rapport with the FAA, they were able to push the plane into production and zooming past runways all around the world.
Crisis averted and business as usual for Boeing until one of its 737 jets crashed over the Java Sea from Jakarta, Indonesia. At that point, the crash was considered to be a one-time, isolated incident. After all, Boeing is known to be a producer of safe and reliable planes.
However, when another 737 Max 8 plane crashed in Ethiopia 6 months later, that's when things started to look bad for Boeing and started a global outcry that ruined a century-long reputation of being 'safe and reliable.' Frankly, two similar planes crashing for no reason on a sunny day is definite grounds for a thorough investigation.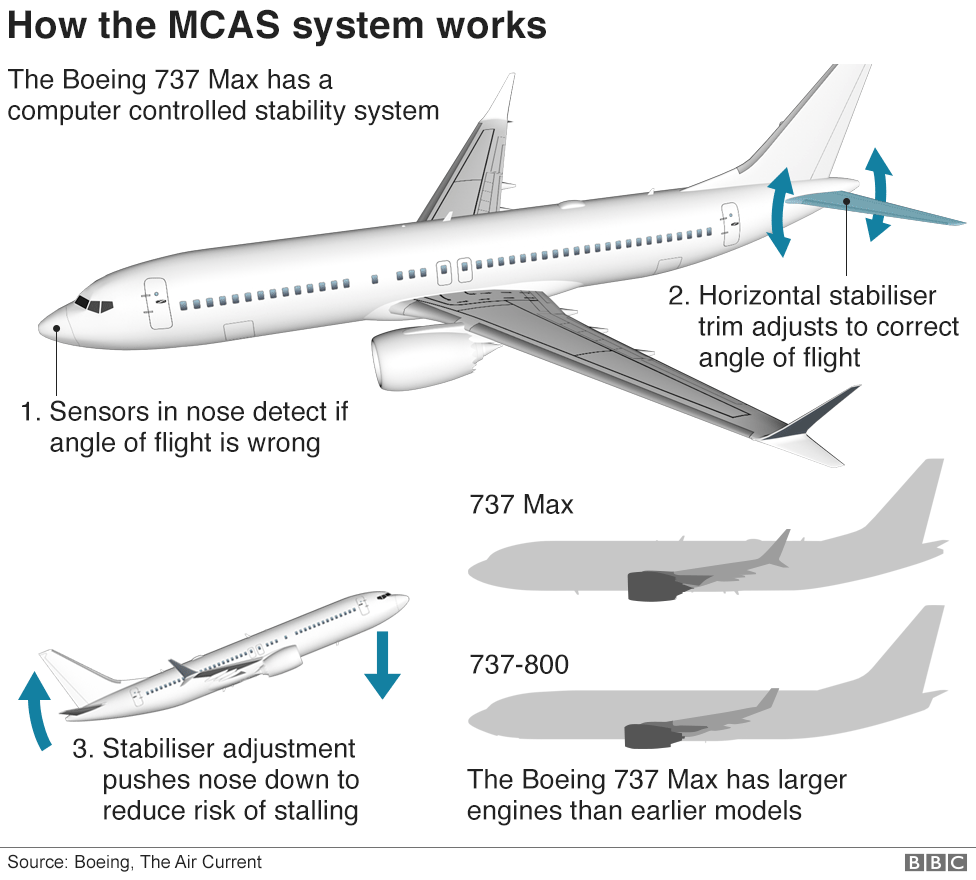 Reports discovered that Boeing failed to elaborate fully on how their new 737 Max 8 planes were fuel-efficient in the first place. The aircraft manufacturer placed a new coding system called MCAS or the Maneuvering Characteristics Augmentation System that made the plane's tail tilt and its nose dip lower to avoid drag that causes planes to consume more gas.
Moreover, the new 737 planes also had larger engines that made Boeing engineers mount them higher and farther front on the wings.
The combination of the pilots' lack of knowledge regarding the changes made with the new planes, the new coding system, and the engineering resulted in unprecedented destabilization issues that pilots weren't able to overcome on-flight.
It was like fighting an enemy they couldn't see as they struggled to lift the plane's nose, but the coding system kept tilting it down. Unaware, they couldn't manually override the system to pilot manually, ultimately resulting in the plane crashing.
In a statement by Boeing released last Thursday, it says that they have addressed the issues surrounding the problems that they were faced with the 737 Max planes and are ready to submit them for certification. As of date, Boeing has said that it has flown the 737 MAX with updated MCAS software for more than 360 hours on 207 flights.
The statement also indicates that they are looking forward to working with the FAA to receive a certification on the 737 jets. "With safety as our clear priority, we have completed all of the engineering test flights for the software update and are preparing for the final certification flight," said Boeing Chairman, President, and Chief Executive Officer Dennis Muilenburg.
However, even if Boeing is successful with their renewed 737s, a new question arises: will they be able to regain public trust? Especially when a few months ago, over 400 737 Max jets were grounded globally after its second crash and both pilots and the public expressed their sentiments against the unnecessary plane crashes.
As of the moment, Boeing is sure to face a more critical scrutinization from FAA following the loss of 346 lives. Additionally, they would also have to win over other regulators around the world since the FAA's rapport may have lost its touch when they were one of the last regulators that grounded the 737 jets.
But from another perspective, based on people's attitude when getting on planes, they won't be able to tell the difference between an Airbus and a Boeing plane much more what model. Also, there are about 14,000 single-aisle planes that are operating globally, and half of those are from Boeing. In other words, it would be most likely that Boeing will return to the skies. We can only hope that when they do, it's safer and done more securely where these incidents can be a learning curve for the future.
The United States has set a record for maintaining its federal minimum wage without increases for the longest time in the nation's history. The news calls for immediate action aligned with the economic expansion in the US and increasing inflation rates.
The last increase to the US federal minimum wage was July 2009 — which is almost a decade ago. The federal minimum wage was raised from $6.55 an hour to the current $7.25 an hour.
According to CNN calculations, the current $7.25 an hour minimum wage can barely cover basic expenses with prices for healthcare, oil, and commodities gone up within the past decade. CBS reported that $7.25 in 2009 is valued at only about $6 in 2019. The cost of living has soared 18% since the last increase.
In an estimate, minimum-wage employees working 40 hours a week for 52 weeks, equates to just $15,080 annually. Researchers estimate with the current market that two working parents in a family of four would need to earn $67,146 to cover expenses. That equates to $16.14 an hour for each parent, CNN reported.
The New York Times, meanwhile, reported that the average wage being paid to all minimum wage workers can go as low as $12 an hour, according to an economist who served in the Treasury Department under President Barack Obama.
"There is not a single community in the U.S. where someone can have a decent quality of life at the current federal minimum wage," said David Cooper, an EPI researcher on the minimum wage. "Congress has never waited this long to lift up the wages of workers at the bottom."
In line with the report, states have passed bills that raise state minimum wages higher than the federal baseline. As of June this year, 21 states have passed minimum wage hikes—some even at the $15 an hour threshold.
However, the state minimum wage varies. In Florida, the minimum wage stands at $8.46 an hour; in Hawaii, it's $10.10 an hour; in California, the minimum wage goes up to $12 an hour. Meanwhile, in states like New York and Seattle, the minimum wage reaches $15 an hour and even $16 an hour, respectively.
On the other hand, Republican-led states are known to reject Democrat appeals for minimum wage hikes. An estimate of around 700,000 minimum-wage workers in areas that have not passed local increases are still paid $7.25 an hour, the New York Times said.
Republican-led states like Arkansas, Arizona, and Missouri are some exceptions due to public support via ballot initiatives. In the polls, over 60% in each state voted in favor of minimum wage hikes.
However, in order to gain public support from ballot initiatives state leaders first need to put it in motion. With Republicans abstaining such initiatives, the citizens have resulted to demand higher minimum wages from the federal government directly.
In other efforts, big companies like Amazon and Walmart have raised their minimum wage to $15 and $14.26 an hour, respectively. The move has prompted government states to follow suit.
Additionally, it's not just large companies that are on board with a wage hike. There are around 800 companies, most of which are small businesses, who are willing to support the raising minimum wage to $15 by 2024.
The record delay also comes after the US experiencing significant economic growth. The US has enjoyed roughly 10 years of economic expansion, which may soon become the longest such expansion in this country's history, according to USA Today.
Analysts have also shared that raising the minimum wage would improve employee recruitment and retention in a tight labor market—higher wages would easily attract employment-seeking individuals. Moreover, higher pay also means more spending money salary-makers, which boosts the local economy.
Comparatively, May's employment report showed that there were only 75,000 jobs provided in the month — a disappointing number compared to expectations of 185,000. Furthermore, employment rates are evidence of cracks forming in the economy.
In 2012, Texas had 452,000 workers making the minimum wage or less, according to federal data. By 2017, that number had fallen to 196,000, despite a slight increase in hourly workers, Dallas News reports.
"The minimum wage is still relevant; it just needs to be raised to a level where more workers benefit," said Tsedeye Gebreselassie, work quality director at the National Employment Law Project.
Adding a dollar or two to the minimum scoops up a lot of people and spills over to other workers. "But at $15 an hour, you're starting to affect a significant portion of the workforce," Gebreselassie said.
Beyond Meat is launching a new product in its line of vegetarian-friendly meat alternatives, a one-pound package of ground beef meant to target America's biggest seller in the meat department.
Beyond Meat is a Los Angeles-based producer of plant-based meat substitutes founded in 2009 by Ethan Brown. The company aims to supply people's needs to consume conventional meat with healthier alternatives that are derived from plants. The company's products became available across the United States in 2013. In May 2016, it released the first plant-based burger to be sold in the meat section of grocery stores, on an international basis
Ground beef will be Beyond Meat's line of plant-based meat like burger patties and sausages. Recently, Beyond Meat pulled out its chicken strips for improvement. The plant-based ground beef will be called Beyond Beef and will be available in stores nationwide.
The "meat" is made from a blend of pea, mung bean, and rice proteins, and contains 25 percent less saturated fat than real beef. Aso, Beyond Beef has 20 grams of protein per four-ounce serving with a "fibrous texture" similar to beef. The company also claims that the plant-based ground beef is "versatile enough to be used in any ground beef recipe" and can be used to make your usual meatballs or for toppings in your tacos.
Beyond Beef will be offered at the Whole Foods Market in Boulder, Co., where the first Beyond Meat product was first sold at a grocery store.
"We wanted to get back to our roots and show our appreciation to the place where it all began with a little sneak preview," the company wrote on Instagram. "…Come be among the first to try this delicious new product that delivers the versatility, meaty texture and juiciness of ground beef with less of the baggage!"
Beyond Meat's announcement of Beyond Beef comes after the company admitting that it is still working on improving its recipe in terms of appearance, aroma, texture, and taste. The improvements are said to make their products resemble real meat better.
"It's challenging because we aren't satisfied with our current products. And so as much as I love to hear and to really do that you know you've gone out to buy the product. Part of me cringes because I know that I have a product here that's so much better than that," Brown tells The Verge. "We are on this mission to build a perfect piece of meat and that product is imperfect. There are things about it that aren't exactly like meat and that really bothers us."
Particularly, Beyond Meat's original plant-based burger patty now has a meatier taste and texture with marbling that 'melts and tenderizes like beef.' The company says that they used coconut oil and cocoa butter to mimic the marbling effect.
Additionally, Beyond Meat is making their patties with more 'neutral flavor and aroma', and is a complete protein source from its blend of pea, mung bean, and rice proteins. It remains to be free from GMO, soy, and gluten.
"We believe in a better Beyond. A Beyond that's always striving for more. That's, why we created the new, MEATIER Beyond Burger™. With mouthwatering marbling, a meatier chew, and all the juicy, GMO-free deliciousness you loved in the original, this new burger is closer to beef than ever before," its website reads.

Brown was often asked by his mother: "Why are you so focused on perfectly replicating animal protein? Why don't you just build a new source of protein for the front of the plate that people get really excited about?" I think we ought to earn that right. We have to prove that we can do this because the only thing that I know with absolute certainty about the consumer is that the consumer loves meat… Most of us do. Around 94 percent of the population here in the United States. And so that's a really clear target for me," Brown responds.
Brown, whose company entered the US stock market earlier this year, described the burger as a 'stop along that way', telling CNN Business: "It's certainly not the end game."
Shares of Beyond Meat were up more than 10% in early trading Monday on news reported by CNN. Now, Beyond Meat shares are up more than 550% since the company's IPO in early May.
Uber is launching an air version of its Uber Eats service in San Diego alongside its plans of bringing Uber Air for public use through Uber Elevate. And the concept is arriving sooner than expected.
Uber Elevate is the ride-sharing company's urban air mobility division that supervises all of Uber's innovations towards taking advantage of the positive impacts and possibilities of aerial delivery.
Conventionally, ground travel has grown to become overly congested and a nuisance that the solution of making deliveries more efficient is by looking up to the sky.
Ride-sharing companies and other mobility services such as food deliveries are dependent on their human drivers to provide and fulfill orders. But with the current rate of driver satisfaction, implementing autonomous or tech-dependent vehicles would help Uber alleviate worries from continued driver decline.
And today, Uber, for the first time, shared a glimpse of its next-generation delivery service via Twitter. Working alongside its partner McDonald's in making the aerial delivery concept a reality; Uber Elevate tests drones to deliver Mcdonald's with its specialized box to hold items in place.
Here's how delivery works:
As much as we want to, drones won't carry your orders right on your doorstep, at least not yet. Ideally, once a customer confirms an order, the assigned restaurant prepares the meal and then load it into the drone's specialized box.
The very same drone will then ascend and glide on its journey to its designated drop-off point where an on-ground vehicle awaits to accomplish the last leg of the delivery.
Uber's Elevate Cloud Systems will track and guide the drone, as well as, notify an Uber Eats delivery driver when and where to pick up the package. The drones will use the QR codes emblazoned on Uber Eats vehicles to determine its designated drop-off point.
In its Uber Elevate Conference 2019, the ride-hailing company pointed out its avoidance of making restaurant-to-home deliveries a reason for an accident on the road. Also, its participation to limit noise pollution caused by a handful of rotors zipping to and fro.
Regarding pricing rates and fees, Bloomberg reported that the air-involved Uber Eats delivery fee will be "consistent" in the San Diego area ranging up to $8.50.
Uber plans to start making deliveries via drone in San Diego as early as this summer and would wish to expand to neighboring cities like Los Angeles. However, Uber is still awaiting approval from the Federal Aviation Authority (FAA) to proceed.
"We've been working closely with the FAA to ensure that we're meeting requirements and prioritizing safety," Uber Elevate Head of Flight Operations Luke Fischer said in a statement. "From there, our goal is to expand Uber Eats drone delivery so we can provide more options to more people at the tap of a button. We believe that Uber is uniquely positioned to take on this challenge as we're able to leverage the Uber Eats network of restaurant partners and delivery partners as well as the aviation experience and technology of Uber Elevate."
Uber Eats earns the company more than its parent service or ridesharing—which would prove why Uber is so adamant in pushing drone services with Uber Eats be available right away.
Specifically, Eats is on a steady pace of increasing its profits margin compared to Uber. Eats proves to be a revenue driver with gross bookings growth of 108% to $3.07 billion.
For the first quarter of 2019 alone, Eats generated $536 million in revenue for Uber — doubling the revenue generated from its 2018's first quarter. Meanwhile, Uber's ride-hailing revenue only went up 9 percent year-over-year.
From a broader perspective, Uber's first-quarter earnings in 2019 reported a gross bookings growth of 230% for its other bets, while ride-hailing grew 22% compared to the same quarter last year.