Matthew Herrick Speaks Up On The Dismissal Of Harassment Case Against Grindr: "I Am Heartbroken"
When a non-user is suing Grindr for harassment, it's going to be interesting. Matthew Herrick, an up and coming actor, living in New York City, had had his life ruined when a salty ex-boyfriend used the popular dating site to send people to his apartment and his place of work telling him that he agreed to have sex with them.
Of course, Herrick sued. He did not only sue his ex-boyfriend, but he also sued Grindr for being a vehicle that allows the abuse and harassment to happen. Matthew's high-profile legal case against the popular hookup platform highlights the ability of people to affect other people's lives even if they work virtually. However, Herrick's case has received a cold shoulder from the courts and outrightly dismissed the lawsuit opening the debate to whether these kinds of apps are protected by certain legal stature.
Initially, Herrick filed negligence and emotional distress claims from Grindr's failure to remove his former boyfriend's harassing and offensive postings but was turned down by a local court forcing the victim to take his case to an appellate court. The appeals court judges eventually rejected the motion two months ago.
"I am heartbroken," laments Matthew Herrick upon hearing that his appeal was also denied.
"I find it reprehensible that a company that knew the horror I experienced from their platform for an entire year has no responsibility to step in or take any accountability," Herrick wrote. "This wasn't simply harassment. This was a full-fledged attack on my life."
The basis of Herrick's suit is that his then-boyfriend who he broke up with decided to use Grindr to torment him between October 2016 and March 2017. His ex set up fake profiles bearing his name and photos, essentially impersonating him, and allegedly directing interested men to go to his address for a hook-up. To make matters worse, the fake profile is meant to attract men who are into deviant sexual preferences like BDSM and hard-core sex. Furthermore, the profile description of the account appears to be incriminating to the innocent Matthew Herrick as it includes code words for drugs, unprotected sex, and bondage. The fake profile also falsely claimed that Herrick was HIV-positive.
According to the official court documents filed by Herrick, what happened to him was a "nightmare." He characterized the event with strangers randomly appearing at his doorstep. While Herrick did his best to explain the circumstances to the men fooled into barging his home, there were those who thought that he is only role-playing and refused to leave, "aggressively demanding sex, sometimes violently."
During the decision of the appellate court, the judge said that Grindr was protected from liability for exercising "a publisher's traditional editorial functions," or providing "'neutral assistance' in the form of tools and functionality available equally to bad actors and the app's intended users."
The first lawsuit was filed in January 2017 and was dismissed one year after filing. Herrick's lawyer Tor Ekeland said in an interview he was "disappointed but not surprised" by Wednesday's decision because courts are "extremely deferential to big tech" when interpreting the CDA.
As a response to Herrick's accusations, the lawyers representing Grindr said that it rigorously worked to try to stop the alleged impersonation […] and identified and deleted numerous accounts." Nonetheless, Grindr stood by its central defense that the app cannot be liable for content posted by a third party.
The app was invoking a specific stature that has also previously protected content-based applications from being sued — Section 230 of the Communications Decency Act of 1996. Grindr – like Facebook, Reddit, Yelp or other online platforms that do not produce their own content – are generally immunized from lawsuits such as Herrick's. Section 230 was intended to encourage freedom of expression online, but it leaves victims like Herrick without much legal recourse against powerful Internet companies. The decision made by the appeals court on the case of Herrick against Grindr further confirms the limitations of CDA and the extent of its protection to apps like Grindr.
"The weaponization of products has become a major issue with no legal recourse to the ones it harms," Herrick wrote in his reply.
In a statement to Yahoo by Carrie Goldberg, she swore that she would spend her career in lobbying for the abolishment of the said stature. "I'm on a f***ing crusade against Section 230."
Twitter Is Fighting Anti-Vaxx Misinformation With This New Tool
As the public pressure for tech companies and open platforms to do a better job in fighting fake news and misinformation, Twitter seems to be the newest tech company to set up mechanisms to curb anti-vaxx in the social media stratosphere.
Starting Friday, Twitter will be directing users who actively searched for tweets related to vaccination to a post from the United States Department of Health and Human Services linking them to several reliable sources of health information instead of anti-vaccination propaganda.
"Know the facts," the post reads. "To make sure you get the best information on vaccinations, resources are available from the US Department of Health & Human Services."
This follows the announcement made by the social media giant that it will be launching a new tool to help fight the rampant misinformation by prompting users to head to vaccines.org, a website ran by the Department of Health and Human Services.
"We're committed to protecting the health of the public conversation on Twitter," the blog post read. "Ensuring individuals can find information from authoritative sources is a key part of that mission."
The intense pressure against social media platforms and other tech companies by lawmakers and the public to remove anti-vaxx propaganda from their platforms have yielded significant response. It all started when House Intelligence Committee Chairman Adam Schiff, wrote an open letter to Facebook CEO Mark Zuckerberg and Google CEO Sundar Pichai regarding his concern with the technology giants which are authorizing the escalation of anti-vaccine misinformation.
His letters indicated that Facebook and Instagram are allowing, as well as, recommending messages that discourage parents from vaccinating their children. According to Schiff, this is a direct threat to public health and degraded progress in battling vaccine-preventable diseases. He also asked Zuckerberg whether distributing medically inaccurate and false information about vaccines violated the platform's terms of service and if Facebook accepts paid advertisement from anti-vaccine activities, among others.
Facebook responded through a representative who said that the group has already taken steps to reduce the distribution of health-related misinformation and are currently working with outside experts on additional changes that will take place sooner.
Google, which also owns Youtube, has not directly responded to the letters but affirmed that it has worked to improve recommendations regarding misinformation. Schiff's after seeing Youtube's announcement last January which no longer recommends videos that violate its community guidelines including "content that could misinform users in harmful ways" was very pleased.
Heeding the same call, Youtube has launched several new mechanisms to discourage anti-vaccination content in their video sharing platform. The famous video-based social media network has started removing ads from anti-vaxx videos to demonetized them and discourage those who plan to leverage on the popularity of the anti-vaccine sentiment and produce contents which sell on Youtube.
Similarly, a letter has also been sent to Amazon to respond in the same manner as that of Youtube as several netizens have raised concerns that anti-vaxx publication was being advertised in the popular e-commerce site's sponsored ads.
This time, as Twitter has its own contribution in resisting the growth of misinformation, have also taken a stand. The new tool shows up on Android, iOS, Twitter's mobile site, and on the newly designed desktop site in the US, Canada, the United Kingdom, Brazil, and Korea as of right now.
In the past, a similar tool was launched by Twitter to direct users actively searching for terms relating to suicide to the contact number of a hotline for help. In the blog post released by Twitter to announce the new tool, the company is planning to extend this tool to other health-related search terms soon.
"This new investment builds on our existing work to guard against the artificial amplification of non-credible content about the safety and effectiveness of vaccines," the blog said.
The intensifying social pressure was triggered by the influx of measles outbreak and the popularity of anti-vaxx sentiments in social media that lead to the declining number of children getting vaccinated. A few months ago, a state of emergency had been officially declared in Washington due to a measles outbreak which affected 58 people, same with other Asian countries like the Philippines. Experts believe that aside from the lack of vaccination, which caused the spread of the disease, anti-vaccine movements also are to blame on the said outpour.
Facebook Live One-Strike Approach Would Ban Offending Streamers On First Offense
Two months following the devastating shooting in Christchurch, Facebook remains in hot water for allegedly failing to take down the shooter's live video streaming as the shooting happens, but Facebook is doing something about it by introducing a new set of rules that would govern their services.
Starting today, the San Francisco-based tech company will implement the "one-strike" policy for Facebook Live and its other live video streaming platforms. According to Facebook, a user can immediately get banned from using their live video streaming services for one offense for a certain period, such as 30 days. They clarified that this is specifically targeted to those people who violated their "most serious policies." Facebook did not specify all the rules that would govern the new regulation, but their announcement pointed out to their updated community standards, especially the clause that prohibits spreading terrorist propaganda on the social media platform.
Furthermore, while the focus right now is for terrorism-related violations, the tech giant said that the new policy would soon expand to other topics and issues in the coming weeks. Aside from banning violators from using their live streaming services, Facebook also said that the same offenders would be barred from purchasing ads on the platform.
Facebook's spokesperson said that under the new policy, the Christchurch shooter wouldn't have been able to live stream the unfortunate event in the first. However, it is still unclear what the violation of the shooter was within the last 30 days before the shooting occurred.
Two months ago, during the Christchurch shooting, a live video of the incident had been broadcasted on the social media site, and Facebook did not take it down until more than 15 minutes through the video. In their defense, Facebook said that their late response was because no one has reported its existence.
However, Jared Holt, a reporter for Right Wing Watch, said he was alerted to the live stream and reported it immediately during the attack. "I was sent a link to the 8chan post by someone who was scared shortly after it was posted. I followed the Facebook link shared in the post. It was mid-attack, and it was horrifying. I reported it," Holt tweeted. "Either Facebook is lying, or their system wasn't functioning properly."
"I definitely remember reporting this, but there's no record of it on Facebook. It's very frustrating," Holt said. "I don't know that I believe Facebook would lie about this, especially given the fact law enforcement is likely asking them for the info, but I'm so confused as to why the system appears not to have processed my flag."
With the new policy, a single report will have had stopped the shooter from live streaming.
FACEBOOK FACES LAWSUIT
The slow response of Facebook on the Christchurch live stream incident, the company has faced public scrutiny and law suits. Facebook may be facing court soon for their failure to control the spread of the violent live broadcast of New Zealand's Christchurch mosque shooting as a French Muslim group announced their plans to take the two social media platforms to court.
According to Abdallah Zekri, president of the CFCM's Islamophobia monitoring unit, the organization had launched a formal legal complaint against Facebook and Youtube in France in March.
The council said it was suing the French branches of the two companies for "broadcasting a message with violent content abetting terrorism, or of a nature likely to seriously violate human dignity and liable to be seen by a minor," according to the complaint. In France, such acts can be punished by three years' imprisonment and €75,000 (£64,000) fine.
"CHRISTCHURCH CALL"
The announcement of the new policies being implemented by Facebook comes ahead of a move by New Zealand and France to urge tech companies and nations to work together to mitigate the growing popularity of extremist contents online. The non-binding agreement, called the Christchurch Call, is expected to be made known this week at a meeting of digital stakeholders for the Group of Seven Nations.
"I've spoken to Mark Zuckerberg directly twice now, and actually we've had good ongoing communication with Facebook," New Zealand Prime Minister Jacinda Ardern told CNN's Christiane Amanpour Monday. "The last time I spoke to him a matter of days ago, he did give Facebook's support to this call to action."
Instagram Unreleased Updates: Video Seekers, Trusted Devices, Offensive Comment Warning, And Many More
Global tech leader and famous image sharing social media platform, Instagram, is testing a few cool features that would help users in various ways including a warning about offensive contents, adding trusted devices as a 2FA function among others.
These new unreleased features were first spotted by the Twitter user Jane Manchun Wong, who has previously detected and reported about undisclosed beta features from different apps like Facebook, Instagram, and Twitter. She reverse-engineers the apps to discover any new updates that they are testing.
This time, Wong has said that she discovered multiple beta tests in the Facebook-owned Instagram including a feature that would help content creators organize their direct messages. Here are a few of the newest features that Instagram are testing right now and might roll out soon:
OFFENSIVE COMMENT WARNINGS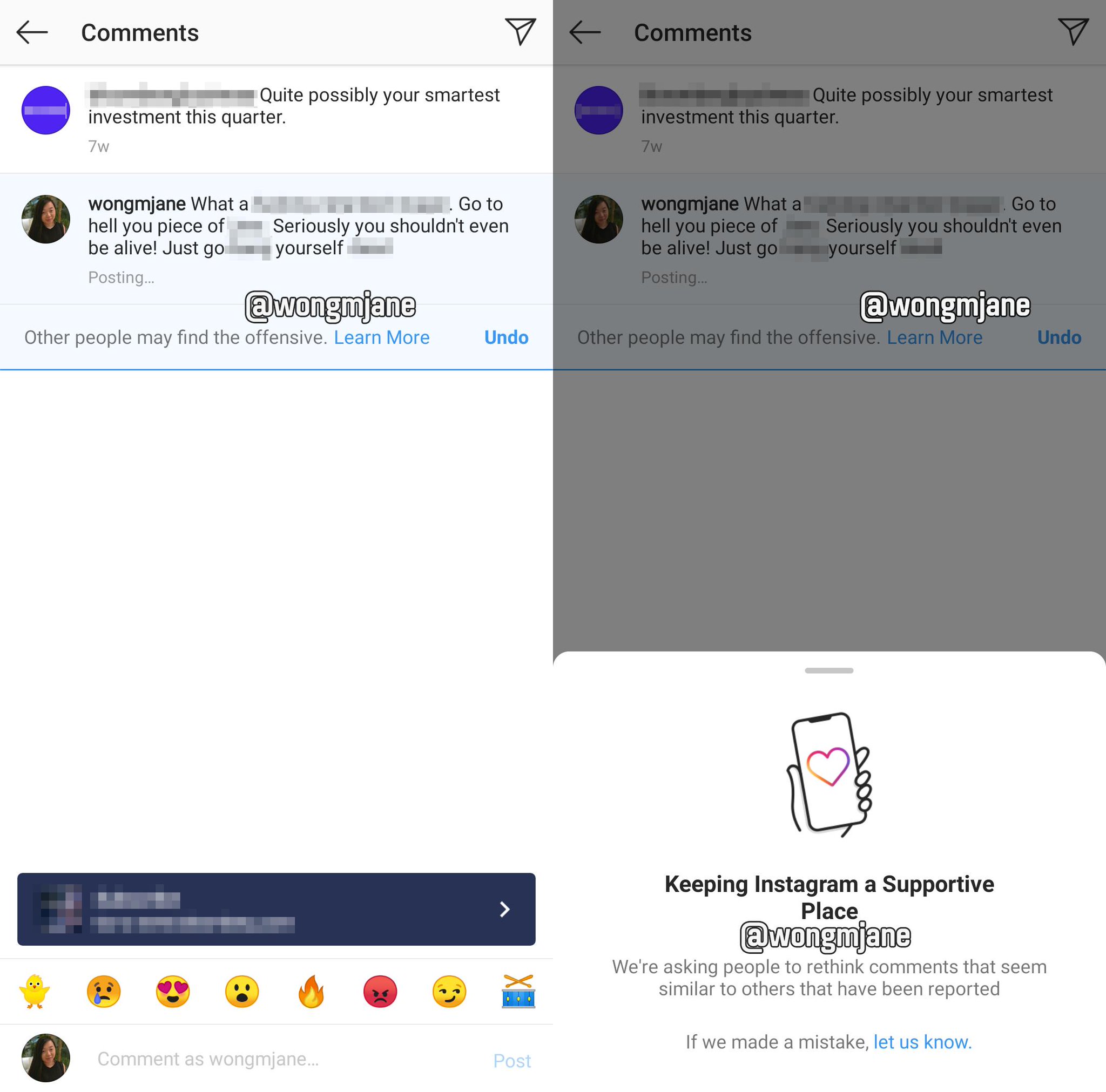 In a renewed commitment of the application's mother company, Facebook, to improve the conversation that happens within its platforms, Instagram is testing a feature that would warn users if the comment they try to post contains offensive language. Instagram said that they "keeping Instagram a supportive place."
Instagram will be asking people to rethink the comments that they are about to post that "seem similar to others that have been reported." Instagram also allows users to contact them if they made a mistake.
When Wong tried the feature by posting a comment full of obscene language, she said she was temporarily banned for triggering the offensive comment warning – which means the feature actually works.
"TRUSTED DEVICES"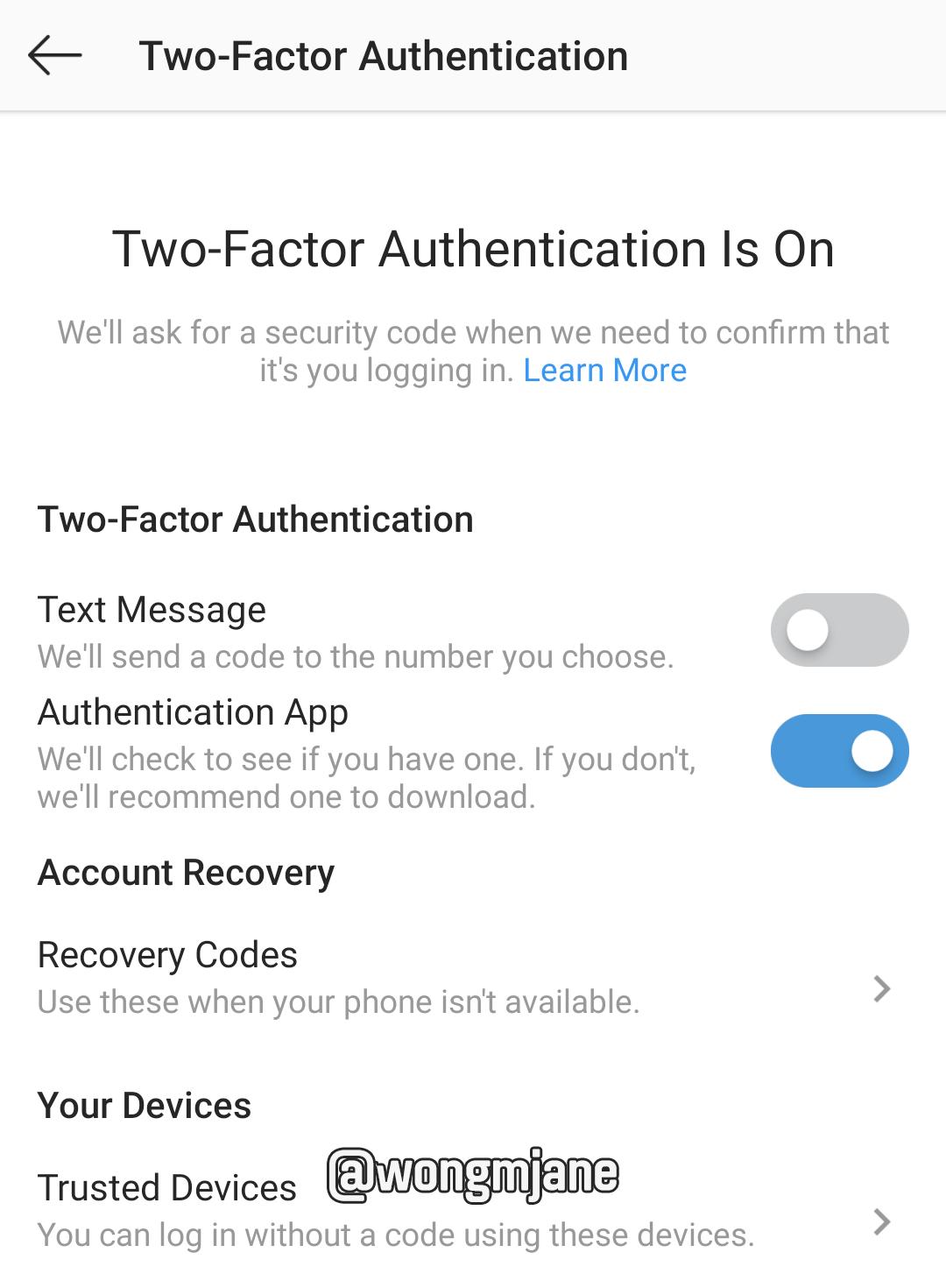 Furthermore, Instagram is also working on a new 2FA setting that would include "Trusted Devices." The "Trusted Devices" management would be found in the app's Two-Factor Authentication setting. By using a "Trusted Device" that is set in the account, users can log in without a 2FA code.
2FA codes are used by Instagram to make sure that those who keyed in login credentials are really the people owning the account. Setting up 2FA is an added security layer to prevent unauthorized access to the account.
"TOP REQUESTS" IN INSTAGRAM DIRECT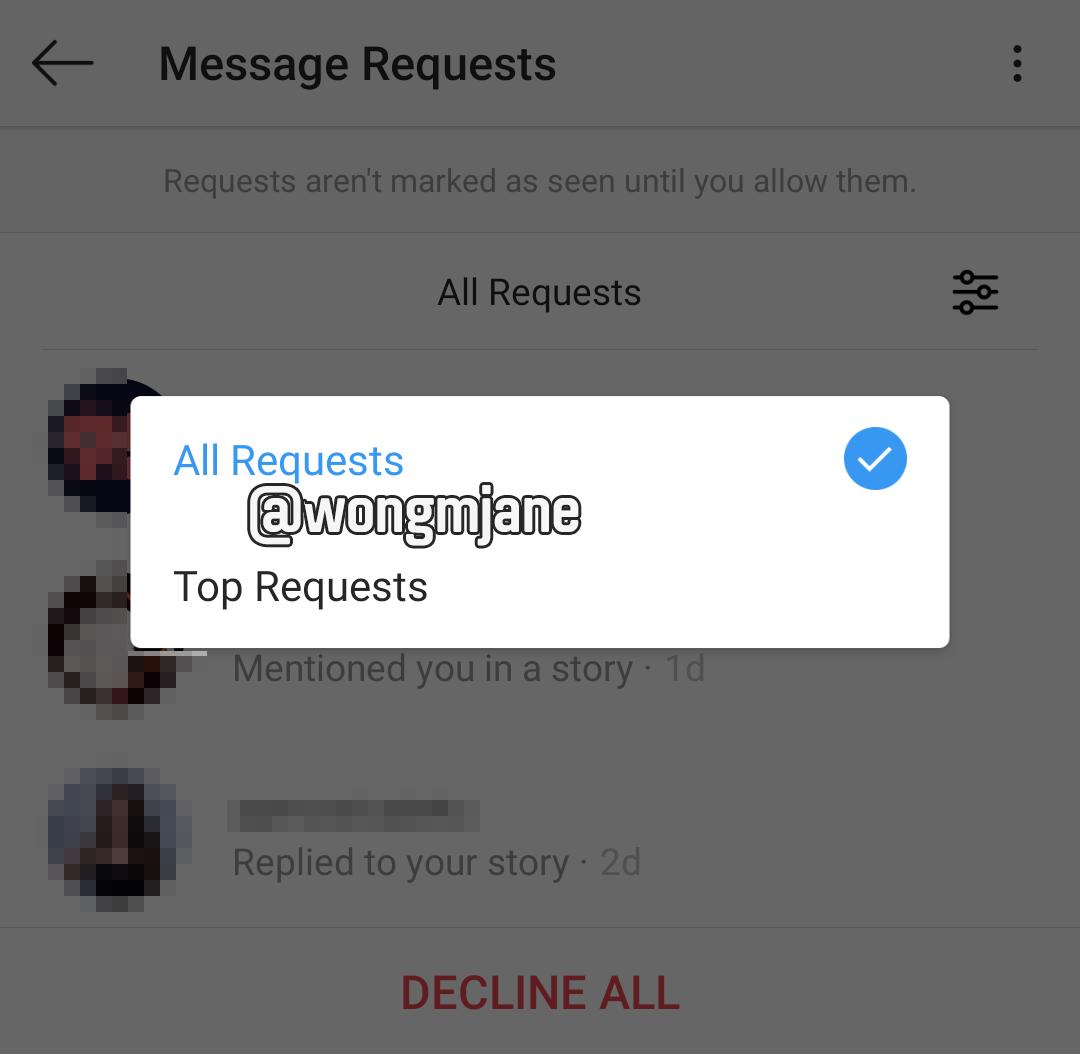 Instagram's messaging feature, Instagram Direct, is also testing some cool features specifically for creators. One of these features is setting up a "Top Requests" options to screen the message requests an account gets. When a person sends a message to an account, the message would directly go to the "Message Requests" sections if the account does not follow or does not previously allowed messages from the originator of the messages; this means that users can now filter those message requests based on "Top Requests."
It is, however, unclear how would Instagram determine what a "Top Request" is or how a person can be included in another account's "Top Requests" filter.
"PRIMARY" AND "GENERAL" CONVERSATIONS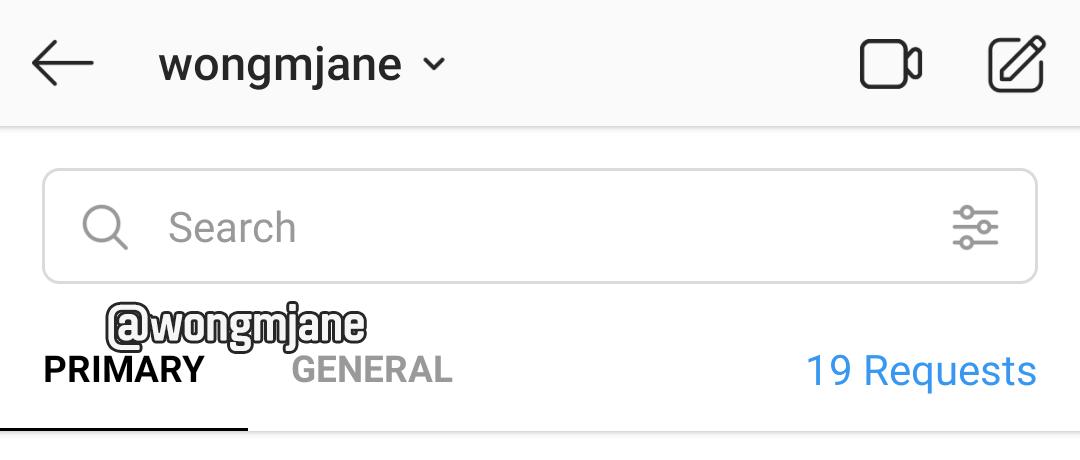 As Instagram aims to streamline the UX and UI of Instagram Direct, it is also testing to make categories for conversations. In the new feature, communications in the messaging platform would be divided into two groups: Primary and General. It is still unknown what makes up primary conversations and general conversations.
It could be possible the primary conversations will be nominated by the users, and the rest of the conversations will be moved to the general tab. It is also possible that the primary tab includes messages from "Close Friends" or that Instagram has a separate algorithm to determine what messages belong to which tab.
VIDEO SEEKER BAR
Instagram is also testing an option for users to skip a video to a specific time. Wong discovered that videos would soon have a seeker bad that users can navigate to forward or rewind a video to a specific time point in the video.
According to Wong, it would be a "plus" if the new feature would show the frame preview while scrubbing through the video to make it easier for users to determine which part of the video they wanna go to or go back to. Wong warned, however, that the new feature may cause some performance regressions, but was excited to see where the feature would go UX-wise.
IN CONCLUSION
These new features are not yet released by Instagram and most users will still not be able to use them. They are only available to some beta testing accounts currently, but if their test proves successful, these features might be rolled out for everyone to enjoy soon. /apr