Chinese Telecoms Are Hijacking US Traffic, Warns Republican FCC Commissioner
Amid the highly publicized lobbying of the United States against Huawei, a Chinese Telecom company that the U.S. is accusing of being a national security risk, the Federal Communication Commission is also having a crackdown against Chinese telecom companies who a commissioner said are "hijacking" the U.S. network.
Last week, a Republican commissioner in the Federal Communications Commission, called for an investigation from United States national security agencies against two Chinese telecom providers, separate from a recent investigation the FCC held against a different Chinese telecom provider in the U.S.
Brendan Carr, a commissioner at the FCC, called for authorities to investigate the said telecom providers from China during an FCC Open Meeting on Thursday, May 9th. The call for an investigation was made by Carr before voting for a resolution that would block a different Chinese company, China Mobile, from operating within the United States.
During the meeting, Carr target two different Chinese corporations, China Unicom and China Telecom. Both companies are already operating within the U.S. According to Carr, the security threats in the U.S. have changed since these companies were allowed interconnection rights about 20 years ago.
"The evidence I've seen in this case calls those existing authorizations into question," Carr said in a statement during the meeting. He added that the decision that was made during the meeting are citing reports that China Telecom has been "hijacking" U.S. traffic and "redirecting it through China."
The Republican commissioner is asking security agencies to investigate the said companies and to see whether or not the FCC should revoke the authorization that was given to them to operate within the country. Reversing their approval would require the Chinese companies to pull out of the US market.
Aside from several security agencies, Carr also asked the FCC to open its investigation on the matter. "It's time for the U.S. to take additional action," Carr added.
"Security threats have evolved over the many years since those companies were granted interconnection rights to U.S. networks in the early 2000s. Much if not all of the reasoning behind today's decision appears to apply with equal or greater force to those legacy authorizations. Let's ensure that our decisions from decades past don't inadvertently endanger American interests."
As evidenced in the intense U.S. lobbying to its allies against the Chinese company, Huawei, there has been an increased concern on whether or not Chinese telecom equipment and companies could pose a severe national security concern by allowing the Chinese government to peer into the networks.
According to the White House, the Chinese government can legally require these Chinese companies to help them in their destabilization plots. A recent law in China allows the Chinese government to ask private Chinese companies in its efforts to protect its national security.
The same sentiment is shared by Democratic Commissioner Geoffrey Starks who said that the authorizations given to the Chinese telecom companies are worry-some however, his concern did not reach to a point where he asks for an investigation just like Commissioner Carr.
"Earlier commissioners granted [authority] to other carriers with similar ownership structure to that of China Mobile […] The executive branch underscores how the national security environment has changed since they were granted," Starks said in a statement.
Nonetheless, while the commissioners are citing national security risks and how the security climate in the U.S. have changed since the two Chinese telecom providers were authorized to operate within the U.S., there is still no data whether or not these change in the national security data is correlated to the entry of the Chinese companies.
The said measure to block China Mobile from operating in the U.S. was approved in a 5-0 vote last Friday during the meeting. Ajit Pai, the chairman of the FCC, said about the said vote: "It is clear that China Mobile's application to provide telecommunications services in our country raises substantial and serious national security and law enforcement risks."
Nonetheless, the implication of whether the vetted decision to block China Mobile from entering the U.S. market would set as a precedent against upcoming Chinese telecom companies and whether the result of the meeting will prompt an actual investigation against existing Chinese telecom providers.
Seven Android Stalkerware Removed From Google Play Store
The apps allowed users to stalk employees, family members, and kids.
Seven apps which are suspected stalkerwares are pulled out of Google Play Store after security researchers flagged the said applications for allowing users to stalk their family members, kids, employees, and even their love interests.
On Tuesday, security researchers from Avast reported to Google the existence of four stalkerware, which were later removed by the tech giant from its app marketplace for Android OS. According to Avast, their team was also able to detect three more on Wednesday, which all were reported and removed immediately.
Collectively, the seven apps have been downloaded from the Google Play Store more than 130,000 times, with the most popular apps, Spy Tracker, and SMS Tracker having more than 50,000 downloads each. Nikolaos Chrysaidos, Avast's head of mobile threat intelligence and security, identified the apps using Avast's mobile threat detection platform apklab.io.
According to the researchers, the app doesn't work without a snoop or a person who will physically do some things. "The apps require the snoop to have access to the phone they want to spy on," they said. The snoop will have to physically and (to stalk, sneakily) get hold of the target's phone and download the apps from the Google Play Store and install them on the target device. The apps would then prompt to have the snoop input his email address and password to the app so the spyware collected data will be sent there.
"The apps also help the snoop to hide the surveillance by providing directions to uninstall anything noticeable to the phone's owner. Upon setup there is no app icon, so the targeted person does not see any sign of the stalkerware app installed on their phone," Avast said in a blog post.
The apps were able to collect information like a person's location, collect their contacts, SMS, and call history. The published names of the stalker apps are:
Track Employees Check Work Phone Online Spy Free
Spy Kids Tracker
Phone Cell Tracker
Mobile Tracking
Spy Tracker
SMS Tracker
Employee Work Spy
"These apps are highly unethical and problematic for people's privacy and shouldn't be on the Google Play Store," Chrysaidos said. "They promote criminal behavior and can be abused by employers, stalkers, or abusive partners to spy on their victims. We classify such apps as stalkerware, and using apklab.io, we can identify such apps quickly, and collaborate with Google to get them removed," said Nikolaos Chrysaidos.
One of the apps, named SMS Tracker, markets itself as an app that would help employers track their employees. It said that it allows employers to monitor how long an employee spends on their phones and messaging apps.
"Our app will help you monitor the work time of your employees to save time and save money. Notify the users of work phones that you are going to install the app. It will teach your employees to use their time at work wisely, to reduce time spent on messengers and arrive to work in time," reads the app's description.
Spy Tracker, on the other hand, promises parents the ability to know more about their children and their activities. According to the app description in Google Play, the app aims to protect children from "dangers" of using a cellphone.
"Find out more about your child's life, interests, friends, and plans. Parents are responsible for every step that their kids make. So this app is created to monitor them and protect them from dangers that can be revealed via cell phone. It is better to talk to children, but if you are not a good listener…"
Meanwhile, another app called Employee Work Spy allegedly helps employers keep their employees loyal to the company because "finding a skilled employee is only half a task. The biggest challenge is to keep him faithful to the company and its mission."
This is not the first time Google Play Store has pulled out malicious apps off its marketplace. In the past months, Six Android apps that were downloaded more than 90 million times were found to have been loaded with the PreAMo malware. Another recent threat saw 50 malware-laced apps on the Google Play Store, infecting over 30 million Android devices. While all of these apps have already been removed from the Play Store, the danger of having apps with malware in the platform remains to be a cause of trouble for all Android users.
'Number Finder' App Scam Flagged By Researcher
Check the reviews before you subscribe!
A new scam has been discovered by mobile security researchers to have been masquerading as an Android app that promises to find out owners of phone numbers.
The scam was flagged by cybersecurity researchers from Avast led by Nikolaos Chrysaidos. In his twitter account, Chrysaidos detailed that an app by the name of Number Finder, is advertising a free trial for its services that could track the owner of a specific phone number, instead of doing that, as the researcher has said, it is a scam.
"Number Finder application & a subscription scam on "6th Top Grossing" in @GooglePlay. Free 3 days trial and 16$/month after. One (1+) million installations (!)," Chrysiados said on Twitter. "Subscription scams have been trending for a while now in both app stores – Google and Apple," he added. "Users should be careful using apps that require a subscription to use the basic functionality." He said consumers should also be skeptical of apps with high monthly subscription rates.
Understandably, people would want to know the identities of unknown callers and Number Finder, published by developer POZTechnology, knows that the market demands for it. It has been downloaded more than one million times, while the collective downloads of applications posted by the developer are more than 11 million.
The app promises users that they can discover the identity of an unknown caller for a fee. As part of its "marketing strategy," the app is offering a free 3-day trial after which the service will be billed for $16 per month.
This is where the scam takes place. "Using sneaky techniques to push the user to try the "free trial." Put a random number, and always there will be "1 person linked to this number," the researcher wrote on Twitter.
As part of its MO, the app offers two options for users: either they pay for the service monthly, or they search for a number's owner which they promise always to be able to track one identity per number. But the identity of whoever owns the number will only be revealed if the user decides to subscribe to the service.
"If the user enters a number to test this, whether valid or fake, Number Finder displays the same message claiming one person is linked to that number. This appears to be a dishonest attempt to convince the user to subscribe to the service to find out whose number it is," wrote Avast in a blog post.
To test the hypothesis of Chrysiados, Avast tried to key in numbers that they are sure to be not active and they discovered that Number Finder would nonetheless display that there is one identity linked to the bogus test numbers.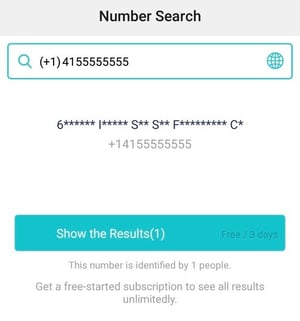 "This number is identified by one people. Get a free-started subscription to see all results unlimitedly," reads the prompt in the app.
Numerous reviews in the Google Play Store have revealed that the people have been experiencing failure of service right after they subscribed.
One review said that she only subscribed to the app's service to do a review and found out that "this app is trashy as hell and a scummy marketing gimmick." Another user reported that the app prompted the same message saying that one person is matched with the number, but it turns out that no one is matched after subscribing to the feature.
Reviewers also reported that after installing the app and subscribing to its free trial, for some reasons, their WhatsApp history and contacts were wiped up. It is still unclear if the app causes the incident, or it is a different issue.
Furthermore, claims of charging people for subscribing to a supposedly "free trial" were also made. Devyani Mishra left a review saying that: "When I subscribed, immediately 990 rupees has been charged, don't know why… as per their policy, they didn't charge any amount in 3 days in the trial period."
Other reviews have called the app a "money-making platform" and "absolute garbage."
Avast has escalated the issue to Google's anti-malware team and warned users to be vigilant in subscription services that they subscribed to.
"To avoid falling victim to scams such as this, Avast recommends that users always check the reviews and ratings of applications on both Google Play and Apple's App Store before downloading them," they wrote.
Kazakhstan Forces Citizens To Install Government-Issued Certificate To Access HTTPS Traffic
Kazakhstan started intercepting HTTPS traffic to force citizens to install government-issued certificates to regain access to "allowed" websites.
Another day, another government attempts to control the internet after Kazakhstan has started forcefully requiring its citizens to obtain government-issued certificates after they've begun intercepting HTTPs traffic.
The Kazakhstan government has issued an advisory to the country's internet service providers (ISPs), ordering it to make it mandatory for their users to install government-issued root certificates before allowing them to gain access to the internet.
Law of the Republic of Kazakhstan on Communications, Article 26 and Clause 11 of the Rules for Issuing and Applying a Security Certificate, all ISPs are required to monitor the encrypted Internet traffic of their customers using government-issued security certificates. The latest advisory sent to the country's telecommunication providers is under the most recent amendment on the said legislation which would make it mandatory for users to install government-issued security certificates.
How exactly does the decryption work?
The Hacker News explained it by saying that "for those unaware, your device and web browsers automatically trust digital certificates issued by only a specific list of Certificate Authorities (CA) who have their root certificates installed on your system."
By compelling internet users to install government-issued certificates, the ISPs can generate valid digital certificates for any domain they want to intercept through a user's HTTPS traffic. By this policy, users will no longer be able to access HTTPS traffic that is not "allowed" by the government.
Internet Service Providers have started informing their customers regarding installing government-issued certificates in their devices and browsers since April this year so they can continue browsing the internet without their HTTPS traffic being redirected.
Now, ISPs started redirecting HTTPS traffic of users who have not installed government-issued certificates in their devices to a web page that explains how to do it, why they do it, and what happens if the users don't do it.
Tele2, one of the major ISP in Kazakhstan, is redirecting their users to a webpage that includes the certificate files as well as for instructions on how to install the certificate on Windows, macOS, Android, and iOS devices.
"In accordance with the Law of the Republic of Kazakhstan on Communications, Article 26 and Clause 11 of the Rules for Issuing and Applying a Security Certificate, communications operators ensure the distribution of a security certificate to their subscribers with whom they have contracts for the provision of communications services," the Tele2 advisory reads.
"The law prescribes for carriers to pass traffic using protocols that support encryption using a security certificate, with the exception of traffic encrypted by means of cryptographic protection of information in the Republic of Kazakhstan. A security certificate is a set of electronic digital characters used to pass traffic that contains protocols that support encryption."
Beeline, another ISP from Kazakhstan has also announced that it will soon intercept HTTPS traffic that doesn't run with a government-issued certificate. Other internet service providers with the plans to follow through the legislation that mandates the installation of the government-issued certificate include:
K-Cell
Active (also lists allowed HTTPS websites)
Altel
Kazakhtelecom
Active posted a catalog of approved HTTPs websites in different categories like literature, arts and culture, social network, and sports and tourism. Interestingly, in the list of social networks, only search engines are allowed, and social media platforms like Facebook and Twitter are not included in the list. Some of the search engines and website listed in the permitted HTTPs website catalog are:
http://www.google.ru/
http://www.mail.ru/
http://www.aport.ru/
http://www.liveinternet.ru/
http://www.filesearch.ru/
http://www.zoneru.org/
http://www.km.ru/
http://meta.ua/
http://www.google.com.ua/
http://www.google.com
http://www.alltheweb.com
http://www.yahoo.com
http://search.msn.com
http://www.bing.com/
http://baidu.com
https://www.aol.com/
http://www.ask.com/
http://www.hotbot.com
http://search.lycos.com/
http://www.metacrawler.com/
http://www.dogpile.com/
Full list of "allowed" websites can be accessed here.
However, security and tech experts warn that the way this policy is being implemented carries a great amount of risk. For one, since users who are yet to install government certificates, they can only access websites without HTTPS connections. This means that the certificate files can be downloaded only from unsecured websites which hackers can exploit and replace the certificate files using MiTM attacks.