Unpopular Opinion: RPDR Six-Way Lip-Sync Was A Missed Opportunity
With reality TV shows like RuPaul's Drag Race, twists and turns are to be expected. The ratings of a reality show is dependent on how the producers and editors keep their audience's interest in watching the show and more often than not, they manufacture reactions of their contestants by producing scenarios that would encourage a specific reaction – drama, fight, love, anything that they think would be interesting for the viewers.
That is why the show has been known to consistently shock their audiences through storyline edits – like the hero versus villain edit of Raven and Tatiana, the 'angry black woman' edit of The Vixen, and the love story of #Branjie. Whether you notice it or not, the show has also maintained viewer interests through RuPaul's unconventional decisions like crowning two winners for All-Stars 4.
One twist in the show – in particular – has shocked many as it became a herstorical moment. In the third episode of the eleventh season of RuPaul's Drag Race, RuPaul once again shook the fandom by angrily making all six queens from the losing group in the challenge to lip sync at the same time.
Six queens performed in the stage to prove to RuPaul that they deserve to stay in the competition following their underwhelming performance in the challenge where they have to produce, host, and perform in a Fellowship-like TV show to honor a diva of their choice. The losing team consisting of Ra'Jah O'Hara, A'Keria C. Davenport, Shuga Cain, Scarlet Envy, Honey Davenport, and Plastique Tiara chose Mariah Carrey as their diva to "worship."
Ru was clearly unimpressed with the performance of the losing team and asked them during the judges' critiques who to blame for their lackluster performance. Every queen expressed how they have a hand in the unsuccessful challenge, and they would not blame their teammates for things that they all agreed upon.
"I take responsibility, I would have suggested somebody that I could have really conveyed, we would have done a little better," said Honey Davenport.
"I'm definitely taking responsibility for my flaws in the challenge, and I know that mine was definitely a big part of it," she added.
Other queens also expressed the same sentiment. A'keria C. Davenport said that all of them "dropped the ball."
"As I team I don't want to single anyone out. I mean, I, myself, flubbed a few puns that I had written down," Scarlet Envy chimed in.
In a decision that shocked everyone in the stage including the winning team, Ru had all the six girls lip-sync against each other in Jennifer Lopez's Waiting For Tonight where Honey Davenport eventually sashayed away.
But this moment was a missed opportunity.
What the six queens exhibited during the critiques was standing for each other and teamwork. They stood by their fellow queens instead of throwing one under the bus. As a show that appeals to a younger generation of queer people, it is essential for the narrative of sisterhood to flourish, and the queens should have been rewarded for not dropping someone even if they know that there is a possibility that all of them will suffer the consequences.
In retrospect, it's as if RuPaul penalized the girls for doing what she preaches – to treat each other as family and having each other's backs. When Ru asked the girls to lip-sync against each other for not throwing one of their teammates under the bus when she could have based her decision on the merits of their individual performances to determine the bottom two as usual, she also sent the message that standing by your team and having each others' backs is something that would bring you trouble.
And that is not the message we want young and confused queer men and women to hear.
In a society where queer people are facing consistent discrimination, all they have are each other. And teaching them that standing up for their own people is a value that is rewarded rather than penalized, the show may be able to send across the message that there should be no one in the community that should be left behind.
The show has definitely made an impact for the gay community to be recognized in the mainstream – especially drag culture. But there are more that the show can do; and they can start by telling gay children that they will always have each other, no matter what. /apr
An unsecured database containing the private contact information of millions of Instagram influencer, celebrities and brand accounts have been discovered and is said to have included personal information such as phone numbers and email addresses. The database was supposed to be unprotected, and anyone could have access to the plethora of sensitive information that it contains.
The discovery was first reported by Zack Whittaker from Tech Crunch and said that cybersecurity researcher Anurag Sen discovered the exposed and unprotected database, hosted by Amazon Web Services. According to the initial report, there were already 49 million records in the database and seemed to have been growing by the hour.
In hindsight, each record in the database contained publicly listed data scraped from influencer, celebrity, and brand Instagram accounts including their bio, profile picture, their follower count, verification status, and their location by city and country. However, the database also contained private contact information, including email address and phone number.
Several high profile influencers and celebrities were found in the database, including some prominent beauty and fashion bloggers, food bloggers, celebrities, and other famous social media influencers. According to Whittaker, he contacted several people on the list at random whose information was found in the database, and some of them indeed replied, confirming that some – or most – of the data contained in the database are actual data scraped from their Instagram accounts.
The database was then traced back to an India-based social media marketing company, Chtrbox, a firm that pays Instagram influencers to post sponsored content on their accounts. The report revealed that each record, aside from public and personal information of the account owner, also includes an estimated worth of each account, factored by the number of followers they have, the engagement level they receive, the width of their reach, likes, and shares they had. The calculation was used as a metric to determine how much to pay an influencer to post a sponsored content on their account as an ad.
Those who responded have said that they used the email and the phone number as default to sign up for Instagram and they also denied having been involved in a business with Chtrbox.
The researchers were able to contact Chtrbox and was successfully in having them take the database offline; however, Pranay Swurap, the founder of the social media marketing firm and it's Chief Executive Officer, refused to comment and answer questions raised by the researchers.
Until now, it is unclear how the company was able to obtain the massive data they have.
One theory made by the researchers is that two years ago, a security bug in the developer API of Instagram has allowed hackers to obtain email addresses and phone numbers of six million Instagram accounts. The hacker later sold the data they were able to scrape by exploiting the bug was sold to highest bidders for bitcoin.
Hackers have launched a website with a searchable database of some Instagram users' alleged personal info. The data, a sample of which the hackers provided t, appears to include email addresses and phone numbers for a selection of high profile Instagram users, including politicians, sports stars, and media companies. The data also seems to contain information on more ordinary accounts, too.
"Instagram clearly hasn't yet understood the full impact of this bug," said one of the people behind the site, dubbed 'Doxagram.'
Some of the accounts in the list are seemingly high profile. One entry is allegedly for the official President of the United States' Instagram account. Another alleged account appears to belong to Cristiano Ronaldo, the world-famous soccer player.
As for why the database contains high profile users, the hackers claimed they set up their scraper to initially target all users with over 1 million followers, and then recursively harvest other users. In all, the hackers claim to have over 6 million accounts in their database.
Meanwhile, in a statement made by Facebook following the disclosure of the database said that the company is investigating the matter.
"We're looking into the issue to understand if the data described – including email and phone numbers – was from Instagram or from other sources," said an updated statement. "We're also inquiring with Chtrbox to understand where this data came from and how it became publicly available," it added.
'Young Sheldon' Season 2 Finale: What's Meant To Be Will Always Find Its Way To You
As you get older, sometimes do you also think and reflect if you are moving closer to your goals in life? Did you become a better person than you were a year before? Are you making good use of your talents or potential? What if you're falling behind or what if you don't achieve that thing you wanted to have in the future?
Last May 16 in Young Sheldon's Season 2 finale episode titled A Swedish Science Thing and the Equation for Toast, I somehow learned that "what's meant to be will always find it's way to you" and won't just pass by.
Young Sheldon is about a nine-year-old genius from East Texas who turned out to be a brilliant theoretical physicist in the hit comedy sitcom Big Bang Theory. In the mentioned episode, he invited some of his family and friends to have a Nobel Prize Announcement party, to listen to the radio broadcast of 1990 Nobel Prize dedication. But nobody joined him.
During that time, he was heartbroken, and he thought he was a neutrino fated to be sad and lonely forever. But in the future, he was happy to be wrong. It turns out he's a quark.
According to the Cambridge Dictionary, a quark is one of the primary forms of matter that make up an atom. Anyways, he said that one of the remarkable characteristics of quarks is that they are bonded together.  After the voice over, we see Sheldon's younger Big Bang Theory friends at different sides of the world. Sheldon was not alone after all.
The young Leonard Hofstadter was also listening alone in his room, in his table, we can see his inhaler. Penny (Leonard's future wife) is sleeping.  Raj (the future Astrophysicist) was doing his homework in his rocket/spaceships themed room. Howard (the future Engineer and astronaut) was playing a video game in his bedroom which was full of magic kit items. Bernadette (Howard's future wife) was also sleeping, and in her night table, we can see her glasses, a photo of her and a pageant trophy. Lastly, Amy (Sheldon's future wife) is still awake, but she's not listening to the Nobel prize broadcast. She is reading a book.
The episode was shown in CBS, a few minutes in CBS after BBT's last episode ever. Fans were overjoyed and teary-eyed to have this surprise. It proves that even though Sheldon was alone during that time, in the end, he'll meet real friends who will love, support and accept him as he is, who will also be there for him when he wins the Nobel Prize.
According to Steve Molaro, they somehow want to honor Big Bang Theory in their momentous night and give a love letter in the form of a cross over. Without BBT, Young Sheldon won't be possible.
The series is an origin story set in 1989; it centers on how Sheldon Cooper became the guy that he is in Big Bang Theory and how he survived high school at a very young age. In this show, we'll get to know more about Sheldon and his love for trains, his fanboy tendencies to Professor Proton and his childhood friends like Tam. The cast includes Ian Armitage (young Sheldon), Zoe Perry (Mary, Sheldon's mom), Lance Barber (George, Sheldon's dad), Reagan Revord (Missy, Sheldon's twin sister), Montana Jordan ( George Jr, Sheldon's big brother) and Annie Potts (Meemaw, Sheldon's grandma).
Young Sheldon is somehow different from the Big Bang Theory. It is shot using a single camera while BBT is shot using a three-camera in front of a live studio audience. Parsons is one of the Executive Producers of the show. At the same time in the series, we can hear him narrate as adult Sheldon in some of the significant parts of the show. Zoe Perry (who plays Young Sheldon's mother) is the biological daughter of Laurie Metcalf (who plays the Older Sheldon's mother in BBT).
According to the producers Chuck Lorre and Steve Molaro, they have been interested in and discussing plans on having Sheldon's childhood story for almost ten years. But, The prequel series started with Jim Parsons' idea when he was bonding with his intellectually gifted nephew. He plays the older Sheldon in Big Bang Theory. He then emailed Chuck Lorre, BBT's co-creator. Young Sheldon's first ever episode premiered last September 25, 2017.
Spotify Goes Big On Podcasts
The popular music streaming app, Spotify, is all-in with podcasts as it launches a redesigned user interface (UI) that refocuses Spotify into two different audio categories
Spotify redesigns UI to put focus on podcasts as the company goes big by spending $500 million on acquisitions to improve their standing in the podcast market. They also encourage users to create new podcasts using new tools.
Click To Tweet
The popular music streaming app, Spotify, is all-in with podcasts as it launches a redesigned user interface (UI) that refocuses Spotify into two different audio categories: Music and Podcasts. While it is not new that podcasts and audio shows are already thriving in the app, Spotify makes it easier for listeners to navigate the app to search for their favorite podcast shows.
The new redesigned UI is only available for a limited number of users as of now, though, and was first reported last week. The new design emphasizes bolded headings for both "music" and "podcasts" on the app's library page. Currently, Spotify users have to sift through six categories at the top of their library pages to find a dedicated podcast section. While Spotify confirmed that they were testing "new products," they declined to comment on when the new redesigned UI would roll out to all users.
According to Spotify, last year, "seven million people in the US produced podcasts—and even more, people consumed them." And it makes sense why the app company is putting money on podcasts on its platform. Spotify has spent up to $500 million on podcasts alone. The spending included their acquisition of major companies like Gimlet Media. The equivocal emphasis of Spotify to spend on promoting podcasts on its platform says so much about its goal to compete with Apple and Luminary to try to become the go-to place for podcast listeners, and improving "discoverability" and ease of use is necessary to achieve their goal.
A few days ago, Spotify also released a tool called Soundtrap for Storytellers to encourage podcast producers to produce more shows on Spotify. Soundtrap for Storytellers is a comprehensive podcast creation tool that offers recording, remote multi-track interviewing with video chat, smart editing of audio as a text document, full audio production, direct-to-Spotify publishing of the podcast, and transcript publishing to optimize SEO all in one service.
In an event hosted by Spotify for the launch of Soundtap for Storytellers, they invited popular podcast producers to talk about their craft and how they can use the new tool in their podcasts. Hannah Berner, the host of the popular podcast show Berning in Hell, said that she "think(s) a lot of podcasters don't have any knowledge about the importance of SEO, or getting found in unique ways, besides just promoting on our social media. So having a transcript of what you're saying that also helps with SEO is incredible."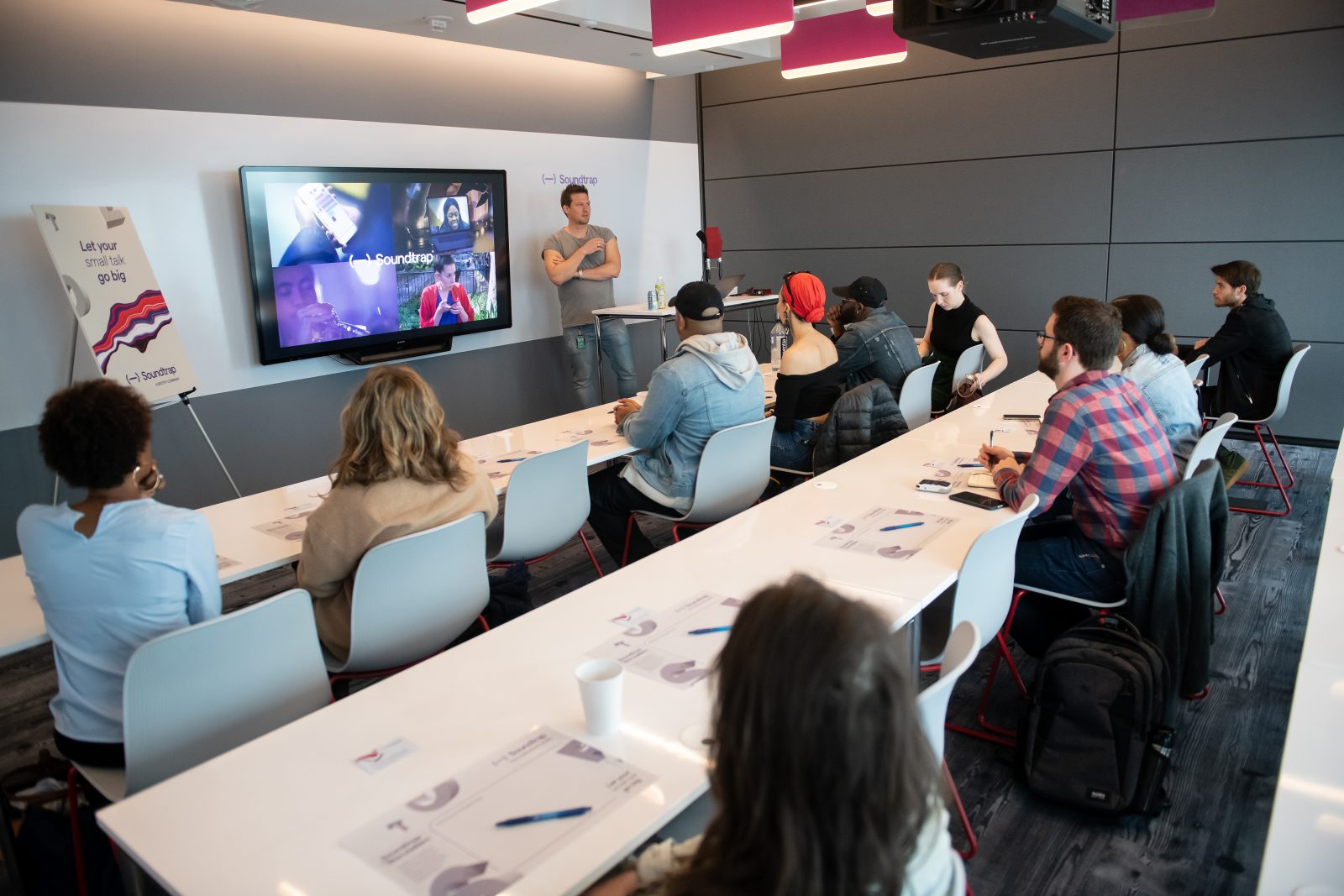 Lindsay Metselaar, host of We Met At Acme, said that the prospect of being able to record with people who are not physically with her is what excites her the most about the new podcast creation tool.
"The fact that you can record with someone when they're not physically with you is huge. I'm not able to do that right now because the sound quality is just not the same with other programs or over the phone. But Soundtrap allows two computers to have the same recording situation set up. That's huge for podcasting," she said.
The new podcast tool is available starting May 14 online and on iOS and Android, with pricing starting at $14.99/month and an annual plan starting at $11.99/month.
In addition to Soundtrap for Storytellers, Spotify is also encouraging new artists to create more podcasts on its newly acquired tool called Anchor. Anchor is a free-to-use podcast creation, distribution and monetization platform that says its mission is to "democratize audio." It was one of two New York-based podcast companies (alongside Gimlet Media) acquired by Spotify in February for $343 million combined.
"There's no doubt that podcasting is expanding like crazy, and if you have a story to tell, someone out there is dying to hear it," writes Spotify in the news post.
"For those who are ready to experiment, have fun, and try out a new way to connect with fans, here's why it's time for you to start using Anchor."
Spotify is making a concerted effort to encourage more of its platform's 3.9 million artists and dedicated-podcast creators to use its marketplace tools – like Anchor and Soundtrap for Storytellers. If successful, Spotify will make itself a one-stop-shop for podcast producers, hosts, and artists, and might be able to top competitors like Apple and Luminary in the podcast wars online.