Netflix's Queer Eye: Starting Conversations About Differences And Changing Lives
We are living in a world where differences are highlighted more than similarities. It has made conversations about things that matter very polarized, and understanding seems to be a pipe dream for everyone. That is why it is essential for people to be reminded that there are more things that we all share rather than things that keep us apart.
It is with this premise that Netflix's Queer Eye is born.
The new Queer Eye is hosted by five gay guys known as the Fab 5, each of them having specific expertise. Antoni Porowski is the show's resident food and wine expert. He helps the "heroes" to prepare food for themselves and their families. Jonathan Van Ness, the grooming expert, helps the chosen heroes to establish a day-to-day grooming routine to take care of their bodies. The heroes are dressed and improved in the fashion aspect by Tan France, and their homes/spaces were renovated and redesigned by Bobby Berk to suit their needs. Karamo Brown is the life coach that helps the heroes overcome their fear and build more confidence in them.
In hindsight, the premise of the show is very stereotypical. The roles of the Fab 5, the fashion expert, interior designer, and hair stylist, in particular, are the stereotypical roles given to gays and members of the LGBTQ community.
When you think of fashion, style, and design, the first thing that comes to your mind is that either women or gay guys do it. That's why the show, to an extent, is perpetuating a narrative that fashion experts and groomers and interior designers are gay people.
True enough. However, the little stereotyping that happens in the show is compensated by the conversations that happen every episode. In a way, through the help of these "gay fashionista" or "gay hairstylist" or "gay interior designer," people will start to realize that these aspects of human lives are necessary for everyone – even for straight guys.
In most of the episodes, the show has seen heroes who are adamant of wearing certain types of clothing because they think they think that dressing up a certain way is a way for them to either be comfortable or otherwise they might be seen as less masculine. But their minds change in the end, always. After Tan France makes them understand that dressing up doesn't need to be loud or obnoxious for it to be appropriate or hip or in trend, the heroes, in most cases, embrace the change.
It is with this kind of narrative that Queer Eye aims to affect the same change to their audience. While not everyone will become "heroes," everyone will still be getting the same fashion, grooming, food, interior design, and culture advice from the Fab 5. By this, the conversation is extended from that of between the Fab 5 and the heroes to the show and its audience.
The conversation does not end at that, however. Real issues are being tackled in the show, and as the hosts in recent interviews claim, most of those conversations are not produced nor directed. Meaning, the message that gay people can contribute something in the society is a narrative that organically happens in the show.
In one episode in the first season of Queer Eye, the Fab 5 were stopped by a police officer as they drive to the new hero. Tan France and Karamo Brown, both POCs, had echoed how they feared for their lives when that happened. While the entire thing was just orchestrated by production, the hosts were not briefed about it, and thus their reactions were genuinely organic.
Karamo later said to the hero, which was a police officer, that he was honestly hesitant to have a conversation with him because he was a cop. This conversation led to a discussion on the reality that black people are facing right now in America and the Black Lives Matter movement. As the police officer apologized on behalf of all the cops in America for their atrocities against POCs, Karamo felt like it was a form of "healing" for him.
In another episode, the Fab 5 was tasked to make over a devout Christian black woman and the community center of her church. During the episode, Bobby Berk refused to get inside the church because "he might break down" and because he "promised myself that I would never get inside another church again."
Berk's life story is eerily similar to most gay men. At the age of 15, Bobby, who was raised in a very religious family, ran away from his home because he was gay. He said that the church consistently taught him that gays are an abomination and being one is a sin.
In the end, Bobby had an emotional conversation with Mama Tammy, who also had a gay son, and made them learn the lesson of acceptance and love – an experience that the show has successfully translated for its audience to learn from.
Five gay guys helping straight people make their lives better is just the tip of the iceberg. It is the conversations that organically happen that make shows like Queer Eye necessary. We need more Fab 5 in the entertainment industry, and we need more Queer Eyes to open the world's minds to the reality other people are living.
It is in the hope that through these shows, people will learn a thing or two about tolerance and acceptance – that more things keep us together than pull us apart.
The third season of Queer Eye was released by Netflix on March 15, 2019. /apr
'Young Sheldon' Season 2 Finale: What's Meant To Be Will Always Find Its Way To You
As you get older, sometimes do you also think and reflect if you are moving closer to your goals in life? Did you become a better person than you were a year before? Are you making good use of your talents or potential? What if you're falling behind or what if you don't achieve that thing you wanted to have in the future?
Last May 16 in Young Sheldon's Season 2 finale episode titled A Swedish Science Thing and the Equation for Toast, I somehow learned that "what's meant to be will always find it's way to you" and won't just pass by.
Young Sheldon is about a nine-year-old genius from East Texas who turned out to be a brilliant theoretical physicist in the hit comedy sitcom Big Bang Theory. In the mentioned episode, he invited some of his family and friends to have a Nobel Prize Announcement party, to listen to the radio broadcast of 1990 Nobel Prize dedication. But nobody joined him.
During that time, he was heartbroken, and he thought he was a neutrino fated to be sad and lonely forever. But in the future, he was happy to be wrong. It turns out he's a quark.
According to the Cambridge Dictionary, a quark is one of the primary forms of matter that make up an atom. Anyways, he said that one of the remarkable characteristics of quarks is that they are bonded together.  After the voice over, we see Sheldon's younger Big Bang Theory friends at different sides of the world. Sheldon was not alone after all.
The young Leonard Hofstadter was also listening alone in his room, in his table, we can see his inhaler. Penny (Leonard's future wife) is sleeping.  Raj (the future Astrophysicist) was doing his homework in his rocket/spaceships themed room. Howard (the future Engineer and astronaut) was playing a video game in his bedroom which was full of magic kit items. Bernadette (Howard's future wife) was also sleeping, and in her night table, we can see her glasses, a photo of her and a pageant trophy. Lastly, Amy (Sheldon's future wife) is still awake, but she's not listening to the Nobel prize broadcast. She is reading a book.
The episode was shown in CBS, a few minutes in CBS after BBT's last episode ever. Fans were overjoyed and teary-eyed to have this surprise. It proves that even though Sheldon was alone during that time, in the end, he'll meet real friends who will love, support and accept him as he is, who will also be there for him when he wins the Nobel Prize.
According to Steve Molaro, they somehow want to honor Big Bang Theory in their momentous night and give a love letter in the form of a cross over. Without BBT, Young Sheldon won't be possible.
The series is an origin story set in 1989; it centers on how Sheldon Cooper became the guy that he is in Big Bang Theory and how he survived high school at a very young age. In this show, we'll get to know more about Sheldon and his love for trains, his fanboy tendencies to Professor Proton and his childhood friends like Tam. The cast includes Ian Armitage (young Sheldon), Zoe Perry (Mary, Sheldon's mom), Lance Barber (George, Sheldon's dad), Reagan Revord (Missy, Sheldon's twin sister), Montana Jordan ( George Jr, Sheldon's big brother) and Annie Potts (Meemaw, Sheldon's grandma).
Young Sheldon is somehow different from the Big Bang Theory. It is shot using a single camera while BBT is shot using a three-camera in front of a live studio audience. Parsons is one of the Executive Producers of the show. At the same time in the series, we can hear him narrate as adult Sheldon in some of the significant parts of the show. Zoe Perry (who plays Young Sheldon's mother) is the biological daughter of Laurie Metcalf (who plays the Older Sheldon's mother in BBT).
According to the producers Chuck Lorre and Steve Molaro, they have been interested in and discussing plans on having Sheldon's childhood story for almost ten years. But, The prequel series started with Jim Parsons' idea when he was bonding with his intellectually gifted nephew. He plays the older Sheldon in Big Bang Theory. He then emailed Chuck Lorre, BBT's co-creator. Young Sheldon's first ever episode premiered last September 25, 2017.
The popular music streaming app, Spotify, is all-in with podcasts as it launches a redesigned user interface (UI) that refocuses Spotify into two different audio categories: Music and Podcasts. While it is not new that podcasts and audio shows are already thriving in the app, Spotify makes it easier for listeners to navigate the app to search for their favorite podcast shows.
The new redesigned UI is only available for a limited number of users as of now, though, and was first reported last week. The new design emphasizes bolded headings for both "music" and "podcasts" on the app's library page. Currently, Spotify users have to sift through six categories at the top of their library pages to find a dedicated podcast section. While Spotify confirmed that they were testing "new products," they declined to comment on when the new redesigned UI would roll out to all users.
According to Spotify, last year, "seven million people in the US produced podcasts—and even more, people consumed them." And it makes sense why the app company is putting money on podcasts on its platform. Spotify has spent up to $500 million on podcasts alone. The spending included their acquisition of major companies like Gimlet Media. The equivocal emphasis of Spotify to spend on promoting podcasts on its platform says so much about its goal to compete with Apple and Luminary to try to become the go-to place for podcast listeners, and improving "discoverability" and ease of use is necessary to achieve their goal.
A few days ago, Spotify also released a tool called Soundtrap for Storytellers to encourage podcast producers to produce more shows on Spotify. Soundtrap for Storytellers is a comprehensive podcast creation tool that offers recording, remote multi-track interviewing with video chat, smart editing of audio as a text document, full audio production, direct-to-Spotify publishing of the podcast, and transcript publishing to optimize SEO all in one service.
In an event hosted by Spotify for the launch of Soundtap for Storytellers, they invited popular podcast producers to talk about their craft and how they can use the new tool in their podcasts. Hannah Berner, the host of the popular podcast show Berning in Hell, said that she "think(s) a lot of podcasters don't have any knowledge about the importance of SEO, or getting found in unique ways, besides just promoting on our social media. So having a transcript of what you're saying that also helps with SEO is incredible."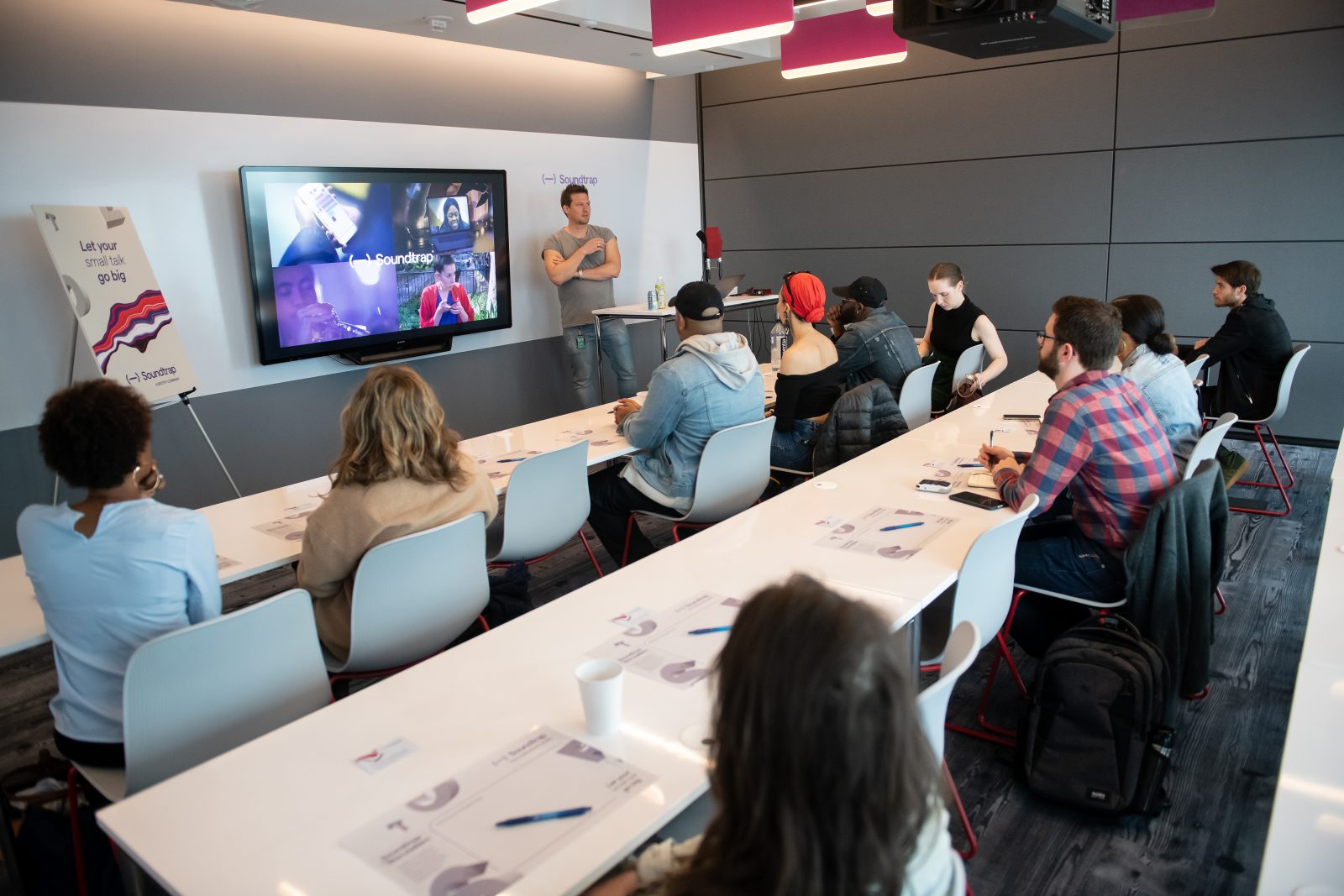 Lindsay Metselaar, host of We Met At Acme, said that the prospect of being able to record with people who are not physically with her is what excites her the most about the new podcast creation tool.
"The fact that you can record with someone when they're not physically with you is huge. I'm not able to do that right now because the sound quality is just not the same with other programs or over the phone. But Soundtrap allows two computers to have the same recording situation set up. That's huge for podcasting," she said.
The new podcast tool is available starting May 14 online and on iOS and Android, with pricing starting at $14.99/month and an annual plan starting at $11.99/month.
In addition to Soundtrap for Storytellers, Spotify is also encouraging new artists to create more podcasts on its newly acquired tool called Anchor. Anchor is a free-to-use podcast creation, distribution and monetization platform that says its mission is to "democratize audio." It was one of two New York-based podcast companies (alongside Gimlet Media) acquired by Spotify in February for $343 million combined.
"There's no doubt that podcasting is expanding like crazy, and if you have a story to tell, someone out there is dying to hear it," writes Spotify in the news post.
"For those who are ready to experiment, have fun, and try out a new way to connect with fans, here's why it's time for you to start using Anchor."
Spotify is making a concerted effort to encourage more of its platform's 3.9 million artists and dedicated-podcast creators to use its marketplace tools – like Anchor and Soundtrap for Storytellers. If successful, Spotify will make itself a one-stop-shop for podcast producers, hosts, and artists, and might be able to top competitors like Apple and Luminary in the podcast wars online.
The unstoppable avenging hitman is back in cinemas for its third installment, and we can't disregard to talk about it. Nonetheless, John Wick 3: Parabellum is finally here; expect mild spoilers ahead.
For those who've been living under a rock and has decided to come out to watch John Wick 3: Parabellum, John Wick (Keanu Reeves) is a legendary hitman with cool nicknames like the Boogeyman or "Baba Yaga." He lives in a world like our own but with more assassins in every corner than rats living in your attic, and complete with a whole set of underground government ruled by the High Table.
In the first movie, he retired his guns and knives because he fell in love. Unfortunately, his wife passed away early, but she left him a dog named, Daisy. On a very unnecessary day, Iosef Tarassov–a Russian Gangster–got mad when Wick refused to sell his car and knocks Wick out and killed Daisy on his way out. Infuriated, Wick sets out on a path of vengeance that ultimately sets off the entire series.
On his path to vengeance, he triggers old boss Viggo Tarassov when he can't talk Wick out of his senseless parade of violence on his son, Iosef. As a result, he places a $2 million bounty on his head. In the end, he kills both Viggo and Iosef simply because nothing will stop John Wick from seeking revenge. The movie ends with him leaving with a freed pitbull set for euthanization, cute.
Moving over to the second movie, John Wick is forced to get out of retirement, again! Remember when he needed to accomplish an impossible task before retiring? He required the aid of Italian crime lord, Santino D'Antonio (Riccardo Scamarcio). Santino, in return, gave him a coin, which they call the "marker" which basically signifies a favor waiting to be returned. Santino asks Wick to kill his sister, Gianna, before she ascends to sit o the High Table, which he wants for himself.
The "marker," which is one of the two unbreakable cardinal rules in Wick's world, forces him to pay the favor back and kills Gianna. However, Santino decides to double cross Wick and tries to kill him to cover his tracks as he ascends to the High Table.
Wick escapes, Santino places a $7 million bounty on his head, but ultimately he kills Santino, newly named at the High Table. We are talking about John Wick, he's practically un-killable. These assassins should have known better.
One problem, though. Wick killed Santino in the middle of a Continental Hotel–a supposed sanctuary for the world's hitmen where they're safe and can't be killed and also the other unbreakable cardinal rule.
John Wick 3: Parabellum picks up moments before Wick becomes "excommunicato" for killing a person from the High Table at the Continental Hotel. The hotel's manager, Winston (Ian McShane), gives him an hour head-start.
We'll see Wick scramble to find allies and guns, a lot of it, as his status isn't only just within New York City but is extended to the whole world with a $14 million bounty. Everyone from the underground world of hitmen and assassins will be wanting a piece of that, and there' no sanctuary for him to run to this time.
The title refers to the old adage, Si vis pacem, para Bellum: "If you want peace, prepare for war." Wick has essentially declared war on the High Table, and the escalation plays out exactly as you'd expect when everyone's favorite dog-loving hitman is involved.
Favorite takeaways from the movie are Wick killing a 6-foot tall assassin in between tight library hallways using a book, almost all of the well-choreographed fight scenes, and Sophia (Halle Berry) having a swath of vicious dogs attack in her behalf.
In conclusion, without giving too much away, John Wick 3: Parabellum knows how to keep the ball rolling within its storyline without sacrificing the brusque-noir vibe that made the film great. Moreover, the fight scene is only getting better with one of the best executions compared to other movies where they tend to go bigger rather than better.
On other news, we're pulling the trigger on this one, John Wick 3 also hinted a coming John Wick 4. About the when we're not sure as the John Wick series usually takes years in between each other. Nonetheless, we're too excited about it.