Instagram Unreleased Updates: Video Seekers, Trusted Devices, Offensive Comment Warning, And Many More
Global tech leader and famous image sharing social media platform, Instagram, is testing a few cool features that would help users in various ways including a warning about offensive contents, adding trusted devices as a 2FA function among others.
These new unreleased features were first spotted by the Twitter user Jane Manchun Wong, who has previously detected and reported about undisclosed beta features from different apps like Facebook, Instagram, and Twitter. She reverse-engineers the apps to discover any new updates that they are testing.
This time, Wong has said that she discovered multiple beta tests in the Facebook-owned Instagram including a feature that would help content creators organize their direct messages. Here are a few of the newest features that Instagram are testing right now and might roll out soon:
OFFENSIVE COMMENT WARNINGS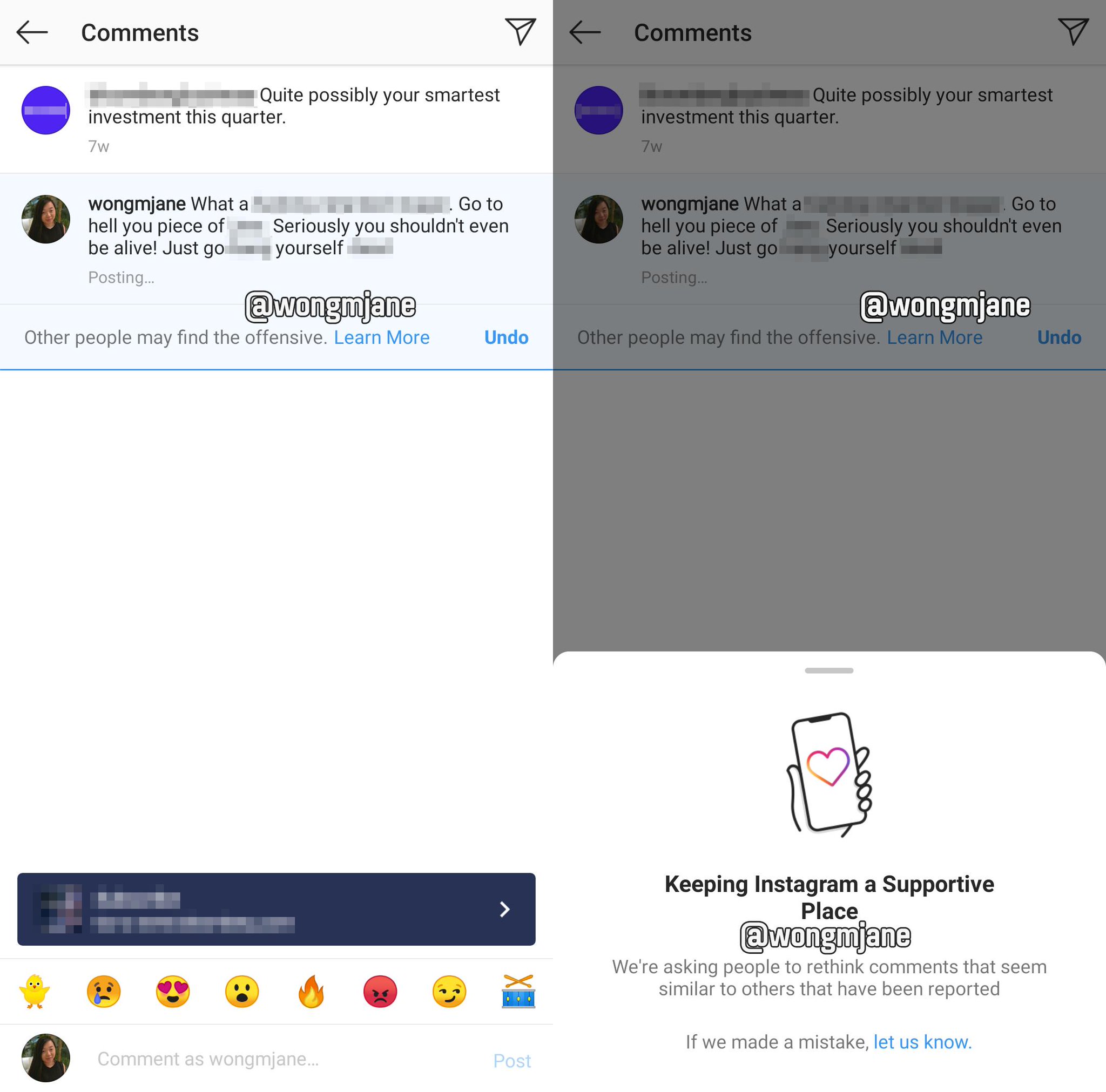 In a renewed commitment of the application's mother company, Facebook, to improve the conversation that happens within its platforms, Instagram is testing a feature that would warn users if the comment they try to post contains offensive language. Instagram said that they "keeping Instagram a supportive place."
Instagram will be asking people to rethink the comments that they are about to post that "seem similar to others that have been reported." Instagram also allows users to contact them if they made a mistake.
When Wong tried the feature by posting a comment full of obscene language, she said she was temporarily banned for triggering the offensive comment warning – which means the feature actually works.
"TRUSTED DEVICES"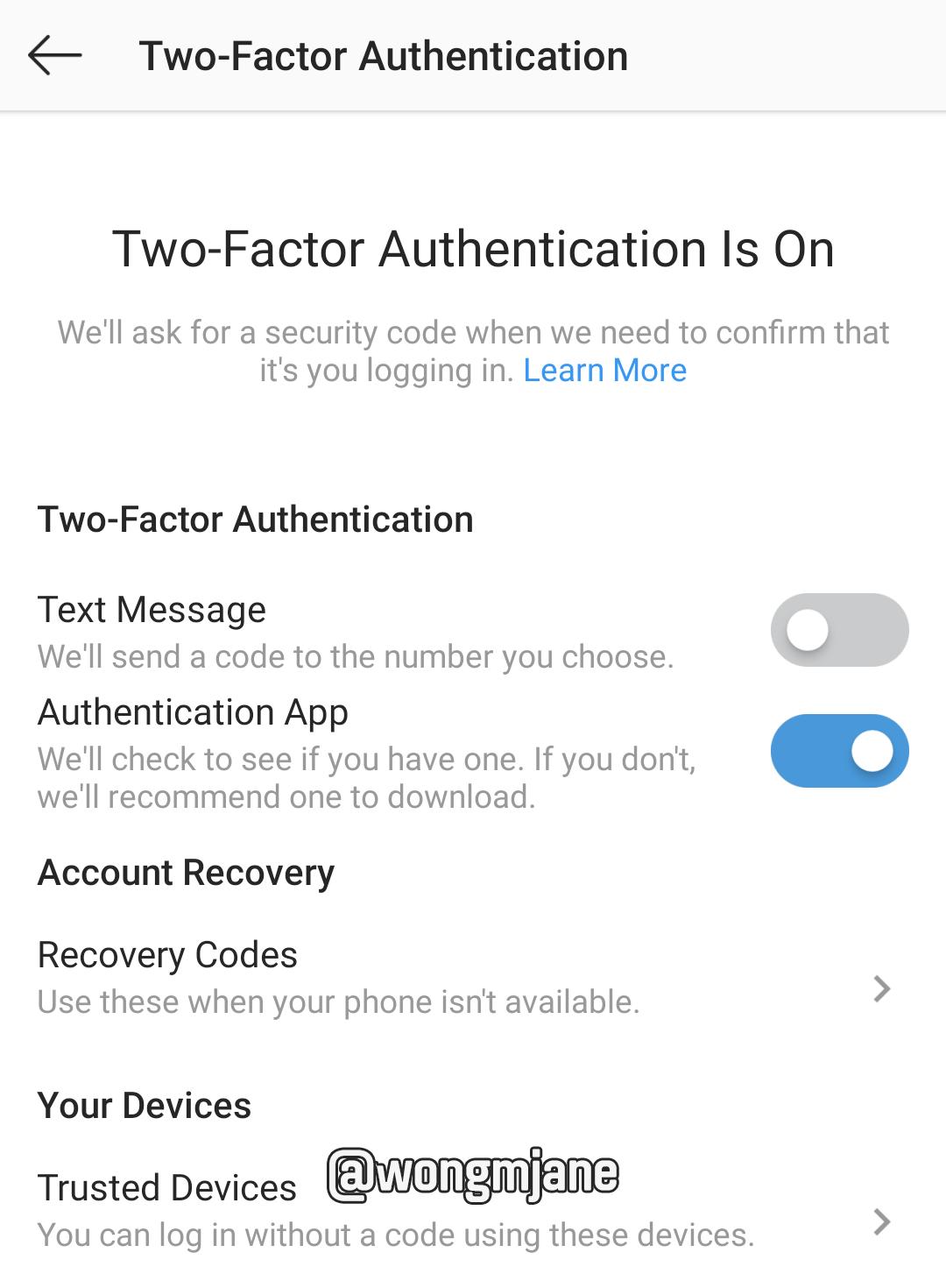 Furthermore, Instagram is also working on a new 2FA setting that would include "Trusted Devices." The "Trusted Devices" management would be found in the app's Two-Factor Authentication setting. By using a "Trusted Device" that is set in the account, users can log in without a 2FA code.
2FA codes are used by Instagram to make sure that those who keyed in login credentials are really the people owning the account. Setting up 2FA is an added security layer to prevent unauthorized access to the account.
"TOP REQUESTS" IN INSTAGRAM DIRECT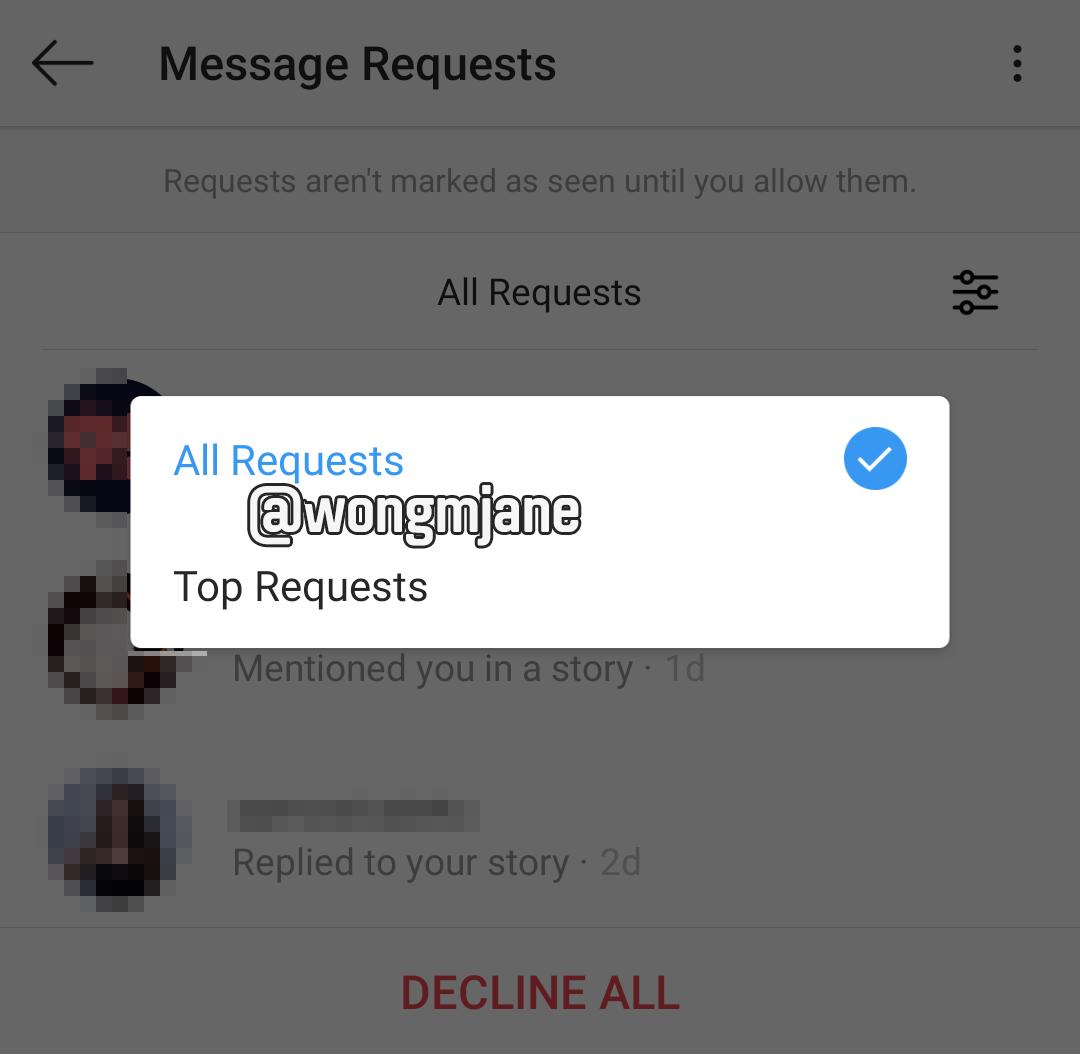 Instagram's messaging feature, Instagram Direct, is also testing some cool features specifically for creators. One of these features is setting up a "Top Requests" options to screen the message requests an account gets. When a person sends a message to an account, the message would directly go to the "Message Requests" sections if the account does not follow or does not previously allowed messages from the originator of the messages; this means that users can now filter those message requests based on "Top Requests."
It is, however, unclear how would Instagram determine what a "Top Request" is or how a person can be included in another account's "Top Requests" filter.
"PRIMARY" AND "GENERAL" CONVERSATIONS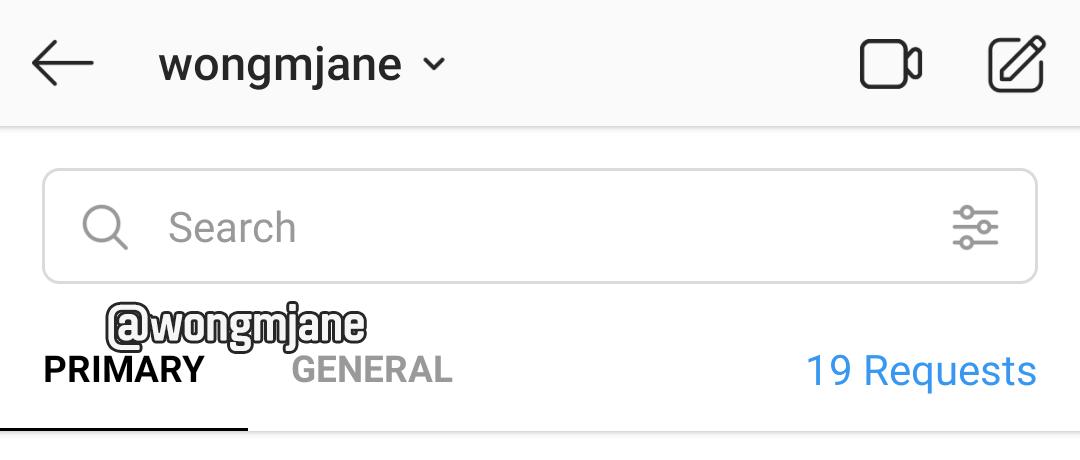 As Instagram aims to streamline the UX and UI of Instagram Direct, it is also testing to make categories for conversations. In the new feature, communications in the messaging platform would be divided into two groups: Primary and General. It is still unknown what makes up primary conversations and general conversations.
It could be possible the primary conversations will be nominated by the users, and the rest of the conversations will be moved to the general tab. It is also possible that the primary tab includes messages from "Close Friends" or that Instagram has a separate algorithm to determine what messages belong to which tab.
VIDEO SEEKER BAR
Instagram is also testing an option for users to skip a video to a specific time. Wong discovered that videos would soon have a seeker bad that users can navigate to forward or rewind a video to a specific time point in the video.
According to Wong, it would be a "plus" if the new feature would show the frame preview while scrubbing through the video to make it easier for users to determine which part of the video they wanna go to or go back to. Wong warned, however, that the new feature may cause some performance regressions, but was excited to see where the feature would go UX-wise.
IN CONCLUSION
These new features are not yet released by Instagram and most users will still not be able to use them. They are only available to some beta testing accounts currently, but if their test proves successful, these features might be rolled out for everyone to enjoy soon. /apr
This AI Can Transform Your Photos Into A Renaissance Masterpiece
They said it is different from other photo-manipulation software available in the market.
Have you ever wondered how you would look like if your portrait is painted by the greatest of the great artists in history like da Vinci, Vermeer, and Picasso? Now, you don't need to time travel and become a part of the royal court for your photos to be rendered in the style of the greatest maestros of all time.
Researchers from MIT's IBM Watson AI Lab have developed a new photo manipulation project called AI Portraits that can transform your photos into Rennaissance art with just a click of a button. Using artificial intelligence (AI) based on generative adversarial network (GAN), AI Portraits is virtually reconstructing a photo uploaded in its systems and rebuilding them pixel per pixel to render the submitted photo in the style of an auto-generated art master in the past.
It's different from other photo-editing tools
But this is not the same as other photo-editing technology. Unlike Neural Style Transfer technology used by common photo manipulation app available in the market right now, with "strong alteration of colors, but the features of the photo remain unchanged," AI Portraits "creates new forms, beyond altering the style of an existing photo."
"AI Portraits Ars can paint portraits in real-time at 4k resolution. You will find yourself in front of a mirror and feel thousands Rembrandt, Caravaggio, Titian portraying you moment after moment," reads AI Portraits website.
How does it work?
AI Portraits Ars uses Artificial Intelligence to reproduce artistic human portraits, with different styles and levels of abstraction. The platform uses the generative adversarial network (GAN) that are "trained to learn a mapping of a latent vector z ∈ Z to a generated image y = G(z) with G being the generator." The latent space Z describes all possible portraits. "AI Portraits Ars pushes us towards an intuitive and playful way of interacting with state-of-the-art GAN models."
"By showing our face to the neural network, we walk through the Z space and identify the vector that best describes our face in the multidimensional space of the GAN. We trained AI Portraits Ars using our GAN on 45,000 portrait images. To allow insertion of own images into the latent space of a model, we trained an inverter that can approximate the latent vector z = I(x) from an image x," explained the developers of the platform.
Focus on European art
In training the network, the developers have used thousands of images across different art movements from the Early Renaissance to Contemporary Art. The developers said that they have a massive dataset of artworks that crosses cultural boundaries and epochs, but they focused on 15th century Europe, which is considered by art historians as "a stylistic inflection point in the history of portraiture marked by the emergence of realistic depictions of individuals."
Interestingly, the developers have said that they are still testing certain biases in the AI. For one, they have trained their machine to recognize certain preferences from a work of art and render them to the images they produce. One, in particular, is smiles. Many of the masters in classical art do not paint smiling portraits as smiling is viewed as informal during their times. As a consequence, they have trained their AI to decide whether to render a smiling photo into an image with a smile.
"Training our models on a data set with such strong bias leads us to reflect on the importance of AI fairness […] AI Portraits Ars introduces a very different type of bias with unique themes to explore," the developers explained.
"We encourage you to experiment with the tool as a way of exploring the bias of the model. For example, try smiling or laughing in your input image. What do you see? Does the model produce an image without a smile or laugh? Portrait masters rarely paint smiling people because smiles and laughter were commonly associated with a more comic aspect of genre painting and because the display of such an overt expression as smiling can seem to distort the face of the sitter. This inability of artificial intelligence to reproduce our smiles is teaching us something about the history of art," they wrote.
If in case you are worried about your photos being uploaded on the internet after the spectacle made by FaceApp in the past few days, AI Portraits said that "your photos are sent to our servers to generate portraits. We won't use data from your photos for any other purpose, and we'll immediately delete them."
Equifax To Pay $700M Or More For 2017 Data Breach
The credit reporting company has finally settled a deal with the Federal Trade Commission.
Equifax has reached a deal with the Federal Trade Commission (FTC) to pay up to $700 million due to the data breach last July 2017. The data breach resulted in the leakage of personal information of 143 million Americans.
The credit reporting agency will set up a $300 to $425 million in compensation for the affected consumers. It may still increase depending on the number of users that continues to file claims. Another $175 million will be paid to the 48 states, including the district of Columbia and Puerto Rico, and $100 million will go to Consumer Financial Protection Bureau (CFPB).
Aside from the fines, Equifax will implement changes on how it handles its users' data. Information security protocols will be revised in compliance with the FTC's standards. There will also be an annual assessment of the company's security risks that requires passing a board certification.
FTC Chairman Joe Simons emphasized the need for "extra responsibility" of securing personal data from companies that build businesses involving personal information. He said in a statement, "Equifax failed to take basic steps that may have prevented the breach."
In July 2017, personal data such as names, addresses, credit card numbers, and social security numbers were hacked from Equifax's systems.
Equifax is considered as one of the three largest credit-reporting companies that track the financial history of consumers. The company collects data on financial transactions such as loans, credit card payments, child support payments, rent and utility payment, and credit limits. Aside from financial records, additional personal data such as employment history and valid ID numbers are also collected. Using this data, the company computes each's credit scores.
When the company shared about the incident on September 2017, they identified that 209,000 U.S. consumers had their credit card numbers stolen. About 182,000 people have already reported credit card disputes.
After a thorough investigation, it was found out that 143 million users were affected. Most of which were residents of the United States, the United Kingdom, and Canada.
Unfortunately, not all 143 million consumers know that their information was given to Equifax. The credit reporting company collects data from credit card companies, banks, stores, and lending agencies.
Since the incident, the company has mailed notices to identified affected consumers.
Aside from the notices, users can check if they were affected by the hack through a website set up by Equifax. In the website, a user can check their status by clicking the "Check Potential Impact" link and submit their name and the last six digits of their Social Security number.
The user will then receive an email notifying whether their information was included in the hack. Aside from the notification, Equifax is also offering a security option called Trusted ID Premier.
The user can enroll in the TrustedID Premier, which provides free credit file monitoring and identity theft protection for a whole year. Users had until January 31, 2018, to enroll themselves on the program.
Initially, anyone who enrolls may be limiting themselves to participate in class-action suits or any lawsuit against the company. However, due to the backlash, the company had to remove it from their terms and conditions.
Equifax learned about the hack on July 2017, but only disclosed to the public after three months. Their info-sharing with the affected people were also criticized. Instead of calming the consumers, the threat of possible identity theft grew as consumers are left clueless about what has happened.
Hackers were able to gain access to personal data through a security flaw in a tool for building web applications called Apache Struts. Equifax used this tool as a support for its online dispute portal.
Equifax has admitted that its security department was aware of the security flaw months before hackers targeted their apps. The company was working on patches for the security flaw but was not able to deploy it on time.
Aside from the lapse of judgment, when a data breach was discovered on July 29, the company waited a day before taking the web application offline. Based on the company's statement, the delay was purposely done to "observe additional suspicious activity."
The company outsourced the help of Mandiant, a cybersecurity firm, to assess the damage done by the hacking incident. It was then revealed that a series of data breaches have already occurred since May 13 until June 30.
Many criticized Equifax's delayed responses to the vulnerability discovered months before the hacking incident happened. Jon Hendren, director of security firm UpGuard, said, "There's really no excuse whether it's a difficult patch or not, for an organization of that size with that kind of magnitude of data."
Due to the breach and the disappointing crisis and public relations management, the company's CEO Richard Smith retired last September 2017, effective immediately. The company also announced retirements of its top security and information executives during that time.
Slack's New Update Promises Faster Loading And Lesser Memory Consumption
Popular online collaboration platform, Slack, is launching a new and improved version, but it's not necessarily something that a naked eye can see.
Slack is introducing a new update to its web and desktop today which promises users to experience with unprecedented speed, with lesser memory consumed. Slack will completely rebuild the underlying technology where the platform runs.
For the last few years, Slack has been working on moving the web and desktop clients to a modern stack and away from jQuery and other (and slower) technology that is used when it first introduced these tools in 2012.
"We want people to be able to run Slack alongside anything else they're using to get their job done and have that be easy, uncumbersome, delightful even. So we took a look at the environment we're in," Jaime DeLanghe, Director of Product Management at Slack, told TechCrunch. "I think the other thing to note is that the ecosystem for client-side development has just changed a lot in the past five years. There have been some major updates to JavaScript and new technologies like React and Redux to make it easier to build dynamic web applications. We also wanted to update our stack to fit in with the modern paradigm."
Slack has been quietly rolling out several updates over the last few months to serve as a foundation for the new and improved platform. However, users will only be able to feel the difference once they update their slack client to the latest version. It is because the new Electron app by Slack will hold all the new pieces together.
The new updates have promising new capabilities. According to the company, the updated version of their desktop and web client will use least than 50% memory than previous versions of Slack. This means that the new web and desktop client will be able to run smoother in memory-scarce devices. With that, Slack promises that the updated client will run at least 33% faster than previous versions.
Moreover, joining an incoming call will also be ten times faster now, they added. And of course, these new updates will be best felt by users who are members of multiple workspaces, as the team has designed these improvements under the assumptions that most of their users belong to multiple workspaces.
In the previous versions, the struggle for users with multiple workspaces is real, especially if they move from one workspace to another. It is because they use to take up a lot of memory space and CPU cycles to switch between them. That's the downside, according to Slack, of them using its own Electron process in its old versions.
But now, Slack worked with React to build the UI components of the UI. With that, instead of users waiting to load all the data before the UI is displayed, the new app promises to load data as it becomes available, saving users' time in the process. This new technology used by slack would allow users to read previously opened channels and conversations even when they are offline.
"I'm not going to over-promise," DeLanghe said. "This removes one of the barriers that any company that's scaling and building features at the same time has to think about. […] This makes that tradeoff a little bit easier."
All of these improvement implies good news to Slack users. Now that the platform has already moved to a more modern blueprint for its web and desktop client, new developments are more likely to happen, which will help users maximize the potential of this collaboration app.
The announcement of Slack's improvements comes a month after the company has started with its successful IPO. More than 600,000 companies and organizations are using Slack as their central collaboration and messaging platform. Others are even considering the platform as an "indispensable" alternative to older forms of communication like emails.
Meanwhile, the roll-out of the new and updated version of slack desktop and web client will happen through the course of the next few days. However, it is vital to note that the rolling out of new Slack comes in two phases as users need to the new desktop application, and they also need to become eligible for the latest version.