RPDR Update: Vanjie And Brooke Has A Crush On Each Other And 'Branjie' Is Born
The 'showmance' between Miss Vanjie and Brooke Lynn Hytes have had all people talking about what exactly is happening between the two queens. Are they in-love?
In the preview clip for RuPaul's Drag Race Season 11 Episode 5 that was released a few minutes before writing, the two have confirmed that they have crushes on each other.
"Me and Vanjie have a crush on each other, and we'll see where it goes," said Brooke in one of her confessional videos included in the preview clip. "I think Vanjie is really cute, and we're just getting to know each other."
Miss Vanjie seconded Brooke Lynn's statements by kissing her (again!).
"It's really fresh at the womb. You know, I'm just going on with the flow, and if those kisses keep coming, I'm gonna keep accepting," Vanjie said.
Many have speculated about the relationship that is happening between the two competing queens in the previous episode of the show. The speculation started when in Episode 3, a short clip was shown in the show where Brooke Lynn, the first Canadian queen in the competition, and Vanessa Vanjie Matteo, the comeback queen from Season 10, kissed. While it is normal for friends to kiss, other queens began to notice that there is something that's happening between the two when they exchanged compliments regarding the performance they did in the challenge.
The flirting continues, this time, in Untucked for Episode 4. Miss Vanjie placed low in the episode and was in the brink of lipsyncing. Brooke Lynn approached her to console her for the critiques given to her by the judges in the main stage. Guess what: they ended up kissing again. This time, it was more romantic. Nina West saw what happened and asked the two about their relationship, which they both denied.
When Tiffany Pollard, New York's famous reality T.V. superstar who was the guest judge for the episode, went in the lounge to talk to the girls, she asked if there are special feelings brewing among the queens. The contestants pointed their stares at Brooke Lynn and Vanjie, but both of them refused to either confirm or deny.
In the short clip for the preview of Episode 5, the two were teased by their fellow queens and gave their love team a name: Branjie.
Plastique Tiara even said that the "Branjie" name should be in both queens new merch so "you're welcome."
In an unexpected turn of events, Silky Nutmeg Ganache and Nina West jokingly mocked the Branjie and started kissing each other while everyone laughed.
As the controversy (if you can call it that) progressed, many previous queens have spilled the tea about the new Branjie thing that is going own.
During the viewing party at Roscoe's with Detox, Shuga Cain, and Kahanna Montresse as the guests, Detox spilled that after filming, she went to have drinks and hang out with Brooke Lynn and Miss Vanjie came through. At the end of the night, she said she was gagged by what's happening between the two. This confirms that Brooke Lynn and Vanjie are still seeing each other after filming.
Kahanna, on the other hand, said that during the time of filming, in the bus that transports girls from their hotel to the place where they are filming, Brooke Lynn and Vanjie were obviously flirting with each other.
"They were like more like connecting with each other [not kissing], so I know that something is coming, but I didn't know that they're gonna take it to that," Kahanna explained.
As the new Branjie partnership start to get media attention, the two queens are milking it for all its worth. The queens have been taunting audiences in their social media accounts where they exchange sweet and flirtatious messages to each other. In one instance, Vanjie called Brooke Lynn a "cute raccoon" and complimented her "nice" butt.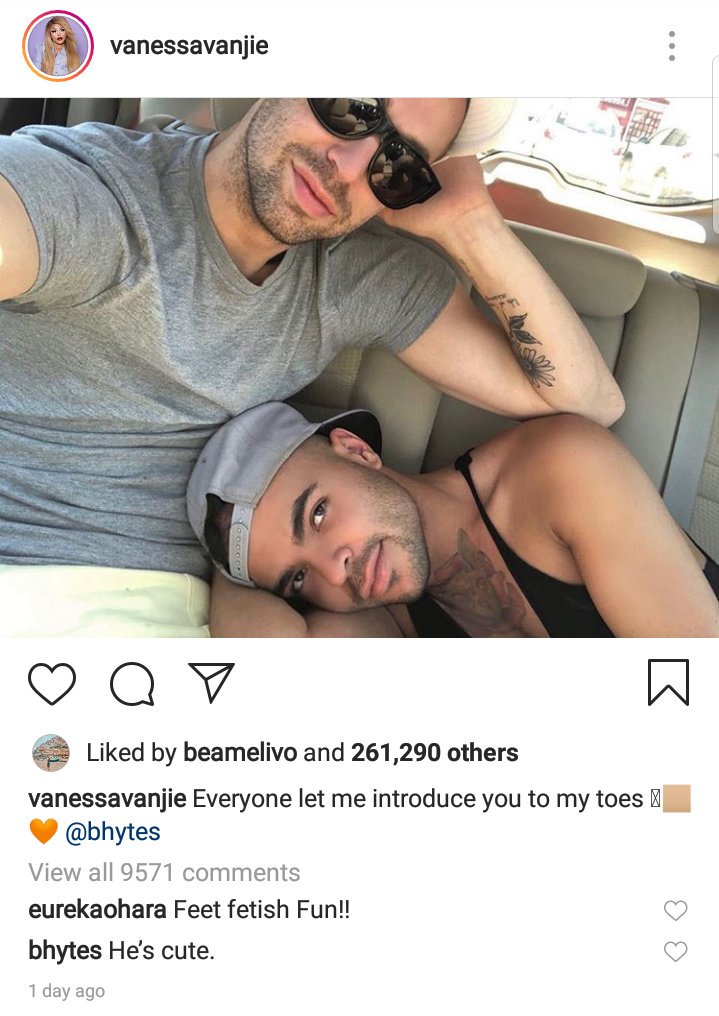 Recently, Miss Vanjie even posted a photo of him and Brooke Lynn hugging each other with the caption: "Everyone let me introduce you to my toes. [heart emoji]"
The gaggerama between the two seems to continue throughout the show as it brings more interest to the viewers, so it can be expected that heavy edits would be made to highlight the Branjie phenomenon. Besides, who knows, they could be the first real-life couple who first met in Drag Race. /apr
An unsecured database containing the private contact information of millions of Instagram influencer, celebrities and brand accounts have been discovered and is said to have included personal information such as phone numbers and email addresses. The database was supposed to be unprotected, and anyone could have access to the plethora of sensitive information that it contains.
The discovery was first reported by Zack Whittaker from Tech Crunch and said that cybersecurity researcher Anurag Sen discovered the exposed and unprotected database, hosted by Amazon Web Services. According to the initial report, there were already 49 million records in the database and seemed to have been growing by the hour.
In hindsight, each record in the database contained publicly listed data scraped from influencer, celebrity, and brand Instagram accounts including their bio, profile picture, their follower count, verification status, and their location by city and country. However, the database also contained private contact information, including email address and phone number.
Several high profile influencers and celebrities were found in the database, including some prominent beauty and fashion bloggers, food bloggers, celebrities, and other famous social media influencers. According to Whittaker, he contacted several people on the list at random whose information was found in the database, and some of them indeed replied, confirming that some – or most – of the data contained in the database are actual data scraped from their Instagram accounts.
The database was then traced back to an India-based social media marketing company, Chtrbox, a firm that pays Instagram influencers to post sponsored content on their accounts. The report revealed that each record, aside from public and personal information of the account owner, also includes an estimated worth of each account, factored by the number of followers they have, the engagement level they receive, the width of their reach, likes, and shares they had. The calculation was used as a metric to determine how much to pay an influencer to post a sponsored content on their account as an ad.
Those who responded have said that they used the email and the phone number as default to sign up for Instagram and they also denied having been involved in a business with Chtrbox.
The researchers were able to contact Chtrbox and was successfully in having them take the database offline; however, Pranay Swurap, the founder of the social media marketing firm and it's Chief Executive Officer, refused to comment and answer questions raised by the researchers.
Until now, it is unclear how the company was able to obtain the massive data they have.
One theory made by the researchers is that two years ago, a security bug in the developer API of Instagram has allowed hackers to obtain email addresses and phone numbers of six million Instagram accounts. The hacker later sold the data they were able to scrape by exploiting the bug was sold to highest bidders for bitcoin.
Hackers have launched a website with a searchable database of some Instagram users' alleged personal info. The data, a sample of which the hackers provided t, appears to include email addresses and phone numbers for a selection of high profile Instagram users, including politicians, sports stars, and media companies. The data also seems to contain information on more ordinary accounts, too.
"Instagram clearly hasn't yet understood the full impact of this bug," said one of the people behind the site, dubbed 'Doxagram.'
Some of the accounts in the list are seemingly high profile. One entry is allegedly for the official President of the United States' Instagram account. Another alleged account appears to belong to Cristiano Ronaldo, the world-famous soccer player.
As for why the database contains high profile users, the hackers claimed they set up their scraper to initially target all users with over 1 million followers, and then recursively harvest other users. In all, the hackers claim to have over 6 million accounts in their database.
Meanwhile, in a statement made by Facebook following the disclosure of the database said that the company is investigating the matter.
"We're looking into the issue to understand if the data described – including email and phone numbers – was from Instagram or from other sources," said an updated statement. "We're also inquiring with Chtrbox to understand where this data came from and how it became publicly available," it added.
This Is Why Zayn Malik Tweeted 'Leave Gigi Hadid Alone' On Twitter
The former One Direction member has only one loud message to ex-girlfriend's haters, and it says:
"My Tweet was not about @GigiHadid so leave her the f–k alone," "She is the most amazing woman I've ever known."
The couple has been on and off again for quite a while now, and avid fans are getting confused about what is the real score between the two celebrities. After rumors speculated back in November that the two were going out apart from each other, fans wonder whether the couple's relationship is getting healthier or not.
The couple is no stranger to issues like breakups. In January, the two announced they officially broke up together after confessing that Zayn has significant personal issues that need to be fixed first, while Hadid told the public that they aren't compatible. After the pronouncement, fans are seeing tweets on Zayn's end professing his love for Hadid even though they called it "quits." And Gigi was also spotted leaving the singer's apartment at one point after the breakup.
So what is going on between the two?
What is certain for now is that the supermodel is living the single life these days, so that leads to speculation that she is dating every single guy she is seen out with. Rumor has it that her new found love is her good friend Samuel Krost after the two were spotted hanging out together recently. That intensifies the speculation with tabloids' headlines indicating that the two were dating, especially when they were getting very close days after they initially were seen together.
If Samuel Krost doesn't ring a bell, the guy is known for his role in Fyre Festival saga and currently stars in Netflix's Fyre: the Greatest Party That Never Happened. Krost worked on the festival, still books the musical acts despite having no experience in talent booking. Samuel also used to date Selena Gomez, a good friend of Gigi as well.
Obviously, Gigi, Victoria's Secret angel, was not too happy with the speculation that she is dating Samuel, which the model furiously explained her side of the story on Twitter saying, "if you outlets are going to continue writing bs headlines every time I'm seen with a friend of the male gender then there's [gunna] be a lot of unneeded confusion."
Meanwhile, it seems like Zayn, wherever in the world he was, saw those pictures of Gigi and Samuel and ranted on Twitter the same day. His tweets became too controversial that some fans assumed it was addressed for Gigi.
"How about you all go f—k yourselves with your irrelevant bullsh—t," Zayn tweeted. Naturally, many presumed that the singer is talking about his ex-girlfriend.
Zayn Malik, a former One Direction band member who decided to leave the group and creates his solo album, defended himself and Gigi.
"My Tweet was not about @GigiHadid so leave her the f–k alone," "She is the most amazing woman I've ever known." He continues, "And she does nothing but love and support me when lord knows I don't deserve it.' The singer blasted Hadid's haters even more by saying 'If you know nothing shut your f—king mouth."
The two started dating together on November 15, three months after Zayn's break off his engagement to Little Mix's Perrie Perrie Edwards, and Hadid's split up Joe Jonas, US Weekly reported. Days after the news spread, the new couple was caught holding hands in their first significant moment of PDA.
The public supported the couple as it posted several cute photos together on Instagram, with Gigi spending holidays in Zayn's hometown and officially introduced her to his family. It even melts the world when Gigi confessed to Instagram that "going home to Zayn's arms is the sweetest thing life could offer."
And despite Zayn's affection towards the supermodel this year, he still doesn't follow her on Instagram. He unfollowed her and Yolanda Hadid, Gigi's mother, last March after the two took off from their relationship.
Fans know that the couple has a long history of an on and off kind of relationship, but they have always kept things cordial. Although avid supporters still think that the two will get back together, both "think that it's best for the sake of their relationship right now." For Zayn Malik, "This ain't a place for feelings."
Photo: Eva Rinaldi

R. Kelly's Lawyer Requested Court To Investigate Avenatti's "Toxic" Involvement In The Sexual Abuse Case
The case faced by R&B singer, R. Kelly is one of the most talked about and probably the messiest case involving a celebrity in 2019. There are just so many events taking place surrounding the different people that are involved in the infamous case. On Monday, in the newest twist and turn of the case, Kelly's lawyer accused the state attorney, who alleged that R. Kelly is sexually abusing underage girls, of succumbing to the pressure from lawyer Michael Avenatti, saying that the involvement of the latter has irreparably tainted the proceedings.
Steve Greenberg, the lawyer who represents Kelly in the case, made the accusation through a court filing and in comments after a Monday pretrial hearing in Chicago, noting that the recent charges against Avenatti in New York that accuse him of trying to extort from Nike, is "toxic" for the case.
In an interview outside the courtroom after the pretrial, Greenberg said that there had been a "rush to prosecute because of pressure – all polluted – by Michael Avenatti." He said prosecutors "got in bed with Avenatti and Avenatti is toxic."
Previously, Avenatti said that he played a central role in prompting DA Kim Foxx to press charges against the R&B star by providing the state attorney with a video showing that Kelly had sex with a 14-year-old girl.
On Monday, Avenatti replied to Greenberg through a tweet where he said that Greenberg was "trying to distract attention away from the clear guilt of his client by raising bogus arguments about me and Kim Foxx."
Last month, the legal representatives of the women alleging Kelly with sexual abuse as well as prosecutors of the case said that they hold fresh and robust evidence against R. Kelly. According to Cook County Prosecutor Kimberly Foxx, the alleged abuses took place across twelve years from 1998 – 2010.
New evidence has surfaced against R. Kelly including a video where he was caught during the act of the abuse and a t-shirt submitted by one of the victims containing Kelly's DNA. Foxx alleges that the singer also spat on his victims during the attacks.
Kelly's legal team requested to see the video mentioned above so that they can review it and prepare a defense.
The tapes were handed to the prosecutors by Michael Avenatti, who represents some people who are connected in the R. Kelly case, including the alleged victims.
Greenberg's seven-page court filing asks Cook County Judge Lawrence Judge to order preservation of all the communications between Avenatti and the state's attorney's office and calls for an investigation of how Avenatti bring charges against Kelly.
The lawyer justified the request for the inquiry citing the charges against Avenatti in New York and another separate case of wire fraud in California.
The court document says that "Avenatti has acted as a de facto prosecutor" in the Kelly case, apparently, "with the full cooperation" of Foxx. It also noted that Avenatti has also acted "as an agitator" for Foxx, "saying what she could not."
"Given the allegations against him one must wonder what he has told those he has interacted with in these matters, and what is true and what is not […] Obviously, he has been using his accusations against the defendant to divert from his own misconduct. He drums up problems for others to deflect from his own," Greenberg added.
R. Kelly, one of the world's most famous R&B artist, pleads 'not guilty' to all ten counts of aggravated sexual assault that he is facing right now. The plea was entered to a Chicago Court on February 25, by Steve Greenberg. The lawyer also notified the court that the 52-year-old has already surrendered his passport. Furthermore, as part of the bond, the talented singer is ordered to surrender his passport and was prohibited from making contact with anyone below 18-years-old.
Only recently, UAE officials denounced R. Kelly's claims that he has a scheduled concert in Dubai after the singer requested the court to allow him to travel abroad, citing his lack of financial resources brought upon by the case and the unrelated lawsuit filed by his ex-wife for not paying child support.