Facebook's Local News Dilemma: There's Not Enough Local News, But They Too Are To Blame
Facebook is up for a noble cause – the multibillion-dollar tech company wants to serve more local news to its users. However, it seems to be facing a significant roadblock: there isn't enough news available for its algorithm to pick up.
When Facebook realized through a survey conducted in 2017, saying that most of its users wanted to be served with local news in their timelines, the portion of Facebook where updates are shown to users based on algorithms, the company has vowed to do just that – to boost local news offerings.
According to the data released by Facebook on Monday, around 33 percent (one-third) of Americans reside in cities and towns, where Facebook can't find enough local news being shared in the platform, justify building a localized aggregator for the area.
The local news aggregator of Facebook called "Today In" was launched last year and is now available to around 400 cities around the world through the social media platform's mobile app. According to the rules that Facebook operates in related to the news aggregator, the algorithm should be able to identify at least five news articles every day related to a city that is shared within the social media platform to justify building a Today In for that city.
Furthermore, Facebook reveals that the scarcity of news reports for Today In's establishment in the city is not only limited to sparsely populated towns but are also seen in the towns with high population densities. Cities like New Jersey have significant areas where the algorithm could not pick up enough local news coverage to be included in the aggregator.
FACEBOOK IS TO BLAME
Facebook and Google duopoly in online publication has played a massive role in the death of local online news publications. The two corporations have sucked up much of the advertising revenue that used to go to newspapers – kicking the latter out of business.
The dominance of the duopoly—which earned 60% of all digital advertising revenue in the US last year, according to eMarketer, and accounted for nearly all of the growth—has made it difficult for online-only news sites to build robust advertising businesses.
And with Facebook and Google's algorithms, online publishers complained that the duopoly has so much power over who sees what. This comment is specific to Facebook's change in the algorithm where the social media platform has prioritized posts from friends and family and has hurt many digital publisher's traffic leading them to revenue losses.
COLLAPSE OF US LOCAL NEWS INDUSTRY
The data released by Facebook created conversations about the telltale signs of the collapse of the US local news industry which seen advertising revenue collapse as online platforms like Facebook and Google's Alphabet Inc. have taken market share.
According to Penelope Muse Abernathy, the Knight Chair in Journalism and Digital Media Economics at the University of North Carolina and a former Wall Street Journal executive, more than one in five newspapers have closed in the last decade and a half, leaving half the counties in the nation with just one newspaper, and 200 counties with no paper at all. In a prediction made in 2016, Nicco Mele, director of the Shorenstein Center on Media, Politics and Public Policy at the Harvard Kennedy School, more than half of US local newspapers will be forced to stop printing by 2021.
The bigger problem, however, is that online news sites could not even keep up with the losses of offline news media. According to Abernathy's analysis, out of 1,800 newspapers that have been dissolved in the past decade and a half, only 400 local-news online agencies have been established to replace them and were even clustered in big cities, leaving smaller areas with little to no source of local news.
FACEBOOK AND LOCAL NEWS SYMBIOSIS
Amid the blame game, it is necessary that Facebook has acknowledged that it should not kill local business as it derives the majority of its business from them and killing them would negatively impact itself in the process.
"We really do care deeply about local news, not only because it's the right thing to do, but also because users have told us for years that what they want to see is more local news," said Jimmy O'Keefe, product marketing manager for Today In.
With this acknowledgment, Facebook has pledged to work hand in hand with local news publishers to bolster the industry by spearheading programs that would help them recuperate from their transitional losses and adapt to a technologically driven world.
"We've been clear from the beginning that we think the first step to solving this problem is measuring it," said Anthea Watson Strong, product manager for Today In, adding that only after collaboration with academics could the company determine "what kind of intervention" it should take.
"I'm looking forward to getting the data and overlaying it on the data we have on news deserts," Ms. Abernathy said.
There is no denying that cryptocurrency is slowly becoming the most used currency in the world. The future is bright for virtual money as people started to become a lot more dependent on the internet on almost all aspects of their daily lives. And when a technology thrives, Facebook does not falter to offer the same thing. Reports suggest that Facebook has set up a company overseas to develop its virtual currency that users can send to their friends and contacts.
The social networking giant reportedly opened up a company in Switzerland to focus on payment and blockchain technology, similar to the technology that powers bitcoins and other cryptocurrencies.
According to a Swiss publication, Handelszeitung, the Facebook cryptocurrency would be tied to the US dollar and therefore will remain stable unlike bitcoin, which started crashing since 2017.
The report also revealed that Facebook has already set up a company called Libra Networks in Geneva several weeks ago. They noted that Libra is the tech giant's internal project name for Facebook money.
Owned by Facebook Global Holding II in Ireland, the Swiss company will focus on developing the software and hardware for crypto-related functions like payments, blockchain, analytics, big data, and identity management.
Facebook is hesitant to comment regarding their plans for the digital currency and did not confirm nor denied the reports of its existence. Nonetheless, the news is consistent with an earlier report that Facebook created a team of 50 individuals to develop their cryptocurrency and blockchain technology to be used across the network and on its WhatsApp messaging services.
That design would be geared toward avoiding a speculative frenzy like the one that caused the value of the primary cryptocurrency, bitcoin, to soar and then crash. While Facebook also did not confirm anything related to the leaked project at the time, the California-based company confirmed that they are interested in blockchain technology.
"Like many other companies, Facebook is exploring ways to leverage the power of blockchain technology," the company said in a statement. "This new small team is exploring many different applications."
Blockchain technology serves as the virtual ledger for every transaction using a cryptocurrency like bitcoin, and it builds up a set of data blocks recording transactions and who made them.
Meanwhile, existing crypto companies still face a huge problem in the banking system, and Facebook may face a similar obstacle in case the reports on its own crypto money turns out to be true. Earlier reports suggest that crypto companies around the world are having trouble in opening bank accounts for their operations.
The report followed the complaint filed by Sam Bankman-Fried, Chief Executive Officer of the quantitative crypto company, Alameda Research that "the standard answer of 'just go to your local Chase branch' doesn't work in crypto." Bankman-Fried also added that it is not illegal for banks to serve crypto businesses, but "it's a massive compliance headache that they don't want to put the resources in to solve.''
The report pointed out that while larger banks avoid getting into a transaction with crypto and blockchain corporations, smaller banks are getting hold of the unserved market.
Silver Bank in San Diego said in its November 2018 filing for an initial offering that cryptocurrencies companies have a total of $40 billion to deposit and larger banks are letting go of it.
Blockchain investment, trading, and advisory firm NKB group have also struggled with establishing banking relationships with a lot of major banks. According to NKB Group's head of Brokerage Ben Sebley, "denying basic banking is madness, impedes sector growth and forces companies to get creative to solve the problem […] The banks are being overly prudent."
The facilitation of cryptocurrency in banking has been an ongoing debate after major banking giants like JPM, and other American banks have banned the purchase of cryptocurrency using their debit and credit cards. However, supporters have argued that this ban is a step back for the banking industry.
"If they are policing digital currency transactions by de-risking the activity on the basis of protecting customers from market changes, they are going to be on the hook for market changes where their financial products are used where they did not intervene and de-risk to protect consumers," said attorney Christine Duhaime, founder of the Digital Finance Institute.
Facebook Live One-Strike Approach Would Ban Offending Streamers On First Offense
Two months following the devastating shooting in Christchurch, Facebook remains in hot water for allegedly failing to take down the shooter's live video streaming as the shooting happens, but Facebook is doing something about it by introducing a new set of rules that would govern their services.
Starting today, the San Francisco-based tech company will implement the "one-strike" policy for Facebook Live and its other live video streaming platforms. According to Facebook, a user can immediately get banned from using their live video streaming services for one offense for a certain period, such as 30 days. They clarified that this is specifically targeted to those people who violated their "most serious policies." Facebook did not specify all the rules that would govern the new regulation, but their announcement pointed out to their updated community standards, especially the clause that prohibits spreading terrorist propaganda on the social media platform.
Furthermore, while the focus right now is for terrorism-related violations, the tech giant said that the new policy would soon expand to other topics and issues in the coming weeks. Aside from banning violators from using their live streaming services, Facebook also said that the same offenders would be barred from purchasing ads on the platform.
Facebook's spokesperson said that under the new policy, the Christchurch shooter wouldn't have been able to live stream the unfortunate event in the first. However, it is still unclear what the violation of the shooter was within the last 30 days before the shooting occurred.
Two months ago, during the Christchurch shooting, a live video of the incident had been broadcasted on the social media site, and Facebook did not take it down until more than 15 minutes through the video. In their defense, Facebook said that their late response was because no one has reported its existence.
However, Jared Holt, a reporter for Right Wing Watch, said he was alerted to the live stream and reported it immediately during the attack. "I was sent a link to the 8chan post by someone who was scared shortly after it was posted. I followed the Facebook link shared in the post. It was mid-attack, and it was horrifying. I reported it," Holt tweeted. "Either Facebook is lying, or their system wasn't functioning properly."
"I definitely remember reporting this, but there's no record of it on Facebook. It's very frustrating," Holt said. "I don't know that I believe Facebook would lie about this, especially given the fact law enforcement is likely asking them for the info, but I'm so confused as to why the system appears not to have processed my flag."
With the new policy, a single report will have had stopped the shooter from live streaming.
FACEBOOK FACES LAWSUIT
The slow response of Facebook on the Christchurch live stream incident, the company has faced public scrutiny and law suits. Facebook may be facing court soon for their failure to control the spread of the violent live broadcast of New Zealand's Christchurch mosque shooting as a French Muslim group announced their plans to take the two social media platforms to court.
According to Abdallah Zekri, president of the CFCM's Islamophobia monitoring unit, the organization had launched a formal legal complaint against Facebook and Youtube in France in March.
The council said it was suing the French branches of the two companies for "broadcasting a message with violent content abetting terrorism, or of a nature likely to seriously violate human dignity and liable to be seen by a minor," according to the complaint. In France, such acts can be punished by three years' imprisonment and €75,000 (£64,000) fine.
"CHRISTCHURCH CALL"
The announcement of the new policies being implemented by Facebook comes ahead of a move by New Zealand and France to urge tech companies and nations to work together to mitigate the growing popularity of extremist contents online. The non-binding agreement, called the Christchurch Call, is expected to be made known this week at a meeting of digital stakeholders for the Group of Seven Nations.
"I've spoken to Mark Zuckerberg directly twice now, and actually we've had good ongoing communication with Facebook," New Zealand Prime Minister Jacinda Ardern told CNN's Christiane Amanpour Monday. "The last time I spoke to him a matter of days ago, he did give Facebook's support to this call to action."
New Feature Updates That Are Coming To Facebook Messenger And Instagram In The Near Future
The thing about smartphone applications is that they will always push themselves to be better. Because the tech world is becoming more and more saturated with up and coming applications and online services, it is inevitable for big tech companies to respond with new trends and improve the performance of their products and the services that they offer.
That's why tech giants like Facebook have been working on different improvements that will not only make their products like Facebook App, Messenger, and Instagram better but compete with other social media platforms like Twitter and Snapchat.
Of course, Facebook will not divulge what improvements they are going to implement in the future unless launched. In most cases, beta testing is done by a fraction or should I say, "the chosen people," to prevent updates from being disclosed. However, there are tech experts that primarily work on uncovering these secret testings, and as good as a Samaritan that they are; they always share what's coming.
One of these tech experts is Jane Manchun Wong, a Hong Kong-based technology researcher. According to her Twitter bio, she uncovers "unreleased features, security vulnerabilities & codes for fun." She has been posting her discoveries in her official Twitter account since 2011, and she's been responsible of more than a hundred uncovered features from different social media platforms and tech-based products. Recently she shared in her account a few of the possible new updates that Facebook will most likely implement in the near future for Messenger, Facebook App, and Instagram.
We have compiled here four uncovered new updates in Facebook App, Messenger and Instagram to feed your curiosity and for you to get yourself ready for some significant changes in your favorite social media platforms.
VOICE TO TEXT TRANSCRIPTION (FB MESSENGER)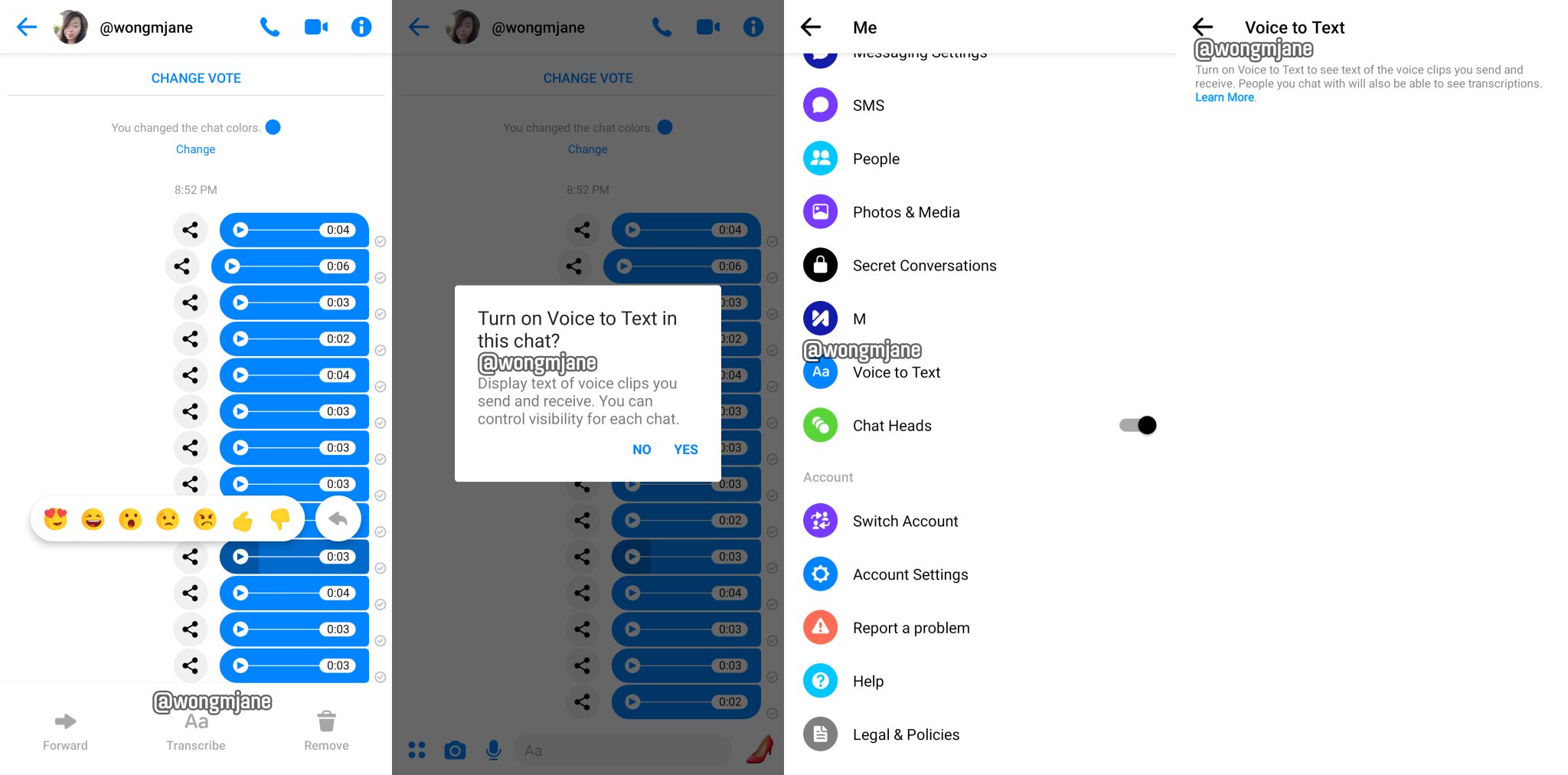 For us who are admittedly lazy, voice to text transcription is one of the best things that have been invented. Voice to text transcription feature allows users to transcribe their spoken words into text to avoid typing long messages. In Wong's latest Twitter post, she said that Facebook is testing an individual voice clip transcription and a new "Voice to Text" setting page in Facebook Messenger.
In the new feature, Facebook Messenger will allow users to transcribe voice messages that you sent to your friends into text. One particular benefit of this feature is that it provides the recipient of the voice message the choice to understand a message either by listening to a voice clip or by transcribing the voice clip and listening to them. We have all experienced a time when someone sent us a voice message, and we can't hear it because of background noise.
According to Wong's post, you can automatically see the transcription of the voice clips that you send and receive by turning the feature on in the new "Voice to Text" setting page.
GROUP CHAT NOTIFICATION (INSTAGRAM)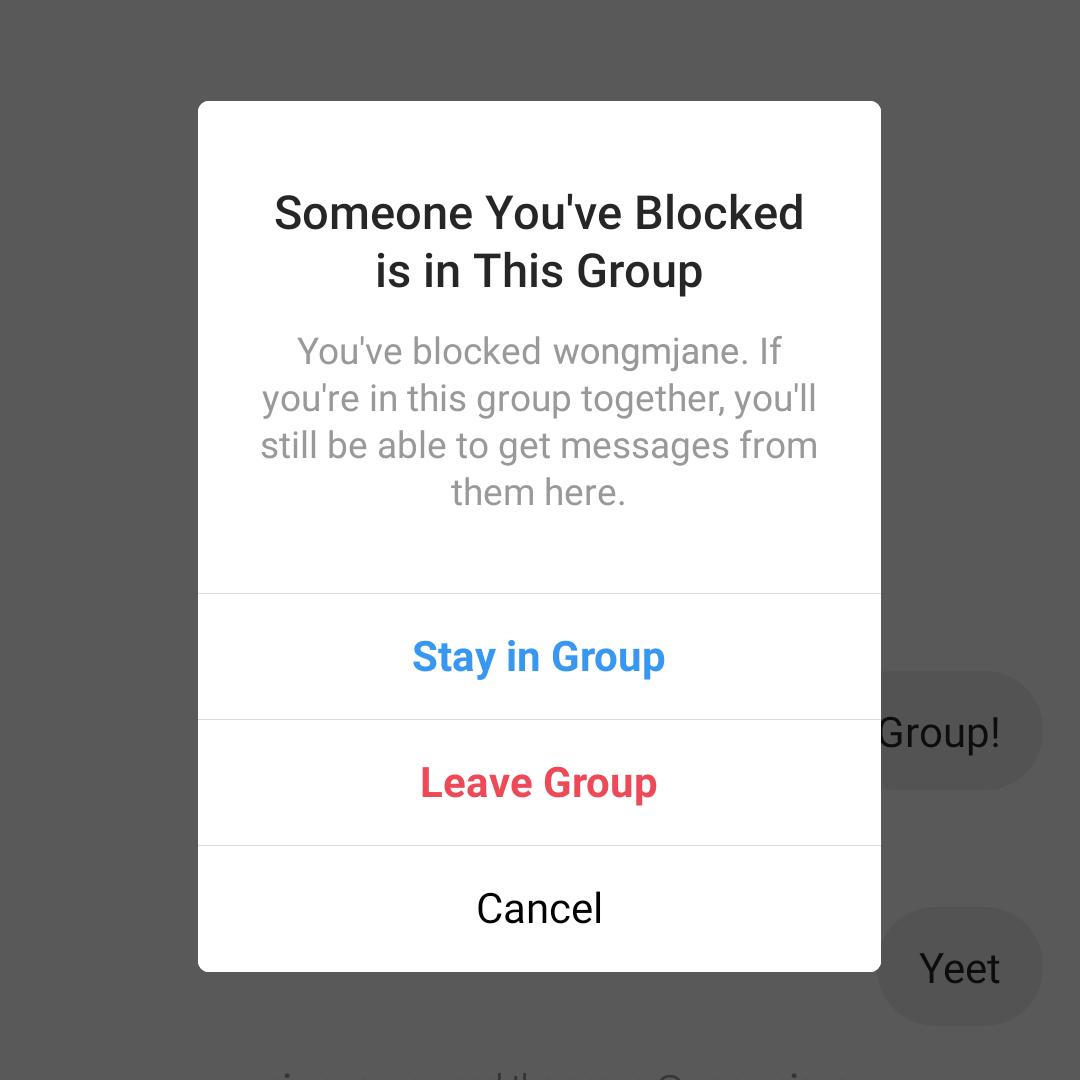 A few features are being tested by Instagram. One of these is the ability of the user to see if someone they have blocked in the platform is in a chat group that they are in. This new feature can already be seen in Messenger where a notification will appear upon opening the chat box of a group chat warning a user that someone they have blocked is also in the same chat group.
COMMENT REPORTING UI (INSTAGRAM)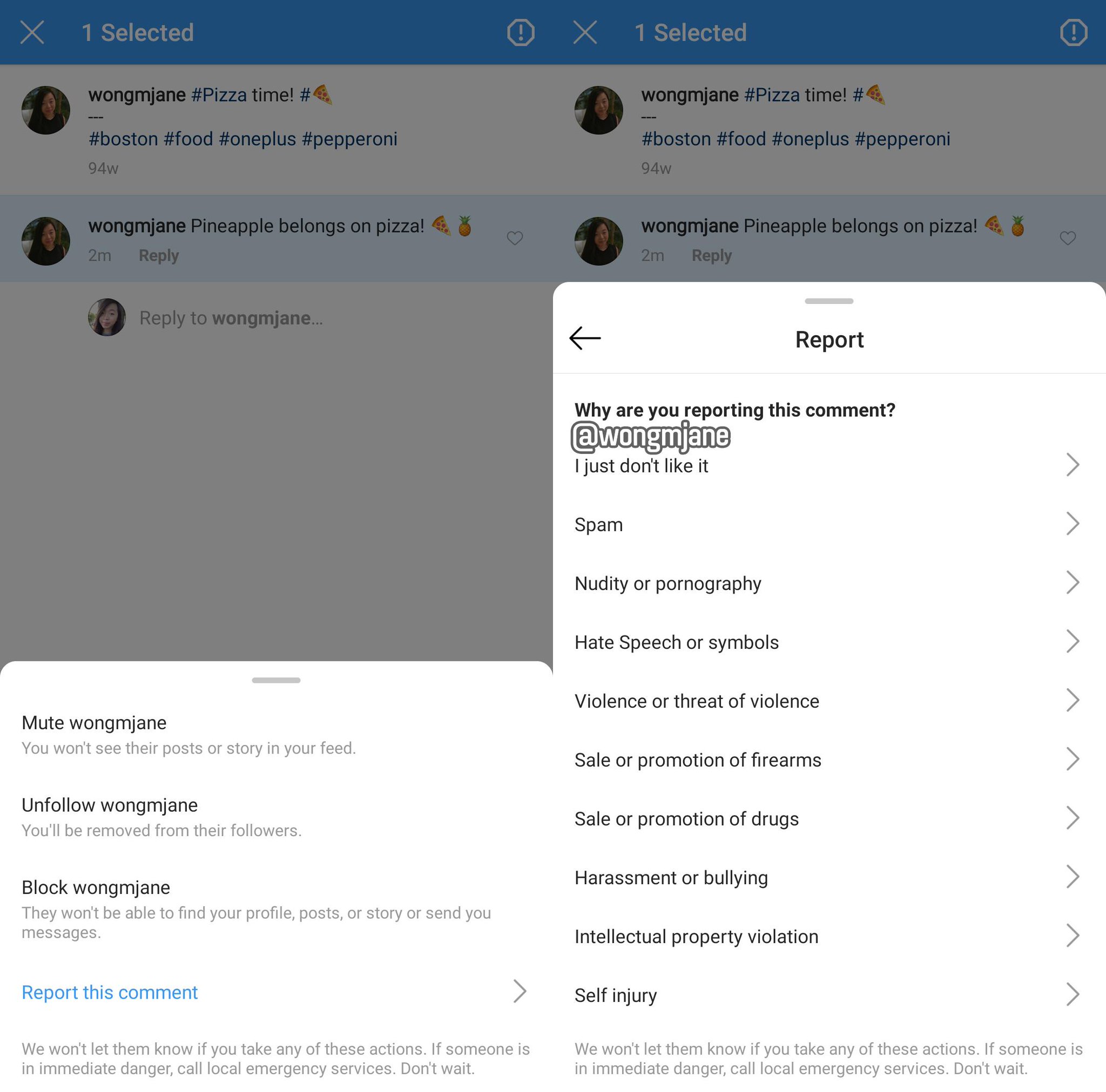 Additionally, Instagram is also working on a new Comment Reporting User Interface (UI). The new UI will look similar to its Facebook counterpart. This means that the comment reporting feature in Instagram will also have related categories of violations of the Community Standards such as Spam, Nudity or pornography, Hate speech or symbols, among others. The users can also be able to "mute," "unfollow," or "block" an account whose comment they think are offensive or distasteful.
TRENDING STICKERS (FACEBOOK MESSENGER)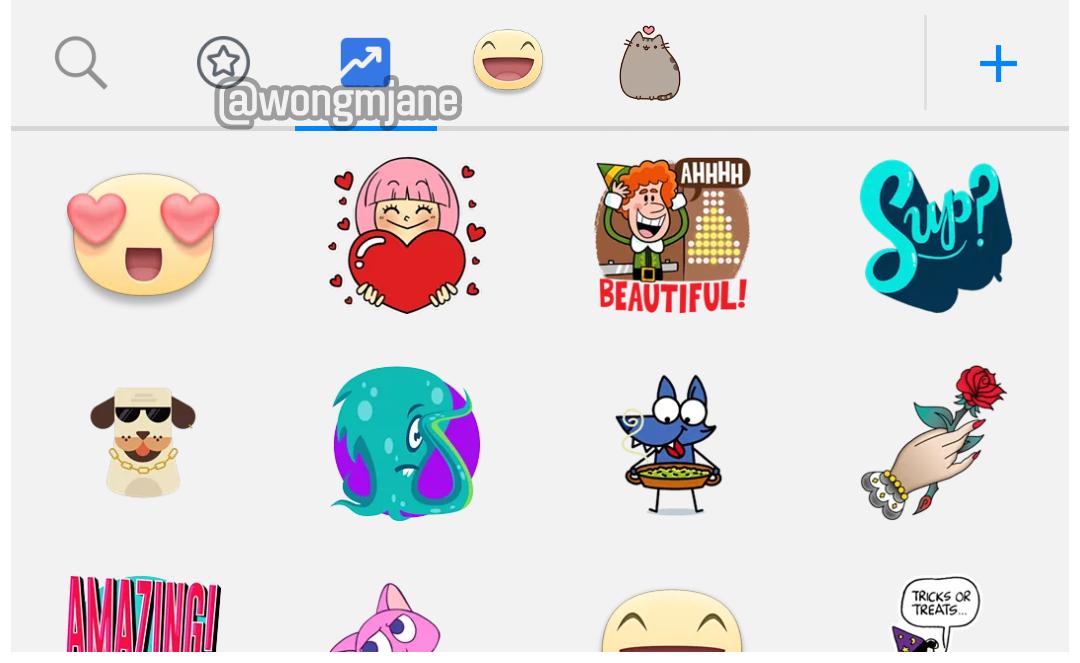 The popularity of sticker replies on Facebook and other social media platforms is undeniable. That is probably why Facebook is testing to include a trending sticker section in the Facebook Messenger. The trending sticker section will show the most widely used sticker as a message reply worldwide. In order to access the trending stickers section, the user must check the trending icon at the stickers section.
While all of these new updates are still in Beta Test, there is still a high likelihood that they will be implemented any time soon. Thanks to generous minds of the like of Jane Wong, we get to get a teaser of what's coming to our favorite social media platforms. /apr