Movies You Can Binge On International Women's Day
The International Women's Day is an ode to women no matter what shape, size, and color. It's the day to appreciate all women that strived to make a name in the world dominated by men.
This year, it's going to be on a Saturday. And, if you're not doing anything today, here's a very diverse list of women empowering movies–like all the women in our lives, you can binge.
BELLE (2013)
Belle is the illegitimate, half-black daughter of an admiral raised by her great-uncle. She is surrounded by great privilege, yet is forbidden to join in on certain traditions because of the color of her skin. The film, which is based on a true story, follows the heroine as she overcomes marginalization and helps to end slavery in 18th century England.
THE HELP (2011)
The Help tells a 1960s story of how college graduate Skeeter, played by Emma Stone, comes home and decides to tell the stories of three different black women and how they raised the children of wealthy white families. It's a funny, reality slapping story.
And did I mention, Viola Davis and Octavia Spencer's in the movie?
CROUCHING TIGER, HIDDEN DRAGON (2000)
With China's beautiful sceneries in the background, Crouching Tiger, Hidden Dragon tells the story of a woman goes against tradition and refuses an arranged marriage to become a martial artist.
HIDDEN FIGURES (2016)
Hidden Figures is the incredible untold story of Katherine G. Johnson (Taraji P. Henson), Dorothy Vaughan (Octavia Spencer) and Mary Jackson (Janelle Monáe). Three brilliant African-American women working at NASA, who served as the brains behind one of the greatest operations in history: the launch of astronaut John Glenn into orbit, a stunning achievement that restored the nation's confidence, turned around the Space Race and galvanized the world. The visionary trio crossed all gender and race lines to inspire generations to dream big.

THE BABADOOK (2014)
The Babadook is a dark fairytale that oddly tells a story of grief, love, and pain. It starts by Amelia (Essie Davis) who is a widow that lost her husband in a heart-breaking stroke of shit luck: he was killed in a car accident while driving to the delivery of their first son. Amelia discovers an ominously-covered, never-before-seen pop-up book called The Babadook on Sam's shelf; she decides to immediately debut it as a bedtime story.
Mad Max: Fury Road (2015)
MAD MAX: FURY ROAD. Years after the collapse of civilization, the tyrannical Immortan Joe enslaves apocalypse survivors inside the desert fortress the Citadel. When the warrior Imperator Furiosa (Charlize Theron) leads the despot's five wives in a daring escape, she forges an alliance with Max Rockatansky (Tom Hardy), a loner and former captive. Fortified in the massive, armored truck the War Rig, they try to outrun the ruthless warlord and his henchmen in a deadly high-speed chase through the Wasteland.
In this movie, women are raw and portrayed equally. Women caring for each other, lifting each other and fighting hard for what is right.
Legally Blonde (2001)
Who in 2019 hasn't watched Legally Blonde? If you have or haven't, it stars Reese Witherspoon in teenager coming of age in 1950s rural Louisiana, an underestimated sorority girl who graduates Harvard Law School and goes on to become a successful lawyer.
A truly entertaining movie, at the same time shows how a woman can turn stereotypes around.
10 Things I Hate About You (1999)
Kat Straford (Julia Stiles) is smart, unapologetic and blunt. She won't take trash from petty little boys. Unfortunately for her younger sister, Bianca (Larisa Oleynik), house rules say that she can't date until Kat has a boyfriend, so strings are pulled to set the dour damsel up for a romance.
Clueless (1995)
CLUELESS. Shallow, rich and socially successful Cher (Alicia Silverstone) is at the top of her Beverly Hills high school's pecking scale. Seeing herself as a matchmaker, Cher first coaxes two teachers into dating each other. Emboldened by her success, she decides to give hopelessly klutzy new student Tai (Brittany Murphy) a makeover. When Tai becomes more popular than she is, Cher realizes that her disapproving ex-stepbrother (Paul Rudd) was right about how misguided she was — and falls for him.
Pocahontas (1995)
This Disney movie is definitely a classic. Pocahontas, aside from its classic songs, is a movie about saving her homeland from foreign invaders.
Miss Congeniality (2000)
Sandra Bullock plays a "just one of the boys" FBI agent but suddenly needs to go undercover when someone plans to bomb the Miss USA pageant. It's funny, exciting and empowering for all women, no matter what career they choose to trek in life.
Kill Bill (2003)
They know they did her wrong or they made a mistake of not killing her properly.
Kill Bill is a movie about a girl who quit her assassin group to live a simple life. But her friends decided to crash the wedding and kill everyone on sight. All except for one. Now it's time for her to seek revenge on her former team and boss, Bill.
'Young Sheldon' Season 2 Finale: What's Meant To Be Will Always Find Its Way To You
As you get older, sometimes do you also think and reflect if you are moving closer to your goals in life? Did you become a better person than you were a year before? Are you making good use of your talents or potential? What if you're falling behind or what if you don't achieve that thing you wanted to have in the future?
Last May 16 in Young Sheldon's Season 2 finale episode titled A Swedish Science Thing and the Equation for Toast, I somehow learned that "what's meant to be will always find it's way to you" and won't just pass by.
Young Sheldon is about a nine-year-old genius from East Texas who turned out to be a brilliant theoretical physicist in the hit comedy sitcom Big Bang Theory. In the mentioned episode, he invited some of his family and friends to have a Nobel Prize Announcement party, to listen to the radio broadcast of 1990 Nobel Prize dedication. But nobody joined him.
During that time, he was heartbroken, and he thought he was a neutrino fated to be sad and lonely forever. But in the future, he was happy to be wrong. It turns out he's a quark.
According to the Cambridge Dictionary, a quark is one of the primary forms of matter that make up an atom. Anyways, he said that one of the remarkable characteristics of quarks is that they are bonded together.  After the voice over, we see Sheldon's younger Big Bang Theory friends at different sides of the world. Sheldon was not alone after all.
The young Leonard Hofstadter was also listening alone in his room, in his table, we can see his inhaler. Penny (Leonard's future wife) is sleeping.  Raj (the future Astrophysicist) was doing his homework in his rocket/spaceships themed room. Howard (the future Engineer and astronaut) was playing a video game in his bedroom which was full of magic kit items. Bernadette (Howard's future wife) was also sleeping, and in her night table, we can see her glasses, a photo of her and a pageant trophy. Lastly, Amy (Sheldon's future wife) is still awake, but she's not listening to the Nobel prize broadcast. She is reading a book.
The episode was shown in CBS, a few minutes in CBS after BBT's last episode ever. Fans were overjoyed and teary-eyed to have this surprise. It proves that even though Sheldon was alone during that time, in the end, he'll meet real friends who will love, support and accept him as he is, who will also be there for him when he wins the Nobel Prize.
According to Steve Molaro, they somehow want to honor Big Bang Theory in their momentous night and give a love letter in the form of a cross over. Without BBT, Young Sheldon won't be possible.
The series is an origin story set in 1989; it centers on how Sheldon Cooper became the guy that he is in Big Bang Theory and how he survived high school at a very young age. In this show, we'll get to know more about Sheldon and his love for trains, his fanboy tendencies to Professor Proton and his childhood friends like Tam. The cast includes Ian Armitage (young Sheldon), Zoe Perry (Mary, Sheldon's mom), Lance Barber (George, Sheldon's dad), Reagan Revord (Missy, Sheldon's twin sister), Montana Jordan ( George Jr, Sheldon's big brother) and Annie Potts (Meemaw, Sheldon's grandma).
Young Sheldon is somehow different from the Big Bang Theory. It is shot using a single camera while BBT is shot using a three-camera in front of a live studio audience. Parsons is one of the Executive Producers of the show. At the same time in the series, we can hear him narrate as adult Sheldon in some of the significant parts of the show. Zoe Perry (who plays Young Sheldon's mother) is the biological daughter of Laurie Metcalf (who plays the Older Sheldon's mother in BBT).
According to the producers Chuck Lorre and Steve Molaro, they have been interested in and discussing plans on having Sheldon's childhood story for almost ten years. But, The prequel series started with Jim Parsons' idea when he was bonding with his intellectually gifted nephew. He plays the older Sheldon in Big Bang Theory. He then emailed Chuck Lorre, BBT's co-creator. Young Sheldon's first ever episode premiered last September 25, 2017.
Spotify Goes Big On Podcasts
The popular music streaming app, Spotify, is all-in with podcasts as it launches a redesigned user interface (UI) that refocuses Spotify into two different audio categories
Spotify redesigns UI to put focus on podcasts as the company goes big by spending $500 million on acquisitions to improve their standing in the podcast market. They also encourage users to create new podcasts using new tools.
Click To Tweet
The popular music streaming app, Spotify, is all-in with podcasts as it launches a redesigned user interface (UI) that refocuses Spotify into two different audio categories: Music and Podcasts. While it is not new that podcasts and audio shows are already thriving in the app, Spotify makes it easier for listeners to navigate the app to search for their favorite podcast shows.
The new redesigned UI is only available for a limited number of users as of now, though, and was first reported last week. The new design emphasizes bolded headings for both "music" and "podcasts" on the app's library page. Currently, Spotify users have to sift through six categories at the top of their library pages to find a dedicated podcast section. While Spotify confirmed that they were testing "new products," they declined to comment on when the new redesigned UI would roll out to all users.
According to Spotify, last year, "seven million people in the US produced podcasts—and even more, people consumed them." And it makes sense why the app company is putting money on podcasts on its platform. Spotify has spent up to $500 million on podcasts alone. The spending included their acquisition of major companies like Gimlet Media. The equivocal emphasis of Spotify to spend on promoting podcasts on its platform says so much about its goal to compete with Apple and Luminary to try to become the go-to place for podcast listeners, and improving "discoverability" and ease of use is necessary to achieve their goal.
A few days ago, Spotify also released a tool called Soundtrap for Storytellers to encourage podcast producers to produce more shows on Spotify. Soundtrap for Storytellers is a comprehensive podcast creation tool that offers recording, remote multi-track interviewing with video chat, smart editing of audio as a text document, full audio production, direct-to-Spotify publishing of the podcast, and transcript publishing to optimize SEO all in one service.
In an event hosted by Spotify for the launch of Soundtap for Storytellers, they invited popular podcast producers to talk about their craft and how they can use the new tool in their podcasts. Hannah Berner, the host of the popular podcast show Berning in Hell, said that she "think(s) a lot of podcasters don't have any knowledge about the importance of SEO, or getting found in unique ways, besides just promoting on our social media. So having a transcript of what you're saying that also helps with SEO is incredible."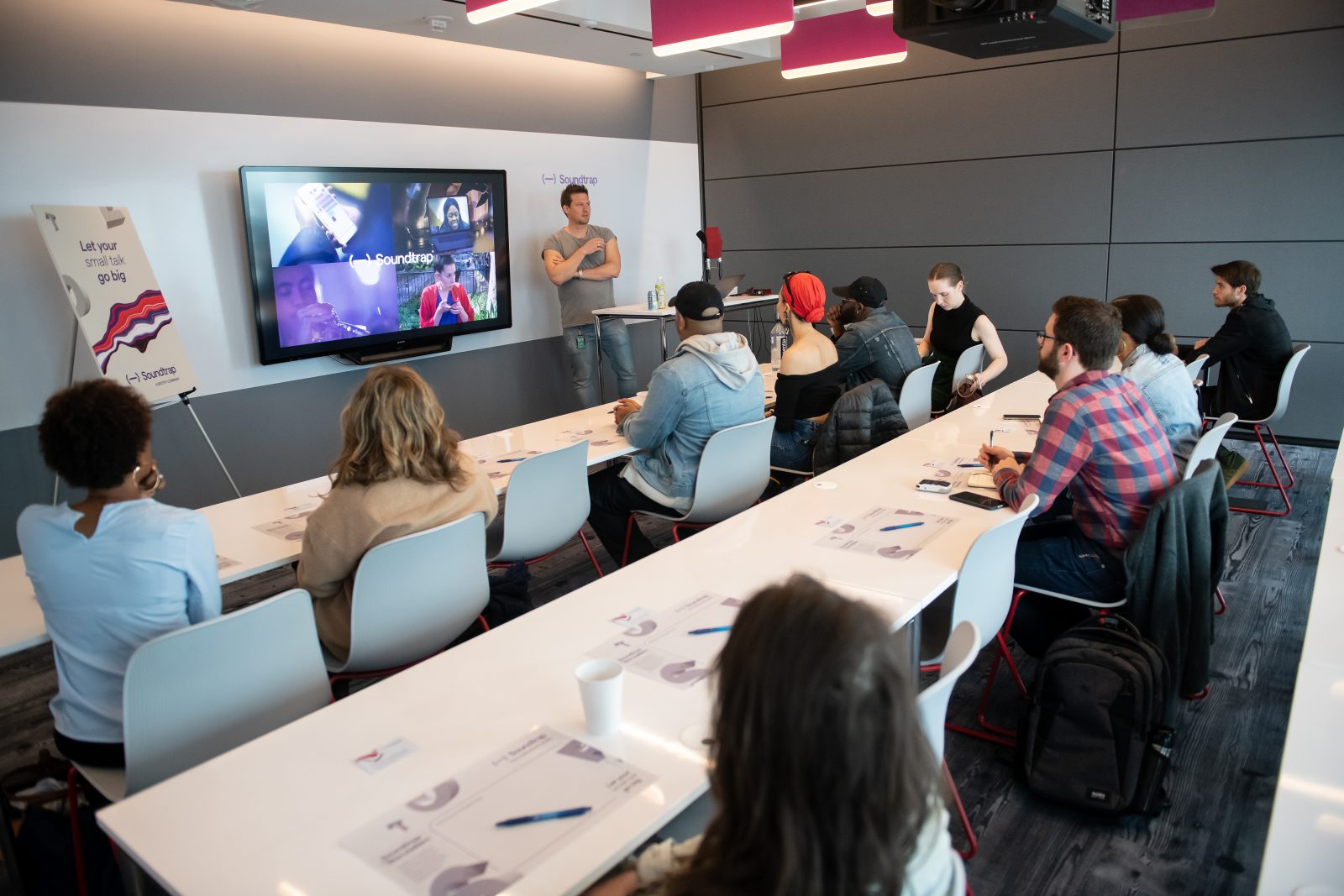 Lindsay Metselaar, host of We Met At Acme, said that the prospect of being able to record with people who are not physically with her is what excites her the most about the new podcast creation tool.
"The fact that you can record with someone when they're not physically with you is huge. I'm not able to do that right now because the sound quality is just not the same with other programs or over the phone. But Soundtrap allows two computers to have the same recording situation set up. That's huge for podcasting," she said.
The new podcast tool is available starting May 14 online and on iOS and Android, with pricing starting at $14.99/month and an annual plan starting at $11.99/month.
In addition to Soundtrap for Storytellers, Spotify is also encouraging new artists to create more podcasts on its newly acquired tool called Anchor. Anchor is a free-to-use podcast creation, distribution and monetization platform that says its mission is to "democratize audio." It was one of two New York-based podcast companies (alongside Gimlet Media) acquired by Spotify in February for $343 million combined.
"There's no doubt that podcasting is expanding like crazy, and if you have a story to tell, someone out there is dying to hear it," writes Spotify in the news post.
"For those who are ready to experiment, have fun, and try out a new way to connect with fans, here's why it's time for you to start using Anchor."
Spotify is making a concerted effort to encourage more of its platform's 3.9 million artists and dedicated-podcast creators to use its marketplace tools – like Anchor and Soundtrap for Storytellers. If successful, Spotify will make itself a one-stop-shop for podcast producers, hosts, and artists, and might be able to top competitors like Apple and Luminary in the podcast wars online.
The unstoppable avenging hitman is back in cinemas for its third installment, and we can't disregard to talk about it. Nonetheless, John Wick 3: Parabellum is finally here; expect mild spoilers ahead.
For those who've been living under a rock and has decided to come out to watch John Wick 3: Parabellum, John Wick (Keanu Reeves) is a legendary hitman with cool nicknames like the Boogeyman or "Baba Yaga." He lives in a world like our own but with more assassins in every corner than rats living in your attic, and complete with a whole set of underground government ruled by the High Table.
In the first movie, he retired his guns and knives because he fell in love. Unfortunately, his wife passed away early, but she left him a dog named, Daisy. On a very unnecessary day, Iosef Tarassov–a Russian Gangster–got mad when Wick refused to sell his car and knocks Wick out and killed Daisy on his way out. Infuriated, Wick sets out on a path of vengeance that ultimately sets off the entire series.
On his path to vengeance, he triggers old boss Viggo Tarassov when he can't talk Wick out of his senseless parade of violence on his son, Iosef. As a result, he places a $2 million bounty on his head. In the end, he kills both Viggo and Iosef simply because nothing will stop John Wick from seeking revenge. The movie ends with him leaving with a freed pitbull set for euthanization, cute.
Moving over to the second movie, John Wick is forced to get out of retirement, again! Remember when he needed to accomplish an impossible task before retiring? He required the aid of Italian crime lord, Santino D'Antonio (Riccardo Scamarcio). Santino, in return, gave him a coin, which they call the "marker" which basically signifies a favor waiting to be returned. Santino asks Wick to kill his sister, Gianna, before she ascends to sit o the High Table, which he wants for himself.
The "marker," which is one of the two unbreakable cardinal rules in Wick's world, forces him to pay the favor back and kills Gianna. However, Santino decides to double cross Wick and tries to kill him to cover his tracks as he ascends to the High Table.
Wick escapes, Santino places a $7 million bounty on his head, but ultimately he kills Santino, newly named at the High Table. We are talking about John Wick, he's practically un-killable. These assassins should have known better.
One problem, though. Wick killed Santino in the middle of a Continental Hotel–a supposed sanctuary for the world's hitmen where they're safe and can't be killed and also the other unbreakable cardinal rule.
John Wick 3: Parabellum picks up moments before Wick becomes "excommunicato" for killing a person from the High Table at the Continental Hotel. The hotel's manager, Winston (Ian McShane), gives him an hour head-start.
We'll see Wick scramble to find allies and guns, a lot of it, as his status isn't only just within New York City but is extended to the whole world with a $14 million bounty. Everyone from the underground world of hitmen and assassins will be wanting a piece of that, and there' no sanctuary for him to run to this time.
The title refers to the old adage, Si vis pacem, para Bellum: "If you want peace, prepare for war." Wick has essentially declared war on the High Table, and the escalation plays out exactly as you'd expect when everyone's favorite dog-loving hitman is involved.
Favorite takeaways from the movie are Wick killing a 6-foot tall assassin in between tight library hallways using a book, almost all of the well-choreographed fight scenes, and Sophia (Halle Berry) having a swath of vicious dogs attack in her behalf.
In conclusion, without giving too much away, John Wick 3: Parabellum knows how to keep the ball rolling within its storyline without sacrificing the brusque-noir vibe that made the film great. Moreover, the fight scene is only getting better with one of the best executions compared to other movies where they tend to go bigger rather than better.
On other news, we're pulling the trigger on this one, John Wick 3 also hinted a coming John Wick 4. About the when we're not sure as the John Wick series usually takes years in between each other. Nonetheless, we're too excited about it.