Chip Implants: The Next Hot Accessory?
A man volunteered to have a chip inserted under his skin, and another showed off how to make payments using his chip insert.
On Monday, Edgar Pons was inserted an RFID chip live on stage at the Mobile World Congress organized by Sabadell Bank. At the same event, a man named Pau who already had an implant showed the audience how payments were made just by scanning the chip using his smartphone.
Sabadell financial services manager, Anna Puigoriol, said in the conference that this technology could be the future of payments.
RFID chips are under-skin chip implants, or more technically, subcutaneous chip implants. Banks are currently picking up on this latest trend. It's a technology that seems to be revolutionizing the payments industry in Europe — and may soon come to China, Hong Kong, Singapore, and Australia.
Moreover, physicist and aerospace engineer, Alex Rodriguez Vitello noted that "the chip is the size of a grain of sand and it's covered in a material that is biocompatible, so our body doesn't degrade it over time." Inputting chips that aren't biocompatible compels the body's immune system to register the chips as a foreign threat and try to damage them.
This technology that the chips run on, either radio frequency identification (RFID) or near field communication (NFC), are already being used at vendor portals and point of sale (POS) terminals across the world.
This chip implant is the same technology that allows you to use Apple Pay or Samsung Pay at more technologically inclined outlets today. Banks are considering its deployment and presume this as practical and quite cost-effective.
As of now, RFIDs are mostly used in other everyday life tools such as cars, work ID cards, and other places that need identity verification for access and passage.
According to CNBC, Edgar Pons wanted to have a Radio Frequency Identification (RFID) Chip implanted that would serve as his key for entering his automatic house. Most automatic homes need coded chips to be scanned rather than keys inserted in holes to open them up.
Pons said that "it is super, for me, very useful, because I have an automatic house," he said, adding he was further motivated by the fact he could "withdraw it very easily, simply making a little cut and pressing it".
Local media reports that more than 4,000 Swedish nationals opted to get subcutaneous chip implants, as did several hundred Germans.
They're impressed with these chips because they're more secure than their phones. Mainly because physical access is required to their digital homes, offices, and even their connected cars.
The popular music streaming app, Spotify, is all-in with podcasts as it launches a redesigned user interface (UI) that refocuses Spotify into two different audio categories: Music and Podcasts. While it is not new that podcasts and audio shows are already thriving in the app, Spotify makes it easier for listeners to navigate the app to search for their favorite podcast shows.
The new redesigned UI is only available for a limited number of users as of now, though, and was first reported last week. The new design emphasizes bolded headings for both "music" and "podcasts" on the app's library page. Currently, Spotify users have to sift through six categories at the top of their library pages to find a dedicated podcast section. While Spotify confirmed that they were testing "new products," they declined to comment on when the new redesigned UI would roll out to all users.
According to Spotify, last year, "seven million people in the US produced podcasts—and even more, people consumed them." And it makes sense why the app company is putting money on podcasts on its platform. Spotify has spent up to $500 million on podcasts alone. The spending included their acquisition of major companies like Gimlet Media. The equivocal emphasis of Spotify to spend on promoting podcasts on its platform says so much about its goal to compete with Apple and Luminary to try to become the go-to place for podcast listeners, and improving "discoverability" and ease of use is necessary to achieve their goal.
A few days ago, Spotify also released a tool called Soundtrap for Storytellers to encourage podcast producers to produce more shows on Spotify. Soundtrap for Storytellers is a comprehensive podcast creation tool that offers recording, remote multi-track interviewing with video chat, smart editing of audio as a text document, full audio production, direct-to-Spotify publishing of the podcast, and transcript publishing to optimize SEO all in one service.
In an event hosted by Spotify for the launch of Soundtap for Storytellers, they invited popular podcast producers to talk about their craft and how they can use the new tool in their podcasts. Hannah Berner, the host of the popular podcast show Berning in Hell, said that she "think(s) a lot of podcasters don't have any knowledge about the importance of SEO, or getting found in unique ways, besides just promoting on our social media. So having a transcript of what you're saying that also helps with SEO is incredible."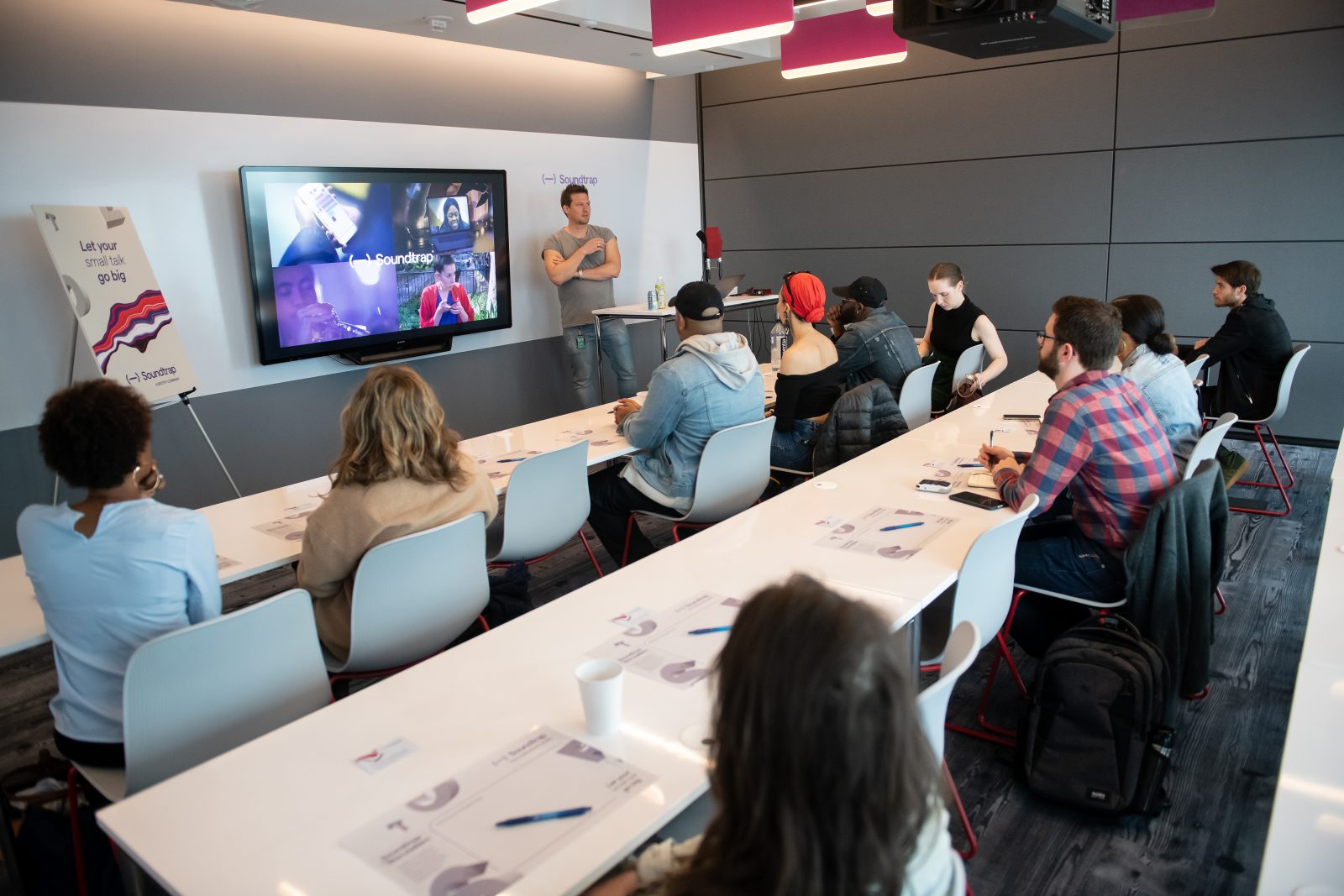 Lindsay Metselaar, host of We Met At Acme, said that the prospect of being able to record with people who are not physically with her is what excites her the most about the new podcast creation tool.
"The fact that you can record with someone when they're not physically with you is huge. I'm not able to do that right now because the sound quality is just not the same with other programs or over the phone. But Soundtrap allows two computers to have the same recording situation set up. That's huge for podcasting," she said.
The new podcast tool is available starting May 14 online and on iOS and Android, with pricing starting at $14.99/month and an annual plan starting at $11.99/month.
In addition to Soundtrap for Storytellers, Spotify is also encouraging new artists to create more podcasts on its newly acquired tool called Anchor. Anchor is a free-to-use podcast creation, distribution and monetization platform that says its mission is to "democratize audio." It was one of two New York-based podcast companies (alongside Gimlet Media) acquired by Spotify in February for $343 million combined.
"There's no doubt that podcasting is expanding like crazy, and if you have a story to tell, someone out there is dying to hear it," writes Spotify in the news post.
"For those who are ready to experiment, have fun, and try out a new way to connect with fans, here's why it's time for you to start using Anchor."
Spotify is making a concerted effort to encourage more of its platform's 3.9 million artists and dedicated-podcast creators to use its marketplace tools – like Anchor and Soundtrap for Storytellers. If successful, Spotify will make itself a one-stop-shop for podcast producers, hosts, and artists, and might be able to top competitors like Apple and Luminary in the podcast wars online.
The tech world has agreed that ransomware and malware are becoming one of the most prolific cyber attacks in recent years and 2019 is poised to break records in terms of the number of cyber attacks in history. And they seem to be not wrong, especially that US and European officials have officially charged ten individuals in connection with the swath of ransomware attacks that have plagued different government and private organizations both in the US and Europe.
The ten people who were charged were allegedly involved in the malicious software attacks that infected tens of thousands of computers and caused more than $100 million in financial losses, the US and European authorities announced Thursday.
According to the officials who filed the charges, the malware, which enabled cybercriminals and hackers from Eastern Europe infiltrate computer systems remotely and siphon funds from victim's bank accounts, targeted companies and institutions across all sectors of American life.
The victims of the malware attacks included a Washington law firm, a church in Texas, a furniture business in California and a casino in Mississippi.
The announcement reveals that the charged individuals came from six countries and several are already awaiting prosecution in Europe. Another defendant in a related case was already extradited to the U.S. from Bulgaria in 2016 and pleaded guilty last month in federal court in Pittsburgh, where Thursday's case was brought.
The charged individuals are now facing conspiracy to commit computer fraud, conspiracy to commit wire and bank fraud and conspiracy to commit money laundering.
According to Scott Brady, the United States attorney in Pittsburgh, this specific case is a model of how international collaboration can pin down foreign hackers. It stands out from the different instances in which the Justice Department pursued multiple malware prosecutions in recent years.
"It represents a paradigm change in how we prosecute cybercrime," Brady said in an interview with The Associated Press ahead of a news conference in The Hague with representatives of the six countries.
While the United States can seek immediate extradition of the ten charged individuals, prosecutors will first bring the charged against some of them in the Eastern Europe countries of Ukraine, Moldova, and Georgia.
The investigation started following the dismantling of a network of computer servers, known as Avalanche, which hosted more than two dozen different types of malware. The Justice Department had successfully taken their operation apart in 2016.
"For the past three years, we have been unpeeling an onion as it were that is very challenging to investigate and identify," Brady said.
Officials reveal that the malware in the current court case has infected more than 41,000 computers by disguising as legitimate messages or invoice and was sent as spam emails. Once the email was opened, hackers will be able to record all keystrokes in the infected computer, sweeping data like baking information and wire money away from the victim's account.
Brady admits that the effort to recover the stolen funds is arduous, especially in international cybercrime cases such as this one.
"Proceeds were converted to bitcoin, and without the private key, it is really hard to identify and access, let alone seize those accounts," Brady said.
Ransomware is a cyber attack where hackers infect a computing system with an anomaly or a bug to gain access and control and ask for demands like money to solve the crisis. Ransomware has become extraordinarily popular in the last few months, making it one of the most prolific forms of a cyber attack. In one instance, a ransomware attack has crippled the operation of a city government with just a single attack.
A swath of ransomware has been terrorizing different corporation and government systems around the world in recent months. Norsk Hydro, one of the biggest aluminum producers worldwide, was previously forced to shut down a part of its manual operations because of a cyber attack that targeted its computer systems and internal servers. After an investigation regarding the incident, it was concluded that a LockerGoga ransomware attacked the company.
"Hackers are starting to exploit those gaps at companies of all sizes and industries. The problem is no longer exclusive to large corporations or data-rich organizations. The tools hackers use are cheap, easy to find, and simple to use, which makes hacking for fun or profit easier than ever," tech expert said about a ransomware attack.
Because of a bug in Twitter's system, the popular social media and microblogging site announced this week that they had been inadvertently collecting and sharing location data from iOS versions of their application and sending it to a trusted partner without the consent of the affected users.
In a blog post, Twitter said that they discovered a data breach caused by a bug and they were "inadvertently collecting and sharing iOS location data with one of our trusted partners in certain circumstances."
The said data breach specifically affected those who have been using more than one account in an iOS Twitter app while their precise location setting has been enabled.
"we may have accidentally collected location data when you were using any other account(s) on that same device for which you had not turned on the precise location feature," Twitter wrote.
Nonetheless, Twitter clarified that none of the transmitted data were actually "precise" location data because it was already "fuzzed" to only include a ZIP code or city (5 km squared), adding that the disclosed data could not be used to map the location of the affected users.
Twitter also assured the affected users that the partner did not receive any identifiable information such as Twitter handles or other unique account IDs that could have compromised the affected user's identity.
Furthermore, Twitter said that the inadvertent sending of users' location data happened during a process called "real-time bidding" (RTB) with one of its "trusted advertising partner."
"We have fixed this problem and are working hard to make sure it does not happen again. We have also communicated with the people whose accounts were impacted to let them know the bug has been fixed. We invite you to check your privacy settings to make sure you're only sharing the data you want to with us," they assured their users.
As for those who are concerned whether or not their data was used by whoever received it, Twitter clarified that they had communication with their partner and found out that the advertising company did not retain the information that was unintentionally sent to them.
"We have confirmed with our partner that the location data has not been retained and that it only existed in their systems for a short time, and was then deleted as part of their normal process."
It is still unclear when this unintentional sending of user location data nor did Twitter name who the trusted partner is in its post regarding the bug.
Reporters have reached out to Twitter to gain further insight regarding what happened, but Twitter refused to comment further than they have already posted in their announcement. On the other hand, they said that they have already notified the users who were affected by the bug problem and noted that other victims could contact Twitter by filling up this form.
"We're very sorry this happened. We recognize and appreciate the trust you place in us and are committed to earning that trust every day."
Twitter is not the only social media company who had an internal data vulnerability this year. It can be remembered that Facebook has been recording the passwords of some of their users in plain text, a human-readable format, that allows whoever has access to the database can read, understand, and use the user passwords included in it.
Facebook's Pedro Canahuati, vice president of engineering for security and privacy, initially referred to "some" user passwords that were accessible to Facebook employees. A paragraph later, he revealed that "hundreds of millions of Facebook Lite users, millions of Facebook users, and tens of thousands of Instagram users" would be notified.
Facebook clarified that the issue was purely internal and that only their employees have access to the user passwords. Nonetheless, tech experts have slammed Facebook for the recklessness of what they have done.
"To be clear, these passwords were never visible to anyone outside of Facebook, and we have found no evidence to date that anyone internally abused or improperly accessed them," Canahuati wrote.
The California-based company said that they already notified users who were affected by the problem and advised them to change their password following the rectification done by Facebook.