According to research firm, Consumer Intelligence Research Partners, Apple has only accounted to 6% share of the US-based smart speaker market.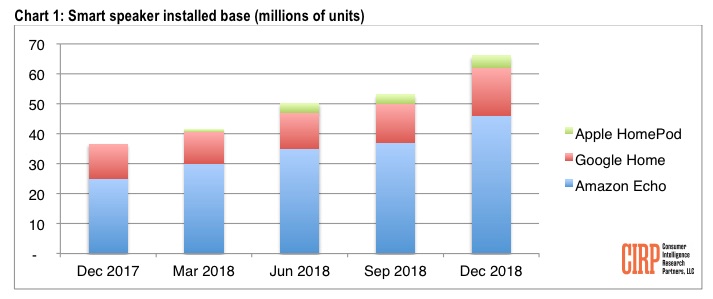 Apple's Homepod is struggling to keep up with other companies market share like Amazon Echo and Google Home.
The smart speakers which was released last February 2018 was commended for its sound quality. However, critics found its price at $350 a bit too much in comparison to Amazon and Google smart speaker–which usually sell at $100.
As seen in the chart above, Amazon's Echo speakers powered by the famous voice assistant Alexa has dominated the market with 70% of the shares. Meanwhile, Google Home makes up for 24% of the US-installed base.
Mike Levin, co-founder of CIRP notes how Apple's rivals' (Amazon and Google) strategies of offering lower-priced devices so that people can own more than one in their homes seem to be effective. The report said 35 percent of owners have more than one device as of the December 2018 quarter, compared with 18 percent the previous year.
"Amazon and Google both have broad model lineups, ranging from basic to high-end, with even more variants from Amazon. Apple of course has only its premium-priced HomePod, and likely won't gain significant share until it offers an entry-level product closer to Echo Dot and Home mini," said CIRP co-founder Josh Lowitz.
There have been rumors that Homepod Mini is on the works to keep up with the competitors and to offer a cheaper alternative to the Homepod. But, the price would still range from $150-$200 according to Rosenblatt analyst Jun Zhang.

Barclays analyst Blayne Curtis believes Apple will launch a "cheaper HomePod" and that it will have "broader appeal." He also thinks that HomePod sales have been quite "underwhelming".
Apple recognizing the issue of Homepod and its limited support on third-party music-streaming services, has shifted its strategy by focusing on Apple Music. Last November, Amazon has announced that Apple Music would be available on the Echo. Apple has now started to offer its music-streaming service to other companies to drive more users and subscribers.