Marie Kondo And Her Art Of Decluttering Inspires Millions Of Americans To Tidy Up
Letting go is a hard thing do. And so is organizing our things at home. Good thing, there's world-renowned decluttering guru Marie Kondo from Japan.
Here's Kondo's mantra, throw away stuff that does not spark joy. Yes, it may sound a little bit unsavvy, but you've got to understand the inspiration and the motive behind this idea.
She wrote two books named The Life-Changing Magic of Tidying Up and Spark Joy: An Illustrated Master Class on the Art of Organizing and Tidying Up.
The first book was a combination of her confessional autobiography, life philosophy, decluttering strategies and clothes-folding tips. More than four million copies of her first book had been sold worldwide. On the other hand, her second book include a lot pictures and contain more specifics but still shares the same principles of the first one.
The 30 years old lady endorses tidying by category, not location. Kondos suggests going with clothes first, then the books, next papers, miscellaneous items, and finally, items that hold sentimental items. She follows a certain method of folding clothes, essentially into thirds, which take lesser space.
Furthermore, she believes that when things are scattered, people don't realize the value of the stuff they have accumulated for years. Oh, and before I forget, the Tidying Guru suggests to thank your items before you get rid of them. She thinks there's a sense of fulfillment if we're gratitude with the things we've used in the past.
With her Netflix series, Tidying Up, her fan base and avid followers continue to grow. According to some fans, the konMari method obviously brings a lot of joy and a sense of peace since it is also a way of letting go of any mental and emotional weight.
Since the Netflix series has been shown, the decluttering business is booming drastically. As of 2019, there are about 60 KonMari consultants and 225 KonMari consultants worldwide. Thrift stores are also happy to report that there has been an increase in donations.
But not everyone agrees with Marie and her KonMari method, some book lovers don't like the idea of removing books that do not spark joy and not keeping some of it for rereading.
But then again, it does not matter if you like to keep your things organized or messy, One must admit that a well-organized closet or home brings a certain calmness.
UK DOH Teams Up With Social Media Companies To Battle Eating Disorders
The United Kingdom's Department of Health Secretary Matt Hancock challenged social media companies to improve upon their practices when it comes to handling eating disorders like bulimia and anorexia.
The Health Secretary hosted a round table discussion with the social media giants to lessen instances of influencing vulnerable teens into self-harm. Content that encourages self-harm, eating disorders and misinformation leads to the increase of reported cases.
"Today the meeting was called to be about the promotion of self-harm and suicide material, but we also spoke about tackling eating disorders and some anti-vaccination messages which are so important to tackle to ensure they do not get prevalence online," Hancock says to the reporters.
Hancock is pleased that the social media companies agree and started discussing actions that each would take.
"I feel the tech companies are starting to get the message, they're starting to take action – but there's much more to do."
Instagram has affirmed its commitment to the challenge. The photo-sharing app has announced that it will remove posts that promote eating disorders.
Aside from removing harmful content, Instagram and other tech companies involved also agreed to pay a reward for anyone who will help them remove content that encourages suicidal behavior.
Instagram has been facing pressure on improving its content since the suicide case of 14-year-old Molly Russell. Ian Russell, the victim's father, has come out and shared that Molly's Instagram account was following self-harm accounts. The accounts were filled with photos related to depression.
In April, the Department for Digital, Culture, Media, and Sport created a consultation series for the Online Harms White Paper. The UK government spearheaded consultations to identify the best measures to keep UK users safe online.
In the white paper, the government has acknowledged that online platforms can be used to affect one's mental health and well-being. It lists that one of the problems are social media algorithms that do not showcase other points of view.
For example, if a user follows an account that promotes body-shaming, the social media platform's algorithm will suggest the user follow similar accounts. This creates an unhealthy balance of the information received by the user.
The white paper also acknowledges the use of social media platforms to bully, harass, or intimidate other users. It also recognizes that these instances usually target public figures like celebrities.
Eating Disorder in Social Media
A BBC report launched an investigation on how teens are interacting in social media platforms such as Instagram. The report detailed the story of Jodie-Leigh Neil, a teen battling anorexia.
Neil says, " I spent hours and hours going through this content and this material, and that then added to the more competitive side of anorexia."
Neil shared that even if Instagram did not cause her anorexia, it exacerbated it. She shares that other user's posts about their lowest weights with pictures that show skin and bones. Those posts triggered Neil's anorexia encouraged her only to eat 20 calories per day.
After battling anorexia for three years, Neil continues to be on Instagram. In this case, she has now dedicated her account in spreading the positive message about eating. She highlights the positive journey she's had in overcoming her eating disorder.
According to BBC, there's an increase of more than 130% of teens suffering from eating disorders since 2011 based on National Health Services data.
Detox Teas and Promotions from Celebrities
One of the highly criticized uses of social media platforms are the ads of celebrities promoting products. Millions of followers consume content that is made to benefit businesses. One business that many claims to promote an unhealthy lifestyle is detox teas.
Detox teas are laxatives that help in one's weight loss journey. Celebrities like the Kardashians, Amber Rose, Cardi B, and other influencers have been seen promoting detox teas, crediting the product for their bodies.
In 2018, the Kardashian-Jenner sisters were criticized for posting Instagram stories that are encouraging anorexia. In the story, Kim is showered with praise by sisters Khloe Kardashian and Kendall Jenner for being skinny.
In the short video, Jenner said "No, like I'm really concerned, I don't think you're eating. Like, you look so skinny." However, the model continued to compliment Kardashian on how good she looks despite being concerned about her eating habits.
The content has upset many fans as it seems that the sisters were encouraging Kim to continue "not eating" because she "looks so skinny."
Jameela Jamil, an actress, and body positivity advocate slammed celebrities who promote the detox teas and unhealthy weight loss options.
This Designer Came Up With A Stylish Facial Recognition Shield
The problem is: it's not for sale.
In May, a man is walking along the streets of London with his green jacket when he noticed a van that he thought to be a police surveillance vehicle. While he walked passed the car, he covered his face with his hoodie in fear that there might be some sort of facial recognition system around. Much to his surprise, he was stopped by the UK police and fined him more than a hundred pounds for "disorderly behavior."
Facial recognition systems are everywhere. It is in your car to automatically unlock it without a key. It is in your smartphones and smart homes. It is even in airports to help you board your flights without hassle. The reality with facial recognition is that it becomes a staple technology in many aspects of human life that it becomes almost impossible to get away from.
Thankfully, Ewa Nowak, a graduate from the design department at the Academy of Fine Arts in Warsaw thought of an ingenious and very stylish way to shield your face from the gawking eyes of facial recognition cameras. He has created a jewelry design that can trick facial recognition systems and hide key facial features to prevent them from identifying someone.
"I was just amazed how they could identify our gender, age, and mood," Nowak explains her curiosity towards securing oneself from unauthorized and unconsented facial recognition. "But also how the development is constantly leveling up. I was surprised about how even if we have our face partially covered, how [face recognition] can still follow us and distinguish us."
Nowak is currently co-founding a design and arts venture called NOMA together with another artist Jarosław Markowitz.
According to Nowak, she was inspired by the release of light-up glasses that was developed by Japan's National Institute of Informatics to fight facial recognition systems. Because of her creativity, she developed a device, or more like face jewelry. Her design included two brass circles that hang down from the cheekbones and an additional long piece of brass that stretches up to the forehead. A long wire can be used to attach the entire piece into your head, similar to how glasses work.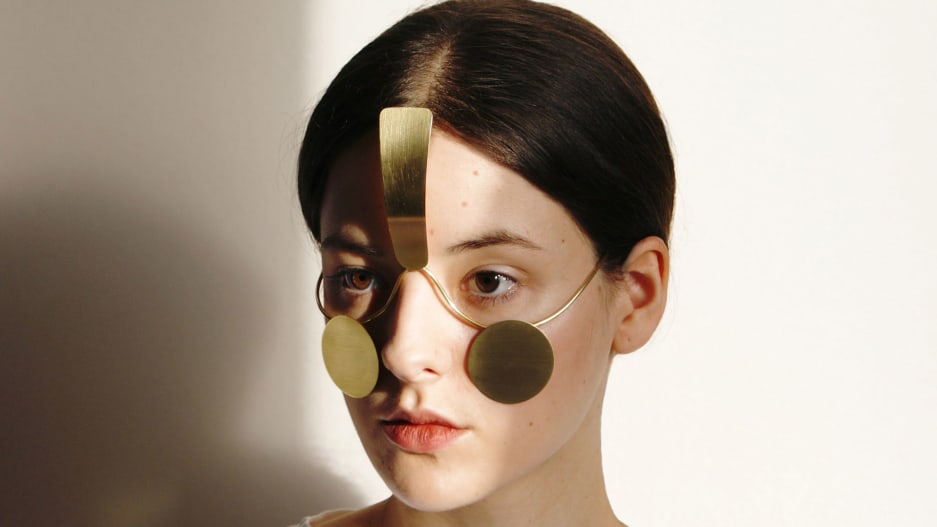 Nowak has previously worked with other designs too, but this specific jewelry design is the first that worked and has actually prevented a facial recognition system from recognizing her facial features.
Mazda Design Award granted her the trophy at the recently concluded Łódź Design Festival for her ingenious way of preventing facial recognition from identifying someone.
"I worked on the [face jewelry] for two or three months, and then it waited," Nowak says. "The reason I showed in Łódź is that there was a competition. I entered, and the project won. It's the easiest way to get displayed. There are so many projects stuck at the university level. When we were studying, a lot of people asked how to show their work to people and share ideas. Education and business are disconnected from art."
There is one big problem, though. Because Nowak considers the design more as a conceptual work of art rather than a product, the Polish artist said that she has no plans of mass-producing it; especially that the product has to be molded to someone's face and to be perfectly fitted in order to work.
While it is unfortunate that Nowak's design is not much of a help to people; apparently, it opens a wide door for designers and technology experts to develop their own version of a facial recognition shield.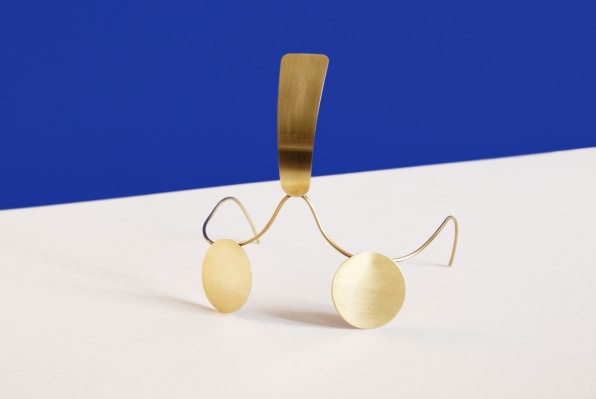 Her design can also serve as baseline design for innovations in the area of facial recognition shielding and could inspire younger people to develop their own.
With the growing popularity of facial recognition, a market for it it is very much open, and that serves as a strong incentive for businesses and intellectuals alike to produce something that could help people protect themselves from the privacy-violating facial recognition.
The unregulated technology that is facial recognition has continued to steer public dialogue on the protection of people's privacy. Human rights advocate that the growing prevalence of the systems makes legislation and regulation lag from their intended purposes. They hope that with innovators like Nowak, the world will see a balance in the benefits of facial recognition and people's privacy.
The Newest Sea Creatures-Inspired Tea Bags Strengthen Japanese Tea Tradition
In Japanese culture, tea is more than just a drink. The tea ceremony, also known as "Way of Tea," has been an essential part of Japan's culture for centuries. This high-valued celebration is matched with a performance that mirrors grace and beauty, accompanied by a ritual activity that strengthens the familial relationship.
For centuries, the country relies on its tea business — not just to adhere to its venerable tradition — but because drinking tea has been a part of Japanese daily routine. As companies continue to venture in tea business, creative approaches on how to spice up one's tea packaging are also booming. One great example is the recent innovation of the Japanese company known as "Ocean Teabag" — which takes the challenge of creating a different and unique approach to tea bags.
For tea lovers, the new design becomes a "breath of fresh air" since traditional tea bags have not changed for many years. The company decides to team up with an oddity shop and a local bookstore called "Village Vanguard" to produce the new animal-themed teabags that can alter people's mood by just looking at the cute design.
Ocean Teabag was created by Takahashi Shota, who launched the first-ever product with a dolphin design in 2015. It became the talk of the town, which transpired Shota to create another set of animals to the product line. The business gained orders from outside the country — making Ocean Tea Bag be the first and only company to introduce unique designs to teabags.
The custom of drinking tea, mainly for medicinal purposes, can now be associated with pleasurable reasons. From drinking the most boring bland tea comes to the new sea creature-inspired teabags. The design elevates the daily tea ritual into a zoological adventure; ranging from giant squids, otters, to red Pandas and cephalopods. Layers, folds, and perforations create the details of each creature's body, while the outside packaging mirrors with that of the inside. So, customers will know through the wrapping what animals to choose for their tea sessions.
The tea bags can be bought online or through personal transactions at a sum of 1,820 yen or $16. These tea bags once dipped, add life to your daily tea routines, simply because of the delicate folds, which look like an animal is swimming in your tea.
Tea was initially valued as medicine because of its health benefits and was only available to rich people like the noblemen and emperors. The first documented evidence of tea session in Japan dates back to the 9th century when it was brought by the Buddhist monks after studying the tea culture in China.
The monks personally served "Sencha," an unground Japanese green tea, to the famous Emperor Saga. Japanese nobles, later on, practice it, and through an imperial order in the year 816. And since then, tea plantations had become widespread in different regions of Japan.
Until today, tea becomes a daily beverage of both the affluent class and the ordinary people. It has become a symbol of a growing relationship among Japanese and their families, even nobles and commoners.
Aside from drinking tea as a way to bond and relax, one reason for the emerging tea businesses is the proven benefits of tea in our bodies. According to a study conducted by a group of researchers from Ohio State University in Colombus, tea, mainly green tea, has shown to help fight obesity and inflammation. The findings indicated that the said tea encourages the growth of good gut bacteria which lowers the risk of obesity.
However, today, Japan faces one of the pressing issues with regards to its tea farming. The Japanese Ministry of Agriculture and Forestry in 2016 indicated that the area used for tea farming declined from 46200 hectares to 43100.
Although Japan is the eight largest tea producer in the world, tea farming itself, unfortunately, decreased in the past years. One reason is the continued support of local government to private companies which build establishment and other infrastructures in areas where tea farming is mostly found.
With this, the country relies mostly on tea imports from other countries, including China. Ocean Tea Bag supports local tea producers and hopes that its newest sea creature-inspired tea bags will continue the country's tea tradition and strengthen the bond between Japan and its people.