Facebook Fined By UK For For Failing To Protect User Data
The popular social media has been fined by the Information Commissioner's Office in the United Kingdom at £500,000 ($644,000). ICO even said that there could be a possibility that they will be fine of up to £1.2bn under the new regulatory system. The reason for this is that Facebook allows third-party developers to have access to user information without enough consent.
The result follows after an investigation was made in using of data analytics for political purposes. United Kingdom's Information Commissioner's Office found out on Thursday that the personal information of at least 1 million UK users of the popular Facebook was among the ones accumulated data and was said put at risk of misusing it. ICO sees that Facebook has disregarded the safety of the users' personal information.
According to ICO, the correspondent data that was processed between 2007 and 2014 was accessible to third-party developers without even the permission from the owners of the data from Facebook. Facebook has failed to keep personal information to be secured and safe. Information Commissioner Elizabeth Denham stated that Facebook has been unable to obtain enough and protect the personal data of the users, during and after the unlawful processing of this data. A big and famous social media company like them should be aware, equipped and should have known better on this kind of situation.
One of this incident happened when one developer Aleksandr Kogan was able to persuade 300,000 people to install a personality testing application that fed back the Facebook data of both users and their friends. With that, it gave him access to harvest profiles of up to 87 million people worldwide without them knowing it.
Another one is a firm called Cambridge Analytica which they found out that they were already involved in a Facebook data scandal earlier this year. They have found out that their company was used to share data gathered from the social network's users to target political advertising in the U.S.
All are already under investigation and fears of facing a record fine once the result of the investigation is released.
Don't forget to subscribe for more news update.
Facial recognition technology remains to be one of the most controversial tech-related issues right now, and we all know that Facebook is using the technology to automatically tag you and your friends in photos among other purposes. However, a group of researchers has found out that there are Facebook accounts that can't turn off the facial recognition feature despite the tech company's assurance that they are not using the technology against the will of their users.
A qualitative study from the Consumer Reports suggests that there are a lot of Facebook users who can't turn off the facial recognition feature and cannot prevent the social media network from using the technology to identify their faces in the platform. According to CR, they have found out that eight out of the 31 test accounts that they used in the study does not have an option to turn off facial recognition. As an implication, it is possible that there are more users out there who don't have the same ability even if the researchers have noted that they are still unsure whether there are others.
"This was a small, qualitative study, and we don't know exactly how many people are missing the setting. But, we can infer that many Facebook users may be affected," says Bobby Richter, who leads the privacy and security testing for Consumer Reports.
Furthermore, the researchers have also created several new Facebook account to see which of them has an option to turn off facial recognition and they found out that "about a half-dozen" of the new accounts faced similar problems with the first eight accounts tested.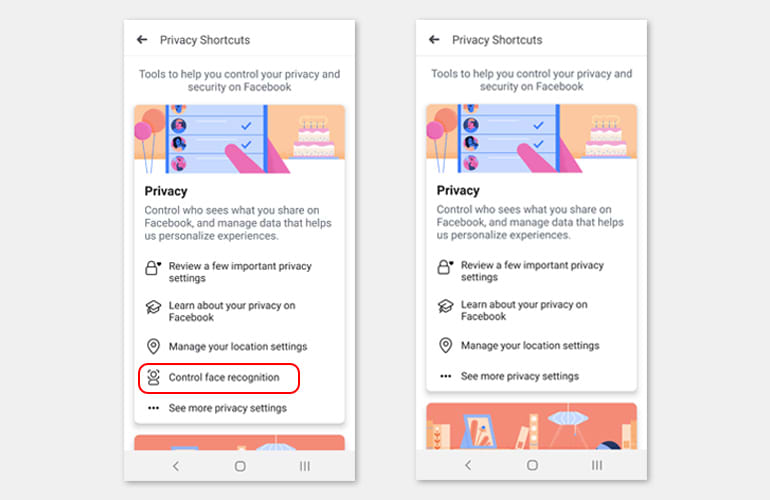 "If Facebook is purporting to provide a setting that is missing for some users, that's a problem. At the very least it demonstrates a lack of commitment to protecting consumers' privacy," says Justin Brookman, director of privacy and technology policy at Consumer Reports.
Because of their findings, the Consumer Reports has filed a complaint against Facebook and urged the Federal Trade Commission to launch an investigation on the apparent violation of privacy by the California-based company.
"Consumer Reports asks the Federal Trade Commission to investigate Facebook, Inc.'s representations of the availability of the Face Recognition setting on its platform. However, our research indicates that some consumers lack this important privacy control. This complaint concerns the undisclosed and unclear distribution of the Face Recognition privacy setting that should be considered unfair and deceptive trade practices under Section 5 of the FTC Act," reads the official statement of Consumer Reports regarding their complaint against Facebook.
Meanwhile, several security researchers and tech researchers have expressed concern regarding the discovery against Facebook. Evan Selinger, who studies the technology as a philosophy professor at the Rochester Institute of Technology and a senior fellow at the Future of Privacy Forum, said that "since the company [Facebook] has one of the largest name-face databases in the world and the power to infer significant things about people whom it identifies, it's especially important that it craft and execute appropriate policies for face recognition."
"All users should be able to access the same easy-to-use setting for preventing Facebook from recognizing them in photos and videos, and for deleting their templates," he added.
According to Consumer Reports, they have already reached out to Facebook to get answers for several questions that they had regarding their study, but the company did not grant them a reply.
"Facebook has not responded to requests for information on how many people are missing the Face Recognition setting, or why it is available to some Facebook users but not to others," said the blog post from Consumer Reports.
Facebook started using facial recognition since 2010 in a feature called "Tag Suggestions" which comes with the ability for users to opt-out from the function to prevent the company from identifying their faces in their friends' photos.
"We learned in our research that people want a way to turn off face recognition technology completely rather than on a feature-by-feature basis," the 2017 blog post from Facebook on Face Recognition reads. "Our new setting is an on/off switch. Some may criticize this as an 'all or nothing' approach, but we believe this will prevent people from having to make new decisions among potentially confusing options."
An unsecured database containing the private contact information of millions of Instagram influencer, celebrities and brand accounts have been discovered and is said to have included personal information such as phone numbers and email addresses. The database was supposed to be unprotected, and anyone could have access to the plethora of sensitive information that it contains.
The discovery was first reported by Zack Whittaker from Tech Crunch and said that cybersecurity researcher Anurag Sen discovered the exposed and unprotected database, hosted by Amazon Web Services. According to the initial report, there were already 49 million records in the database and seemed to have been growing by the hour.
In hindsight, each record in the database contained publicly listed data scraped from influencer, celebrity, and brand Instagram accounts including their bio, profile picture, their follower count, verification status, and their location by city and country. However, the database also contained private contact information, including email address and phone number.
Several high profile influencers and celebrities were found in the database, including some prominent beauty and fashion bloggers, food bloggers, celebrities, and other famous social media influencers. According to Whittaker, he contacted several people on the list at random whose information was found in the database, and some of them indeed replied, confirming that some – or most – of the data contained in the database are actual data scraped from their Instagram accounts.
The database was then traced back to an India-based social media marketing company, Chtrbox, a firm that pays Instagram influencers to post sponsored content on their accounts. The report revealed that each record, aside from public and personal information of the account owner, also includes an estimated worth of each account, factored by the number of followers they have, the engagement level they receive, the width of their reach, likes, and shares they had. The calculation was used as a metric to determine how much to pay an influencer to post a sponsored content on their account as an ad.
Those who responded have said that they used the email and the phone number as default to sign up for Instagram and they also denied having been involved in a business with Chtrbox.
The researchers were able to contact Chtrbox and was successfully in having them take the database offline; however, Pranay Swurap, the founder of the social media marketing firm and it's Chief Executive Officer, refused to comment and answer questions raised by the researchers.
Until now, it is unclear how the company was able to obtain the massive data they have.
One theory made by the researchers is that two years ago, a security bug in the developer API of Instagram has allowed hackers to obtain email addresses and phone numbers of six million Instagram accounts. The hacker later sold the data they were able to scrape by exploiting the bug was sold to highest bidders for bitcoin.
Hackers have launched a website with a searchable database of some Instagram users' alleged personal info. The data, a sample of which the hackers provided t, appears to include email addresses and phone numbers for a selection of high profile Instagram users, including politicians, sports stars, and media companies. The data also seems to contain information on more ordinary accounts, too.
"Instagram clearly hasn't yet understood the full impact of this bug," said one of the people behind the site, dubbed 'Doxagram.'
Some of the accounts in the list are seemingly high profile. One entry is allegedly for the official President of the United States' Instagram account. Another alleged account appears to belong to Cristiano Ronaldo, the world-famous soccer player.
As for why the database contains high profile users, the hackers claimed they set up their scraper to initially target all users with over 1 million followers, and then recursively harvest other users. In all, the hackers claim to have over 6 million accounts in their database.
Meanwhile, in a statement made by Facebook following the disclosure of the database said that the company is investigating the matter.
"We're looking into the issue to understand if the data described – including email and phone numbers – was from Instagram or from other sources," said an updated statement. "We're also inquiring with Chtrbox to understand where this data came from and how it became publicly available," it added.
There is no denying that cryptocurrency is slowly becoming the most used currency in the world. The future is bright for virtual money as people started to become a lot more dependent on the internet on almost all aspects of their daily lives. And when a technology thrives, Facebook does not falter to offer the same thing. Reports suggest that Facebook has set up a company overseas to develop its virtual currency that users can send to their friends and contacts.
The social networking giant reportedly opened up a company in Switzerland to focus on payment and blockchain technology, similar to the technology that powers bitcoins and other cryptocurrencies.
According to a Swiss publication, Handelszeitung, the Facebook cryptocurrency would be tied to the US dollar and therefore will remain stable unlike bitcoin, which started crashing since 2017.
The report also revealed that Facebook has already set up a company called Libra Networks in Geneva several weeks ago. They noted that Libra is the tech giant's internal project name for Facebook money.
Owned by Facebook Global Holding II in Ireland, the Swiss company will focus on developing the software and hardware for crypto-related functions like payments, blockchain, analytics, big data, and identity management.
Facebook is hesitant to comment regarding their plans for the digital currency and did not confirm nor denied the reports of its existence. Nonetheless, the news is consistent with an earlier report that Facebook created a team of 50 individuals to develop their cryptocurrency and blockchain technology to be used across the network and on its WhatsApp messaging services.
That design would be geared toward avoiding a speculative frenzy like the one that caused the value of the primary cryptocurrency, bitcoin, to soar and then crash. While Facebook also did not confirm anything related to the leaked project at the time, the California-based company confirmed that they are interested in blockchain technology.
"Like many other companies, Facebook is exploring ways to leverage the power of blockchain technology," the company said in a statement. "This new small team is exploring many different applications."
Blockchain technology serves as the virtual ledger for every transaction using a cryptocurrency like bitcoin, and it builds up a set of data blocks recording transactions and who made them.
Meanwhile, existing crypto companies still face a huge problem in the banking system, and Facebook may face a similar obstacle in case the reports on its own crypto money turns out to be true. Earlier reports suggest that crypto companies around the world are having trouble in opening bank accounts for their operations.
The report followed the complaint filed by Sam Bankman-Fried, Chief Executive Officer of the quantitative crypto company, Alameda Research that "the standard answer of 'just go to your local Chase branch' doesn't work in crypto." Bankman-Fried also added that it is not illegal for banks to serve crypto businesses, but "it's a massive compliance headache that they don't want to put the resources in to solve.''
The report pointed out that while larger banks avoid getting into a transaction with crypto and blockchain corporations, smaller banks are getting hold of the unserved market.
Silver Bank in San Diego said in its November 2018 filing for an initial offering that cryptocurrencies companies have a total of $40 billion to deposit and larger banks are letting go of it.
Blockchain investment, trading, and advisory firm NKB group have also struggled with establishing banking relationships with a lot of major banks. According to NKB Group's head of Brokerage Ben Sebley, "denying basic banking is madness, impedes sector growth and forces companies to get creative to solve the problem […] The banks are being overly prudent."
The facilitation of cryptocurrency in banking has been an ongoing debate after major banking giants like JPM, and other American banks have banned the purchase of cryptocurrency using their debit and credit cards. However, supporters have argued that this ban is a step back for the banking industry.
"If they are policing digital currency transactions by de-risking the activity on the basis of protecting customers from market changes, they are going to be on the hook for market changes where their financial products are used where they did not intervene and de-risk to protect consumers," said attorney Christine Duhaime, founder of the Digital Finance Institute.