Marilyn McKenna Weight Loss Picture Banned by Facebook
Marilyn McKenna, wife of former Washington State Attorney General Rob McKenna, was told by Facebook to remove her photos of her dramatic weight loss because it claims that showing off her "fat pants" is "promoting idealized physical appearances."
McKenna posted a photo of her fitting both her legs inside one leg of her old size 20 "fat pants" but was told to remove the picture because it was promoting "idealised physical appearances".
"I used to weigh 265 pounds," McKenna said. "Those old pants mean a lot to me because they're a reminder of how far I've come."
Marilyn McKenna, who lost 120 pounds six years ago after lap band surgery, now dedicates her life to speaking and writing about heath. She's in the process of writing a book about weight loss and has her own Facebook fan page that promotes healthy eating and exercise where she tried to post the pictures.
On Thursday night, she tried to make the image her profile picture on her fan page, when she received a message from Facebook reading, "These types of images are considered to be promoting idealized physical appearances and are policy violating," she told a local television station.
"The image used here is of a woman standing in a large pair of pants holding the waist band out to show weight loss. The images are considered to be promoting idealised physical appearances and are policy violating," Facebook officials said. "It is also worth noting that things like before and after photos, images with scales, tape measures, zoomed in body parts are also considered to be promoting idealised physical images and are not allowed."
"I'm certainly not about idealizing any kind of body image," McKenna told KOMO News. "I write about weight loss. I write about healthy eating and healthy lifestyles."
"I can't even fathom what they're thinking," McKenna told KDVR News. "I call B.S. on Facebook."
Facebook forces Marilyn McKenna to Remove Weight Loss Picture
Marilyn McKenna, wife of Washington's former Attorney General, lost 120 pounds and documents her dieting and exercise on social media. Thursday, Facebook told her one of her pictures violated the site's ad policy.
As Facebook gains a footing in the advertising industry along with Google, the California-based tech corp has finally decided that they will be implementing a universal ban on advertisements that attempt to sell marijuana.
Following an arduous rally of pros and cons and board room deliberations on the matter, the company has finally come up with continuing to block marijuana-related content and advertising on its platform, a decision made Tuesday says.
Roughly 60 policy makers and executive of the company convened at Ireland, Washington D.C., Kenya, Los Angeles and Facebook headquarters in Menlo Park at the company's weekly product policy meeting, arguing the merits of the policy and the counter policy on whether they should allow direct cannabis sales throughout its platform. At the end of the meeting, the body has agreed that they will keep their anti-cannabis policy in place but also noted that the company would be implementing several changes on the social networking site's current cannabis content rules.
Selling marijuana is already legal in some states and Canada, and currently, Facebook bans cannabis related content, especially those that attempt to sell, trade, or barter the drug. At present, Facebook, however, allows the advertising of cannabidiol, or CBD, a non-intoxicating compound found in cannabis plants. Other allowable contents are posts, pages and non-advertising content touting the sale of cannabis seeds and items such as bongs, rolling papers, vaporizers and accessories that are often found at legal smoke shops.
Facebook rolled out an updated version of their policies on community contents that govern tobacco, drugs, and other regulated products such as guns and CBD. Accessory ad regulations became tighter too.
However, Facebook's decision to uphold its previous rules and strengthen them dismayed the cannabis industry citing that the universal ban can hamper companies' ability to reach an audience that is available on the social media platform.
"What is the dream that has been killed?" Rebecca Brown, founder of Crowns Agency, which specializes in cannabis marketing and brand consulting, said over the phone Tuesday. "Everyone needs to build a brand and not just micro brands, but household, name brands. Facebook has reached and scale that competes with traditional broadcast. The bitter pill of this decision was that Facebook could have become an opportunity that could have solved very significant impediments to [cannabis companies] becoming a Coke, a Starbucks, a Walmart," Brown said.
Journalists from the MarketWatch, who was also present in the meeting said that "Facebook studied three potential changes to its cannabis sales policy, according to presentation slides. One would have allowed users to sell pot directly to one another and buy from recreational and medical pot shops in legal jurisdictions. A second option looked at only buying from brick-and-mortar shops where pot is legal, and a third narrowed sales further still to only those stores involved with medical cannabis."
Noting the complexity of cannabis legislation from around the globe and the diversity of policies targeted at irresponsible marijuana users, the team highlights that cannabis regulation in each country varies, and it is impossible for them to roll out. "The company also said that, partially because of regulatory uncertainty, it would be "operationally difficult" to implement policies — for example, determining who is a legitimate operator and who is not, across hundreds of jurisdictions."
As part of the plan, Facebook said it was going to spend more time training content moderators about its cannabis-related policies. "For companies that are focused on creating a brand like we are, that is only accessible to those over the age of 18; Facebook is one of the best ways in the world to only target the audience we want to speak to," Jake Heimark, chief executive of edibles-maker Plus Products Inc. PLPRF, -1.12% said it.
"It's a real loss for the whole industry," he said. "That's the worst thing about this — Facebook could be a partner. But it's a global company, and they're put in a difficult spot."
"We're dealing with a regulator that's trying to fix that plane while they're flying it," Michael Elkin, vice president of partnerships and sales at High 12 Brands, said late Tuesday over the phone. "Health Canada has not come out with a specific regulation — we're still waiting for proper direction. Nothing [would have] changed."
Facial recognition technology remains to be one of the most controversial tech-related issues right now, and we all know that Facebook is using the technology to automatically tag you and your friends in photos among other purposes. However, a group of researchers has found out that there are Facebook accounts that can't turn off the facial recognition feature despite the tech company's assurance that they are not using the technology against the will of their users.
A qualitative study from the Consumer Reports suggests that there are a lot of Facebook users who can't turn off the facial recognition feature and cannot prevent the social media network from using the technology to identify their faces in the platform. According to CR, they have found out that eight out of the 31 test accounts that they used in the study does not have an option to turn off facial recognition. As an implication, it is possible that there are more users out there who don't have the same ability even if the researchers have noted that they are still unsure whether there are others.
"This was a small, qualitative study, and we don't know exactly how many people are missing the setting. But, we can infer that many Facebook users may be affected," says Bobby Richter, who leads the privacy and security testing for Consumer Reports.
Furthermore, the researchers have also created several new Facebook account to see which of them has an option to turn off facial recognition and they found out that "about a half-dozen" of the new accounts faced similar problems with the first eight accounts tested.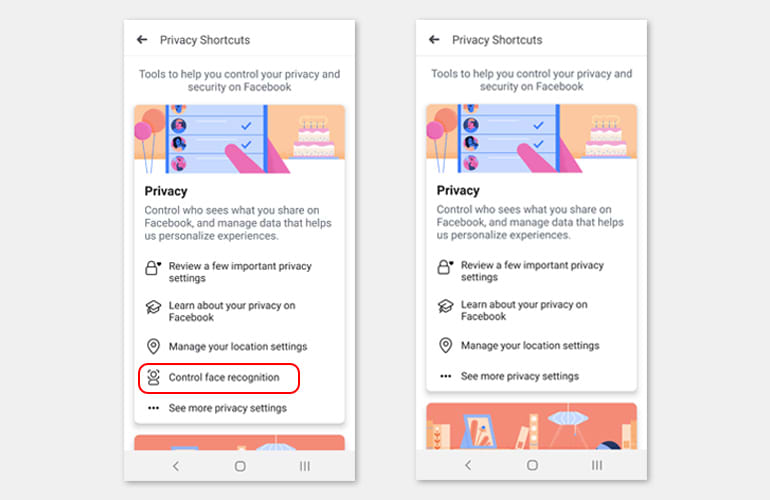 "If Facebook is purporting to provide a setting that is missing for some users, that's a problem. At the very least it demonstrates a lack of commitment to protecting consumers' privacy," says Justin Brookman, director of privacy and technology policy at Consumer Reports.
Because of their findings, the Consumer Reports has filed a complaint against Facebook and urged the Federal Trade Commission to launch an investigation on the apparent violation of privacy by the California-based company.
"Consumer Reports asks the Federal Trade Commission to investigate Facebook, Inc.'s representations of the availability of the Face Recognition setting on its platform. However, our research indicates that some consumers lack this important privacy control. This complaint concerns the undisclosed and unclear distribution of the Face Recognition privacy setting that should be considered unfair and deceptive trade practices under Section 5 of the FTC Act," reads the official statement of Consumer Reports regarding their complaint against Facebook.
Meanwhile, several security researchers and tech researchers have expressed concern regarding the discovery against Facebook. Evan Selinger, who studies the technology as a philosophy professor at the Rochester Institute of Technology and a senior fellow at the Future of Privacy Forum, said that "since the company [Facebook] has one of the largest name-face databases in the world and the power to infer significant things about people whom it identifies, it's especially important that it craft and execute appropriate policies for face recognition."
"All users should be able to access the same easy-to-use setting for preventing Facebook from recognizing them in photos and videos, and for deleting their templates," he added.
According to Consumer Reports, they have already reached out to Facebook to get answers for several questions that they had regarding their study, but the company did not grant them a reply.
"Facebook has not responded to requests for information on how many people are missing the Face Recognition setting, or why it is available to some Facebook users but not to others," said the blog post from Consumer Reports.
Facebook started using facial recognition since 2010 in a feature called "Tag Suggestions" which comes with the ability for users to opt-out from the function to prevent the company from identifying their faces in their friends' photos.
"We learned in our research that people want a way to turn off face recognition technology completely rather than on a feature-by-feature basis," the 2017 blog post from Facebook on Face Recognition reads. "Our new setting is an on/off switch. Some may criticize this as an 'all or nothing' approach, but we believe this will prevent people from having to make new decisions among potentially confusing options."
An unsecured database containing the private contact information of millions of Instagram influencer, celebrities and brand accounts have been discovered and is said to have included personal information such as phone numbers and email addresses. The database was supposed to be unprotected, and anyone could have access to the plethora of sensitive information that it contains.
The discovery was first reported by Zack Whittaker from Tech Crunch and said that cybersecurity researcher Anurag Sen discovered the exposed and unprotected database, hosted by Amazon Web Services. According to the initial report, there were already 49 million records in the database and seemed to have been growing by the hour.
In hindsight, each record in the database contained publicly listed data scraped from influencer, celebrity, and brand Instagram accounts including their bio, profile picture, their follower count, verification status, and their location by city and country. However, the database also contained private contact information, including email address and phone number.
Several high profile influencers and celebrities were found in the database, including some prominent beauty and fashion bloggers, food bloggers, celebrities, and other famous social media influencers. According to Whittaker, he contacted several people on the list at random whose information was found in the database, and some of them indeed replied, confirming that some – or most – of the data contained in the database are actual data scraped from their Instagram accounts.
The database was then traced back to an India-based social media marketing company, Chtrbox, a firm that pays Instagram influencers to post sponsored content on their accounts. The report revealed that each record, aside from public and personal information of the account owner, also includes an estimated worth of each account, factored by the number of followers they have, the engagement level they receive, the width of their reach, likes, and shares they had. The calculation was used as a metric to determine how much to pay an influencer to post a sponsored content on their account as an ad.
Those who responded have said that they used the email and the phone number as default to sign up for Instagram and they also denied having been involved in a business with Chtrbox.
The researchers were able to contact Chtrbox and was successfully in having them take the database offline; however, Pranay Swurap, the founder of the social media marketing firm and it's Chief Executive Officer, refused to comment and answer questions raised by the researchers.
Until now, it is unclear how the company was able to obtain the massive data they have.
One theory made by the researchers is that two years ago, a security bug in the developer API of Instagram has allowed hackers to obtain email addresses and phone numbers of six million Instagram accounts. The hacker later sold the data they were able to scrape by exploiting the bug was sold to highest bidders for bitcoin.
Hackers have launched a website with a searchable database of some Instagram users' alleged personal info. The data, a sample of which the hackers provided t, appears to include email addresses and phone numbers for a selection of high profile Instagram users, including politicians, sports stars, and media companies. The data also seems to contain information on more ordinary accounts, too.
"Instagram clearly hasn't yet understood the full impact of this bug," said one of the people behind the site, dubbed 'Doxagram.'
Some of the accounts in the list are seemingly high profile. One entry is allegedly for the official President of the United States' Instagram account. Another alleged account appears to belong to Cristiano Ronaldo, the world-famous soccer player.
As for why the database contains high profile users, the hackers claimed they set up their scraper to initially target all users with over 1 million followers, and then recursively harvest other users. In all, the hackers claim to have over 6 million accounts in their database.
Meanwhile, in a statement made by Facebook following the disclosure of the database said that the company is investigating the matter.
"We're looking into the issue to understand if the data described – including email and phone numbers – was from Instagram or from other sources," said an updated statement. "We're also inquiring with Chtrbox to understand where this data came from and how it became publicly available," it added.