Tony Sheridan Dead at 72: Collaborated with the Beatles in Early Recordings
Tony Sheridan led a productive life and accomplished many things throughout his career. He was not only a British singer but also displayed his talent as a songwriter and guitarist. Despite his many talents, many will remember him for his collaboration with the Beatles during the band's early beginnings in Hamburg and though brief, his involvement proved invaluable to their career.
Tony Sheridan died on Saturday in Hamburg, Germany and according to the New York Times; the news of his death was made public by his daughter, Wendy Clare Sheridan-McGinnity. Although the 72-year-old Sheridan didn't stay with the Beatles for an extended amount of time, his involvement with them proved to be pivotal.
It was during the early 1960s in Hamburg's red-light district that Sheridan met Pete Best, John Lennon, George Harrison and Paul McCartney. The young band would come to watch Sheridan's performance every night after the Beatles own shows finished at a neighboring club. Sheridan decided to work with the band and gave them his insights on various things. For example, he advised them about their look which at that time, the band sported wearing cowboy boots and black leather bomber jackets. He also told them about American R&B acts that included the likes of Little Richard.
Eventually, the Beatles would end up being Sheridan's backing band at the Top Ten Club. From there, the band would cut their earliest recordings with Sheridan and be known as the Beat Brothers on the songs "My Bonnie" and "When the Saints Go Marching In." However, the album they recorded would eventually be released outside of Germany and be known as Tony Sheridan and The Beatles.
Sheridan would soon venture on his own and continue his career as well as making a name for himself. He played the electric guitar on television and was credited as the first British musician to accomplish this. Also, he would go on tour with the talents of Chuck Berry, Chubby Checker and Jerry Lee Lewis.
He released a solo album in 1964 called "Just a Little Bit of Tony Sheridan" that was influential in both jazz and the blues. In 1978, Sheridan made the decision to return to Hamburg and to be the headline in the reopening of the city's famous Star Club, which would bring Elvis Presley's TCB Band with him.
Sheridan released his final solo album, "Vagabond," in 2002. In 2005, he recorded the DVD "Chantal Meets Tony Sheridan," that includes the only recording of "Tell me If You Can," which was a song Sheridan wrote in 1962 with Paul McCartney.
Sheridan is survived by his three sons Felim, Tony Jr. and Bennet; and his daughters Amber and Wendy Clare.
The popular music streaming app, Spotify, is all-in with podcasts as it launches a redesigned user interface (UI) that refocuses Spotify into two different audio categories: Music and Podcasts. While it is not new that podcasts and audio shows are already thriving in the app, Spotify makes it easier for listeners to navigate the app to search for their favorite podcast shows.
The new redesigned UI is only available for a limited number of users as of now, though, and was first reported last week. The new design emphasizes bolded headings for both "music" and "podcasts" on the app's library page. Currently, Spotify users have to sift through six categories at the top of their library pages to find a dedicated podcast section. While Spotify confirmed that they were testing "new products," they declined to comment on when the new redesigned UI would roll out to all users.
According to Spotify, last year, "seven million people in the US produced podcasts—and even more, people consumed them." And it makes sense why the app company is putting money on podcasts on its platform. Spotify has spent up to $500 million on podcasts alone. The spending included their acquisition of major companies like Gimlet Media. The equivocal emphasis of Spotify to spend on promoting podcasts on its platform says so much about its goal to compete with Apple and Luminary to try to become the go-to place for podcast listeners, and improving "discoverability" and ease of use is necessary to achieve their goal.
A few days ago, Spotify also released a tool called Soundtrap for Storytellers to encourage podcast producers to produce more shows on Spotify. Soundtrap for Storytellers is a comprehensive podcast creation tool that offers recording, remote multi-track interviewing with video chat, smart editing of audio as a text document, full audio production, direct-to-Spotify publishing of the podcast, and transcript publishing to optimize SEO all in one service.
In an event hosted by Spotify for the launch of Soundtap for Storytellers, they invited popular podcast producers to talk about their craft and how they can use the new tool in their podcasts. Hannah Berner, the host of the popular podcast show Berning in Hell, said that she "think(s) a lot of podcasters don't have any knowledge about the importance of SEO, or getting found in unique ways, besides just promoting on our social media. So having a transcript of what you're saying that also helps with SEO is incredible."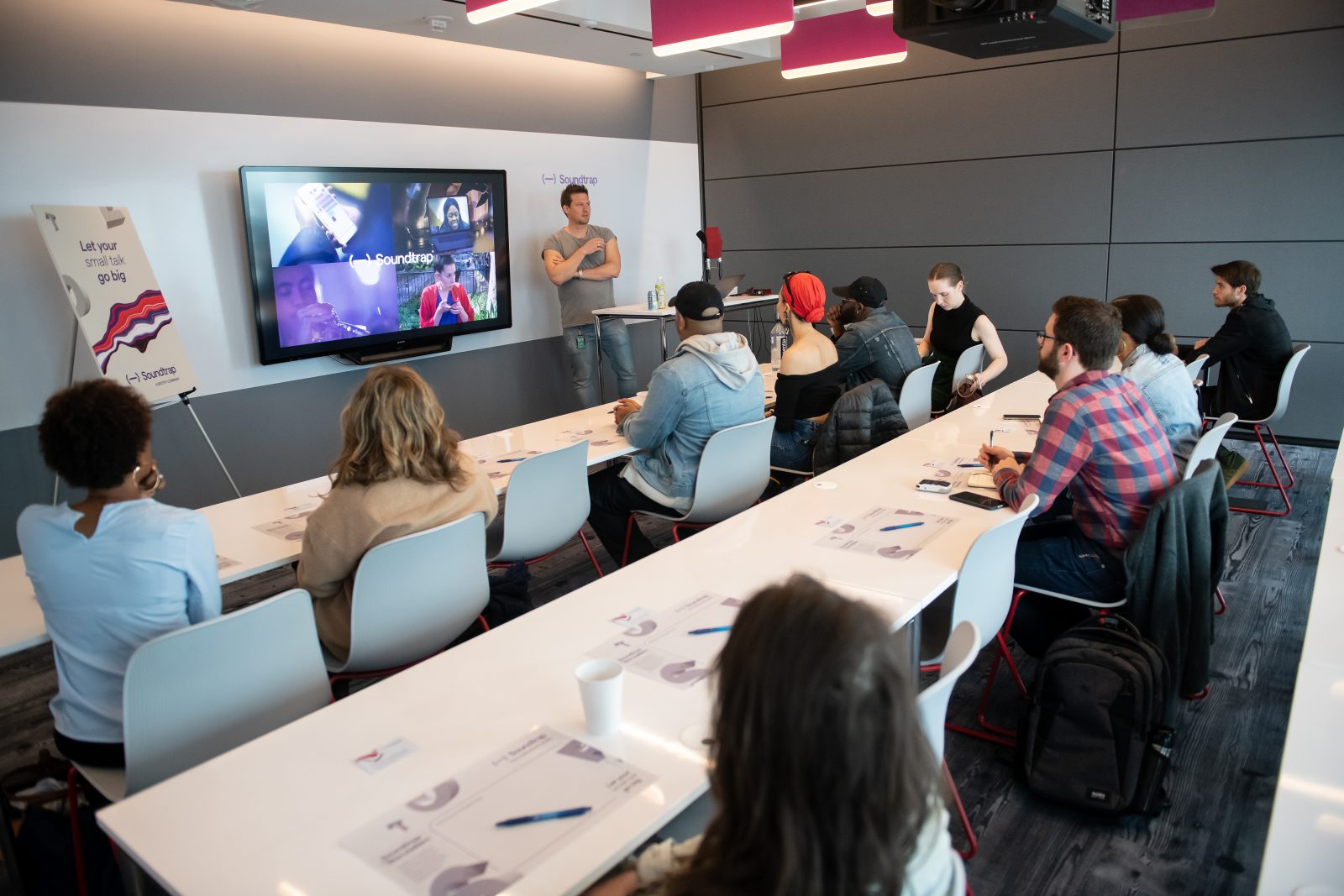 Lindsay Metselaar, host of We Met At Acme, said that the prospect of being able to record with people who are not physically with her is what excites her the most about the new podcast creation tool.
"The fact that you can record with someone when they're not physically with you is huge. I'm not able to do that right now because the sound quality is just not the same with other programs or over the phone. But Soundtrap allows two computers to have the same recording situation set up. That's huge for podcasting," she said.
The new podcast tool is available starting May 14 online and on iOS and Android, with pricing starting at $14.99/month and an annual plan starting at $11.99/month.
In addition to Soundtrap for Storytellers, Spotify is also encouraging new artists to create more podcasts on its newly acquired tool called Anchor. Anchor is a free-to-use podcast creation, distribution and monetization platform that says its mission is to "democratize audio." It was one of two New York-based podcast companies (alongside Gimlet Media) acquired by Spotify in February for $343 million combined.
"There's no doubt that podcasting is expanding like crazy, and if you have a story to tell, someone out there is dying to hear it," writes Spotify in the news post.
"For those who are ready to experiment, have fun, and try out a new way to connect with fans, here's why it's time for you to start using Anchor."
Spotify is making a concerted effort to encourage more of its platform's 3.9 million artists and dedicated-podcast creators to use its marketplace tools – like Anchor and Soundtrap for Storytellers. If successful, Spotify will make itself a one-stop-shop for podcast producers, hosts, and artists, and might be able to top competitors like Apple and Luminary in the podcast wars online.
The unstoppable avenging hitman is back in cinemas for its third installment, and we can't disregard to talk about it. Nonetheless, John Wick 3: Parabellum is finally here; expect mild spoilers ahead.
For those who've been living under a rock and has decided to come out to watch John Wick 3: Parabellum, John Wick (Keanu Reeves) is a legendary hitman with cool nicknames like the Boogeyman or "Baba Yaga." He lives in a world like our own but with more assassins in every corner than rats living in your attic, and complete with a whole set of underground government ruled by the High Table.
In the first movie, he retired his guns and knives because he fell in love. Unfortunately, his wife passed away early, but she left him a dog named, Daisy. On a very unnecessary day, Iosef Tarassov–a Russian Gangster–got mad when Wick refused to sell his car and knocks Wick out and killed Daisy on his way out. Infuriated, Wick sets out on a path of vengeance that ultimately sets off the entire series.
On his path to vengeance, he triggers old boss Viggo Tarassov when he can't talk Wick out of his senseless parade of violence on his son, Iosef. As a result, he places a $2 million bounty on his head. In the end, he kills both Viggo and Iosef simply because nothing will stop John Wick from seeking revenge. The movie ends with him leaving with a freed pitbull set for euthanization, cute.
Moving over to the second movie, John Wick is forced to get out of retirement, again! Remember when he needed to accomplish an impossible task before retiring? He required the aid of Italian crime lord, Santino D'Antonio (Riccardo Scamarcio). Santino, in return, gave him a coin, which they call the "marker" which basically signifies a favor waiting to be returned. Santino asks Wick to kill his sister, Gianna, before she ascends to sit o the High Table, which he wants for himself.
The "marker," which is one of the two unbreakable cardinal rules in Wick's world, forces him to pay the favor back and kills Gianna. However, Santino decides to double cross Wick and tries to kill him to cover his tracks as he ascends to the High Table.
Wick escapes, Santino places a $7 million bounty on his head, but ultimately he kills Santino, newly named at the High Table. We are talking about John Wick, he's practically un-killable. These assassins should have known better.
One problem, though. Wick killed Santino in the middle of a Continental Hotel–a supposed sanctuary for the world's hitmen where they're safe and can't be killed and also the other unbreakable cardinal rule.
John Wick 3: Parabellum picks up moments before Wick becomes "excommunicato" for killing a person from the High Table at the Continental Hotel. The hotel's manager, Winston (Ian McShane), gives him an hour head-start.
We'll see Wick scramble to find allies and guns, a lot of it, as his status isn't only just within New York City but is extended to the whole world with a $14 million bounty. Everyone from the underground world of hitmen and assassins will be wanting a piece of that, and there' no sanctuary for him to run to this time.
The title refers to the old adage, Si vis pacem, para Bellum: "If you want peace, prepare for war." Wick has essentially declared war on the High Table, and the escalation plays out exactly as you'd expect when everyone's favorite dog-loving hitman is involved.
Favorite takeaways from the movie are Wick killing a 6-foot tall assassin in between tight library hallways using a book, almost all of the well-choreographed fight scenes, and Sophia (Halle Berry) having a swath of vicious dogs attack in her behalf.
In conclusion, without giving too much away, John Wick 3: Parabellum knows how to keep the ball rolling within its storyline without sacrificing the brusque-noir vibe that made the film great. Moreover, the fight scene is only getting better with one of the best executions compared to other movies where they tend to go bigger rather than better.
On other news, we're pulling the trigger on this one, John Wick 3 also hinted a coming John Wick 4. About the when we're not sure as the John Wick series usually takes years in between each other. Nonetheless, we're too excited about it.
Upfronts Week – Maleficent: Mistress of Evil, Batwoman, Black Mirror, And More
Rom-coms, fantasy, comedy, horror, sequels, and surprising third installments are just some of what we saw from the slew of trailers that dropped this week.
If you're not aware, upfronts week just ended, and it's easily one of the most awkward and confusing times of the year, as networks and companies are jumping left and right trying to woo advertisers into investing.
A little FYI, upfronts week is an important time for networks and companies to show off their content for the coming months, so that advertisers would feel the need to buy airtime during shows. It's literally a time where advertisers can buy airtime from networks upfront.
Back to trailers: there were some highs and lows but one thing's for sure, a lot of the highs are coming from streaming platforms, which doesn't really make a productive upfronts week for networks.
Maleficent: Mistress of Evil (October 18th)
We've all heard about Angelina Jolie's return to the big screen as the antagonist-protagonist Maleficent, the witch from Sleeping Beauty, but this is the first time that we're getting a glimpse of what Disney has in store for the evil-turned-good witch.
Initial reaction, Angelina Jolie is still looking good! At one minute and nine seconds into the trailer, you'll notice that Maleficent has thrown away the shabby long cape and oddly reminds me of Lara Croft but with wings and horns.
Anyways, Maleficent: Mistress of Evil takes place years after the events from Maleficent (2014) and we're guessing that Disney's going to turn the tables again and bring the now-good witch back to evil as she faces another villain, this time a seemingly evil queen (Michelle Pfeiffer).
Batwoman (Fall 2019)
"I'm not about to let a man take credit for a woman's work."
The CW dropped the first glimpse into the thrilling world of Batwoman played by Ruby Rose, and that's just casting perfection!
Ruby Rose plays as Kate Kane, Bruce Wayne's cousin, who steps into Gotham's crime-filled city during a time when Batman went missing. While trying to rescue her girlfriend, Sophie Moore, (Yes! She's lesbian! It just gets better!) she stumbles into the bat cave and decides to become Batwoman.
BH 90210 (March)
Fox is bringing back one of the most iconic TV shows in the 90s, Beverly Hills 90210!
Also, Fox is bringing back the original cast, except Luke Perry, who died tragically last March, and will be getting to play the iconic characters that made them famous all over again! The trailer also follows along with the 8-tone beat that's oh-so nostalgic!
Angel Has Fallen (August 23rd)
First, there was Olympus Has Fallen, then comes London Has Fallen, and now there's Angel Has Fallen. Gerard Butler just can't be stopped and the President still needs help!
Nonetheless, I lived for the first two movies mainly because Gerard Butler's one of the best action stars in the industry. But this time around, we're seeing him protect Morgan Freeman from a swath of assassin drones. An action version of Black Mirror, it seems like to me.
Also in the mix, Jada Pinkett Smith stars in Angel Has Fallen where Gerard Butler is accused of plotting the murder attempt on the President.
Nancy Drew (Fall 2019)
The mystery solving girl from the novels is getting a reimagination in The CW's upcoming series Nancy Drew.
There's the usual mystery, the crime-fighting band of friends, and a weird town with even weirder old tales. However, The CW's Nancy Drew gets a twist with a possible lover-turned-murderer, but we're guessing it's a misdirect but what's most interesting is the overarching horror theme in the series. Whatever it is they're brewing, it's definitely going to be a hit.
On other news, it's another spin-off from the Riverdale series just like the Chilling Adventures of Sabrina, which was also a hit.
Euphoria (June 16th)
HBO is coming with a coming to age series starring Zendaya and her other high school classmates.
The melodrama focuses on topics involving drugs, sex, gender inclusivity (as Zendaya's playing a lesbian in the series), possibly depression, possibly body positivity, definitely more drugs, entirely sure more sex.
Moreover, Drake's producing the series.
Black Mirror (June 5th)
Arguably the best trailer of the week, Netflix teases an all-new season of Black Mirror because nothing's better than teasing a life that's so surreal yet so incredibly close to reality with how technology's slowly taking over our lives, right?
There's a guy who pulls a gun at everyone holding a cellphone, another guy busy swiping right on other women, a young girl who's getting validation from a robot, Miley Cyrus, some weird Mortal Kombat in the mix, and Miley Cyrus. Yes, we mentioned Miley Cyrus twice, I guess that makes thrice.
The trailer only shows tidbits from the latest Black Mirror episodes but we're guessing it's only about to get darker and even more twisted.