Mars Curiosity: NASA Updates with Findings of Soil [Video]
NASA is streaming a live press conference on the updates of the recent discoveries made by the Mars Curiosity Rover. Despite some rumors that you may have heard, don't expect anything of a bombshell sort from this press conference with NASA.
NASA officials wrote in an update about what the press conference will be about, "This briefing will offer findings from examining the composition and textures of targets touched by the rover's robotic arm."
Monday's press conference from NASA, will rid of rumors that organic compounds may have been detected on Mars. According to KPCC Southern California Public Radio, NASA caused a stir in late November when one researcher quipped the Curiosity had discovered something "for the history books," findings which were soon downplayed as simply "interesting."
"Rumors and speculation that there are major new findings from the mission at this early stage are incorrect," officials at NASA's Jet Propulsion Laboratory (JPL) in Pasadena, California, which manages Curiosity's mission, wrote in an update Thursday, Nov. 29. "The news conference will be an update about first use of the rover's full array of analytical instruments to investigate a drift of sandy soil."
Mars Curiosity was able to use it's instruments to analyze the soil that came from a drift of windblown dust and sand called a "Rocknest." For the first time, Mars curiosity found a complex chemistry in the soil. Water and sulfur and chlorine-containing substances, among other ingredients, showed up in samples Curiosity's arm delivered to an analytical laboratory inside the rover.
Participating in the briefing will be:
Michael Meyer, program scientist for Mars Science Laboratory, NASA Headquarters, Washington, D.C.
John Grotzinger, project scientist for Mars Science Laboratory, California Institute of Technology, Pasadena, Calif.
Paul Mahaffy, principal investigator for Curiosity's Sample Analysis at Mars (SAM), NASA's Goddard Space Flight Center, Greenbelt, Md.
Ralf Gellert, principal investigator for Curiosity's Alpha Particle X-Ray Spectrometer, University of Guelph, Ontario, Canada
Ken Edgett, principal investigator for Curiosity's Mars Hand Lens Imager (MAHLI), Malin Space Science Systems, San Diego, Calif.
While the Mars Curiosity webcast started at 12:00PM EST there will be another separate webcast held today to discuss the progress of the Voyager 1 spacecraft, and announce findings from the 45 year old craft designed for deep space exploration.
NASA Live Conference about Mars Curiosity Progress
Related Stories:
Mars Rover Curiosity Landing Video: NASA Celebrates the Success
Mars Meteorites Become Hot Item Outpacing Price of Gold
Russia Spacecraft Phobos-Grunt Expected to Crash into Earth in January
Recent Study Discovered CBD Helps Fight Against Heroin Addiction
The legalization of cannabis across some states promises to bring medicinal properties that can help alleviate ailments such as anxiety, depression, and popularly, some cases of Parkinson's disease.
However, a part of making it legal also enable people to make subjective ailments such as depression and anxiety a reason to purchase the drug and get 'high.'
Popularly, cannabis has been told to be a gateway drug that allows a person to test the waters before proceeding to something stronger. Ironically, a new study shows that cannabis has the possibility of reversing the effects of addiction.
Researchers from the Mount Sinai Hospital in New York announced that CBD oil helps limit particular cravings and help reduce anxiety for heroin users.
The cannabidiol or CBD is a compound extracted from Cannabis plant that has shown significant potential as a form of medication. Moreover, CBD does not interact with any receptors that causes a person to get high.
"To address the critical need for new treatment options for the millions of people and families who are being devastated by this epidemic, we initiated a study to assess the potential of a nonintoxicating cannabinoid on craving and anxiety in heroin-addicted individuals," said lead study author Yasmin Hurd, director of the Addiction Institute at Mount Sinai in a statement.
Particularly, Hurd indicates the American opioid epidemic that took the lives of 300,00 people and will continue to do so unless people find ways to address the problem. Hurd tells NBC, "We're too slow to address addiction in our society. When the flu comes up and the measles comes up, we have so many people trying to help. But we don't have the same kind of urgency with addiction."
Primarily, drug addiction is a very tricky and challenging area to study due to every individual's varying attitudes and behaviors towards drug use. It's even harder when they're trying to perform the study on a hundred people through the course of a number of weeks.
Moreover, there is the risk of exposing the participants in a possible case of a relapse. It is known that the hardest part of getting off heroin addiction isn't the physical longing for the drug. Particularly, medications like methadone and buprenorphine are available to help target the same pathways opioids take to relieve the physical longing.
Sometimes the most challenging part with addiction is avoiding the risk of a relapse. Working around relapse-tense situations is like walking on thin ice. They can be triggered by emotions, sounds, and anything that addicts could associate with their drug use and cause them to suddenly and instinctively crave the drug to alleviate the anxiety. This is where the study shows to have great promise.
Researchers found out that participants who received CBD administration significantly showed reductions in drug cravings. Further, the same participants showed lesser symptoms of anxiety when images of people taking drugs were shown. Moreover, they've discovered that CBD had a lasting effect on reducing drug cravings and anxiety, and extending well over when the CBD was supposedly flushed out of the system.
The study could potentially aim at addressing the anxiety factor in drug addiction therapy, which is currently lacking in the industry.
The research consisted of a small group of 42 drug-abstinent men and women aged from 21 to 65 years old who had a history with heroin disorder. They gave half of the participants 400mg or 800mg of CBD oil once daily and the other half with a placebo. The study then experimented on three separate occasions: immediately following administration, 24 hours after CBD or placebo administration, and seven days after the third and final daily CBD or placebo administration.
However, the study is still at its early stages of development, and further investigation is required to fully claim that CBD has anything to do with the results shown. It still is a possibility that other factors may have contributed to the positive findings of the study or, even an entirely different set of external factors.
On the positive side, this is a great breakthrough study that could potentially open the door for more research on alleviating anxiety related to drug abuse, and potentially close the doors on risks of future relapse scenarios.
While facial recognition technology is widely frowned upon when used against humans, it could be an ally for conservators of giant pandas in China.
A group of researchers from the China Conservation and Research Centre for Giant Pandas have developed an app that could recognize individual pandas using facial recognition technology. The app will draw from more than 120,000 images and video clips of giant pandas to identify the animals that are living in the wild.
According to a census conducted last 2004 by the Chinese government, there are approximately 1,864 pandas live in the wild. That's a 16.8% increase since the last survey released in 2003. The country has taken a proactive role in conservation efforts, announcing last year that it would build a 10,476-square-mile panda reserve called the Giant Panda National Park at the cost of at least 10 billion yuan ($1.45 billion).
"The latest rise in the estimate is particularly encouraging, as the 2004 increase was in large part down to researchers using better techniques and surveying a wider area. The new figures show that the hard work of the Chinese government, local communities, nature reserve staff, and WWF is paying off," wrote WWF.
Camera traps in China have captured images and video footage of giant pandas that are often difficult to see in the wild. The photographs and video are some of the most amazing photos ever of pandas and other species in their remote habitat, which were caught on film as part of long-term wildlife monitoring projects set up in panda nature reserves by the Chinese government and WWF.
"These photos offer a fascinating glimpse into the lives of giant pandas, as well as other animals, which are difficult to see in the wild," says Dr. Sybille Klenzendorf, managing director of WWF's species program. "They demonstrate that by saving the iconic giant panda, we secure a vibrant future for other incredible wildlife, wild places, and people – it's the best kind of win-win proposition."
The development of the new facial recognition app will presumably help conservationist monitor their programs by keeping track of how many pandas are left. It will also provide significant insight regarding the breeding program that conservationist has been implementing to encourage an increase in the panda population.
"he app and database will help us gather more precise and well-rounded data on the population, distribution, ages, gender ratio, birth and deaths of wild pandas, who live in deep mountains and are hard to track," Chen Peng, a researcher at the China Conservation and Research Center for Giant Pandas, said.
This is not the first time that facial recognition technology has been used against animals. According to several reports, facial technology has been used in Italy as part of an app that can match photos of lost pets from those that are in shelters and to determine a cat apart from other feline species.
Nonetheless, the use of facial technology in China is a complicated issue. Many nations have been vocal in their accusations that the Chinese government and Xi Jinping is using the technology against people's consent for the government to spy on its citizens.
Meanwhile, facial recognition technology is also something frowned upon in Western governments. Last week, San Francisco, one of the technology capitals of the world, has voted to ban the police and city agencies from using facial recognition technologies against their people. The groundbreaking vote aims to become a model in other city and states as San Francisco recognizes the harms that an unregulated technology can have over people's privacy.
The science and tech community has not failed to become wary over facial recognition technology and has urged companies to stop selling their versions of the technology to law enforcement agencies. Recently, a study from the Georgetown Law School has revealed that police have been feeding images of celebrities and composite and computer-generated suspect sketches to the facial recognition system to generate possible matches.
While using the technology on animals does not necessarily have direct harms, many experts have argued that governments can use the camera set up for animal facial recognition systems against humans and could be exploited. Nevertheless, the possible use of facial recognition by conservators might be the hope of the giant panda population.
It's official; the kilogram as we know it is no longer the same. As of today, the 130-year definition of the unit of measurement "kilogram" has already been retired and has been redefined to follow a more constant and precise definition.
The change was voted upon in the General Conference on Weights and Measures in Versailles last year, and the organization is implementing the more accurate definition of a "kilogram" today, May 20, 2019 – the World Metrology Day.
Metrologists – the scientists who study measurement systems – argue that the existing definition of a kilogram is no longer accurate and they need a new standard to follow because the precision of measurements is essential in almost all industries.
Of the seven base units of the International System of Units (SI), four are not currently based on the constants of physics: the ampere (current), Kelvin (temperature), mole (amount of substance) and kilogram (mass).
"The idea," explained Emeritus Director of the International Bureau of Weights and Measures (BIPM) Terry Quinn to ScienceAlert, "is that by having all the units based on the constants of physics, they are by definition stable and unaltering in the future, and universally accessible everywhere."
For example, a meter is determined by the distance light travels in a vacuum in 1/299792458 of a second. A second is determined by the time it takes for a cesium atom to oscillate 9,192,631,770 times.
Interestingly, before the new updated definition, a kilogram is defined by a … kilogram. It's a kilogram weight called the International Prototype of the Kilogram (IPK), made in 1889 from 90 percent platinum and 10 percent iridium, and kept in a special vault in the BIPM headquarters.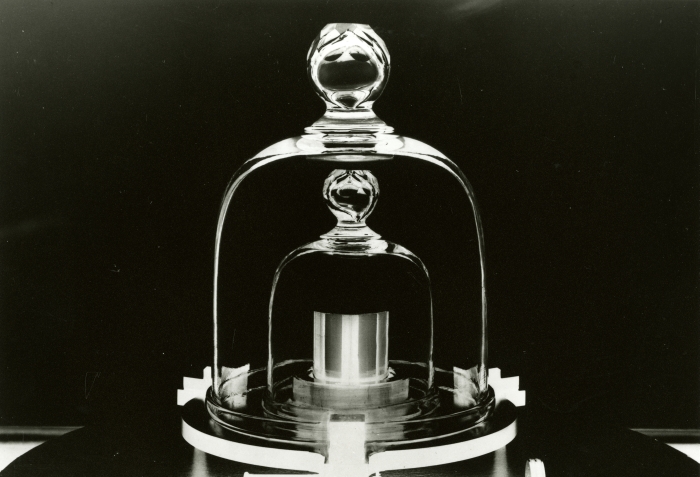 This physical definition of an abstract concept is something that metrologists argue to be continually changing and fails to become accurate as time goes by. The kilogram is the only the SI unit that remains to be defined by a physical object.
Replicas of the kilogram prototypes are used in different parts of the world to serve as national standards. Now and then, these replicas are sent to France to be compared against the actual kilogram prototype.
As expected, these replicas yielded considerable inaccuracies and variance from the SI kilogram prototype. It has been observed to be drifting away from that of the IPK locked away in the vault. It's unclear whether the copies were losing mass or the IPK was gaining mass, but neither scenario is ideal for scientific precision, even if we're dealing with mere micrograms.
The new definition of a kilogram is now based on Planck Constant, the ratio of energy to frequency of a photon, measured to its most precise value yet only last year.
"It is only now that we can define the kilogram in terms of a constant of physics – the Planck constant, the speed of light and the resonant frequency of the cesium atom," Quinn explained.
"Why all three? This is because the units of the Planck constant are kgm2s-1, so we need first to have defined the meter (in terms of the speed of light) and the second (in terms of the cesium atom in the atomic clock)."
So under the new definition, the magnitude of a kilogram would be "set by fixing the numerical value of the Planck constant to be equal to exactly 6.626 069… × 10–34 when it is expressed in the SI unit s–1 m2 kg, which is equal to J s."
While the changes would not make any perceivable difference if someone buys a kilo of meat from the supermarket, the difference is an essential factor for scientists to consider in their studies moving forward. Because, as noted, base unit standards can rely on other base units. The candela, the ampere, and the mole will be redefined to greater accuracy based on the kilogram. And, as for scientists,
"[The new definition] will considerably improve the understanding and elegance of teaching about units," Quinn said. "It will open up the way to unlimited improvements in the accuracy of measurements; it will improve the accuracy greatly and extend the possibilities of making accurate measurements at very small and very large quantities."
Quinn also noted that, while it may look complicated, the new system can be easily understood by anyone. He built a simple balance out of Lego in his basement that can measure directly against the Planck constant, within 5 percent.