How Neon Signs are Made: A Look at Neon Signs
Neon is a chemical element which is a very common element in the universe, but is rare on Earth. It's a colorless, inert noble gas that gives a distinct reddish-orange glow when used in either low-voltage neon glow lamps, in high-voltage discharge tubes or in neon advertising signs.
Inert gases tend to keep their molecular structure; however, with neon and other inert gases, they remain inert only in chemical reactions – but not in the glass tubes with electrodes like inside neon signs. This is because the electrodes in neon signs discharge voltage through the gas in the discharge tube. The voltage that goes through the gas will speed up any free electrons, which in turn builds the kinetic energy up inside the tube. When the kinetic energy is high enough, the neon atom becomes ionized.
During ionization, an electron either moves up the next electron orbit, or down to the next electron orbit. What ionization is doing is giving an inert gas a negative or positive charge. This creates a plasma that carries the electrical impulse from one end of the tube to the opposite end. This completes the electrical circuit..
So, where exactly does that glowing light come from? When the circuit is completed, the electrons that were "excited" fall back to their regular energy level, causing a photon to be emitted which creates that pretty glow. A photon is a light particle/wave and as long as the photon is within our visible light spectrum we are able to view it.
Neon signs come in multitudes of colors; however, neon doesn't change color. So, how does this happen? What some people don't know is that not all neon signs actually use inert gas. Some use Argon, Helium, and Xenon. When neon is heated properly with the description given above, it glows an orange-red color.
Say you wanted your sign to be a light blue color, use Mercury instead of Neon. Mix Argon and phosphor to get a bold yellow glow as argon is a frequently used element to give a very bold glow. White signs are made using Carbon dioxide and are generally mixed with other elements. Helium produces a bold gold glow and all of these elements and gases can be mixed to produce as many as 150 colors.
Whether you're using your neon sign to tell people your business is open, your business name, or any other fun signs- they'll be sure to grab your eye. Neon signs are very versatile and will definitely catch the attention of passersby.
How Neon Signs are Made
While facial recognition technology is widely frowned upon when used against humans, it could be an ally for conservators of giant pandas in China.
A group of researchers from the China Conservation and Research Centre for Giant Pandas have developed an app that could recognize individual pandas using facial recognition technology. The app will draw from more than 120,000 images and video clips of giant pandas to identify the animals that are living in the wild.
According to a census conducted last 2004 by the Chinese government, there are approximately 1,864 pandas live in the wild. That's a 16.8% increase since the last survey released in 2003. The country has taken a proactive role in conservation efforts, announcing last year that it would build a 10,476-square-mile panda reserve called the Giant Panda National Park at the cost of at least 10 billion yuan ($1.45 billion).
"The latest rise in the estimate is particularly encouraging, as the 2004 increase was in large part down to researchers using better techniques and surveying a wider area. The new figures show that the hard work of the Chinese government, local communities, nature reserve staff, and WWF is paying off," wrote WWF.
Camera traps in China have captured images and video footage of giant pandas that are often difficult to see in the wild. The photographs and video are some of the most amazing photos ever of pandas and other species in their remote habitat, which were caught on film as part of long-term wildlife monitoring projects set up in panda nature reserves by the Chinese government and WWF.
"These photos offer a fascinating glimpse into the lives of giant pandas, as well as other animals, which are difficult to see in the wild," says Dr. Sybille Klenzendorf, managing director of WWF's species program. "They demonstrate that by saving the iconic giant panda, we secure a vibrant future for other incredible wildlife, wild places, and people – it's the best kind of win-win proposition."
The development of the new facial recognition app will presumably help conservationist monitor their programs by keeping track of how many pandas are left. It will also provide significant insight regarding the breeding program that conservationist has been implementing to encourage an increase in the panda population.
"he app and database will help us gather more precise and well-rounded data on the population, distribution, ages, gender ratio, birth and deaths of wild pandas, who live in deep mountains and are hard to track," Chen Peng, a researcher at the China Conservation and Research Center for Giant Pandas, said.
This is not the first time that facial recognition technology has been used against animals. According to several reports, facial technology has been used in Italy as part of an app that can match photos of lost pets from those that are in shelters and to determine a cat apart from other feline species.
Nonetheless, the use of facial technology in China is a complicated issue. Many nations have been vocal in their accusations that the Chinese government and Xi Jinping is using the technology against people's consent for the government to spy on its citizens.
Meanwhile, facial recognition technology is also something frowned upon in Western governments. Last week, San Francisco, one of the technology capitals of the world, has voted to ban the police and city agencies from using facial recognition technologies against their people. The groundbreaking vote aims to become a model in other city and states as San Francisco recognizes the harms that an unregulated technology can have over people's privacy.
The science and tech community has not failed to become wary over facial recognition technology and has urged companies to stop selling their versions of the technology to law enforcement agencies. Recently, a study from the Georgetown Law School has revealed that police have been feeding images of celebrities and composite and computer-generated suspect sketches to the facial recognition system to generate possible matches.
While using the technology on animals does not necessarily have direct harms, many experts have argued that governments can use the camera set up for animal facial recognition systems against humans and could be exploited. Nevertheless, the possible use of facial recognition by conservators might be the hope of the giant panda population.
It's official; the kilogram as we know it is no longer the same. As of today, the 130-year definition of the unit of measurement "kilogram" has already been retired and has been redefined to follow a more constant and precise definition.
The change was voted upon in the General Conference on Weights and Measures in Versailles last year, and the organization is implementing the more accurate definition of a "kilogram" today, May 20, 2019 – the World Metrology Day.
Metrologists – the scientists who study measurement systems – argue that the existing definition of a kilogram is no longer accurate and they need a new standard to follow because the precision of measurements is essential in almost all industries.
Of the seven base units of the International System of Units (SI), four are not currently based on the constants of physics: the ampere (current), Kelvin (temperature), mole (amount of substance) and kilogram (mass).
"The idea," explained Emeritus Director of the International Bureau of Weights and Measures (BIPM) Terry Quinn to ScienceAlert, "is that by having all the units based on the constants of physics, they are by definition stable and unaltering in the future, and universally accessible everywhere."
For example, a meter is determined by the distance light travels in a vacuum in 1/299792458 of a second. A second is determined by the time it takes for a cesium atom to oscillate 9,192,631,770 times.
Interestingly, before the new updated definition, a kilogram is defined by a … kilogram. It's a kilogram weight called the International Prototype of the Kilogram (IPK), made in 1889 from 90 percent platinum and 10 percent iridium, and kept in a special vault in the BIPM headquarters.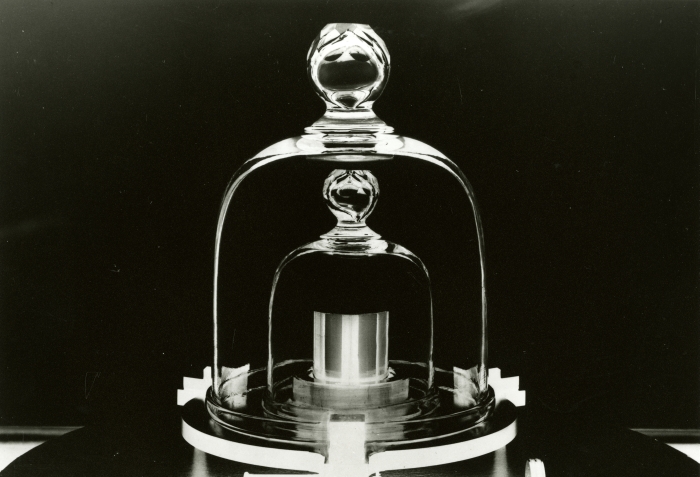 This physical definition of an abstract concept is something that metrologists argue to be continually changing and fails to become accurate as time goes by. The kilogram is the only the SI unit that remains to be defined by a physical object.
Replicas of the kilogram prototypes are used in different parts of the world to serve as national standards. Now and then, these replicas are sent to France to be compared against the actual kilogram prototype.
As expected, these replicas yielded considerable inaccuracies and variance from the SI kilogram prototype. It has been observed to be drifting away from that of the IPK locked away in the vault. It's unclear whether the copies were losing mass or the IPK was gaining mass, but neither scenario is ideal for scientific precision, even if we're dealing with mere micrograms.
The new definition of a kilogram is now based on Planck Constant, the ratio of energy to frequency of a photon, measured to its most precise value yet only last year.
"It is only now that we can define the kilogram in terms of a constant of physics – the Planck constant, the speed of light and the resonant frequency of the cesium atom," Quinn explained.
"Why all three? This is because the units of the Planck constant are kgm2s-1, so we need first to have defined the meter (in terms of the speed of light) and the second (in terms of the cesium atom in the atomic clock)."
So under the new definition, the magnitude of a kilogram would be "set by fixing the numerical value of the Planck constant to be equal to exactly 6.626 069… × 10–34 when it is expressed in the SI unit s–1 m2 kg, which is equal to J s."
While the changes would not make any perceivable difference if someone buys a kilo of meat from the supermarket, the difference is an essential factor for scientists to consider in their studies moving forward. Because, as noted, base unit standards can rely on other base units. The candela, the ampere, and the mole will be redefined to greater accuracy based on the kilogram. And, as for scientists,
"[The new definition] will considerably improve the understanding and elegance of teaching about units," Quinn said. "It will open up the way to unlimited improvements in the accuracy of measurements; it will improve the accuracy greatly and extend the possibilities of making accurate measurements at very small and very large quantities."
Quinn also noted that, while it may look complicated, the new system can be easily understood by anyone. He built a simple balance out of Lego in his basement that can measure directly against the Planck constant, within 5 percent.
Four Women Makes Revolutionary Breast Cancer Diagnostic Tool
Breast cancer is a global problem that takes people's lives as swiftly as they come. More particularly, the disease attacks women the most. In 2018, the disease killed over 500,000 women from over 2 million diagnosed cases.
The key idea with these kinds of ailments will always fall under the lines of "prevention is always better than cure." However, despite major advances in technology that allows us to detect such diseases like in genetics and modern imaging throughout the years, the disease still comes as a surprise and for some, it comes too late.
Unfortunately, a late diagnosis would require more aggressive treatment that's usually weighed by more medical expenses, all the while dangling on the hope for uncertain outcomes.
Breast cancer is known as the disease of the developed countries where the United States ranks 22nd after countries like Belgium, France, the United Kingdom, and Australia–all from the top 10. However, people from developed countries aren't the most vulnerable to the disease.
Specifically, countries in less developed countries have a higher chance of death. In 2018, the WHO noted that 50% of the declared cases come from developing countries and 58% of which died from the disease. In other words, receiving news about breast cancer in poorer countries could easily be a death sentence.
Breast cancer survival rates range from 80% or over in North America, Sweden, and Japan to around 60% in middle-income countries, and below 40% in low-income countries, the WHO states.
Moreover, the WHO said that "the low survival rates in less developed countries can be explained mainly by the lack of early detection programs, resulting in a high proportion of women presenting with late-stage disease, as well as by the lack of adequate diagnosis and treatment facilities."
This is what motivated four women from John Hopkins University to find a solution that could potentially mitigate the mortality rate in developing countries due to breast cancer, as TechCrunch reports. Namely by the biomedical engineering undergrads Laura Hinson, Madeline Lee, Sophia Triantis, and Valerie Zawicki.
They identified that women from developing countries experience trouble with treating late-stage breast cancer because a check-up is more of leisure rather than a necessity. With that in mind, cutting costs on detecting medical paraphernalia could dramatically change the outcome for these women.
What these women did was create a new device based on the idea of a core-needled biopsy tool. The tool has a lower risk of contamination than the reusable devices that are currently on the market. Moreover, being reusable, it poises itself from a cheaper vantage point compared to the disposable needles that are the only available alternative as of the moment.
"We've designed a novel, disposable portion that attaches to the reusable device and the disposable portion has an ability to trap contaminants that would come back through the needle into the device," says co-founder, Triantis. "What we've created is a way to trap that and have that full portion be disposable and making the device as easy to clean as possible… with a bleach wipe."
The new, low-cost, disposable core needle biopsy tool can beneficially impact physicians and nurses, through reducing costs and waste, and would decide on having more screening technologies on-hand.
Though, poised as a revolutionary device in breast cancer technology, it would still need to go under medical trials and won't be available in the market until a couple of years. "Once we get that process solidified and finalize our design we will wrap up our benchtop testing so we can move toward clinical trials by next summer, in 2020," Zawicki says.
The four women are currently on the process of filing patent rights and developing the final design of the product under the startup they're calling Ithemba, which means "hope" in Swahili.
At the same time, they are on the process of doing benchtop tests on the device and will look to file a 510K to be certified as a Class 2 medical device.
Zawicki says that it could be anywhere from three to five years before the device makes it on to the market, but there's the potential for partnerships with big companies in the biopsy space that could accelerate that time to market.