48,000 Participate in Susan G. Koman Race June 23rd, 2012 in St. Louis, MO
There are many different benefit cancer events that take place around not only the nation, but the whole world every year. However there may not be any bigger than the Susan G. Komen race for the cure in St. Louis which just happens to be my home town. The Susan G. Komen race for the cure is an annual event that takes place in St. Louis that helps build awareness of breast cancer, while also raising money to find a cure for the cancer as well. What also makes this event special is that it celebrates those that have battled cancer and survived and also honors the ones that lost the battle. The now nationally known 5k race started back in 1999 with 25 registered teams along with 10,000 participants which is the least amount the event has ever had, showing you how big of an event this actually is. The amount of register survivors at the event was a little over 500 people since then the number is well into the thousands, growing bigger each year.
In just four short years the event saw two of its biggest jumps from 2000-2002. In 2000 the race for the cure already had 7,000 more participants than it did the previous year as it brought in over 17,000 people to the streets of St. Louis with 100 plus teams scattered throughout the crowd. The following year the number amazingly increased by 14,000 people as the 2001 race for the cure had in the mid 31,000 participants, 200 plus teams, and for the first time it broke the 1,000 mark for cancer survivors. Popularity of the event seems to catch the nation's attention rapidly as in 2002 the event had yet another 14,000 participant spike. The 2002 race for the cure had close to 46,000 participants, with over 2,000 cancer survivors according to Komenst.louis.
The number of participants increased by 2-3,000 people almost every year, along with the number of teams, cancer survivors, and money rose increasing yearly as well. 2010 was by far the biggest year for the race for the cure as it registered some of their greatest numbers in its history with close to 72,000 participants with survivors at the mid-4,000 range, and over 1,000 teams.
This year the numbers are down a bit but still look to be another outstanding race for the cure. Starting Saturday June 23 the streets of downtown St. Louis will be packed with over 48,000 participants and around 800 different teams. With such a big event the local as well as national sponsors are a big boost to adding onto a successful race for the cure, this year the race will feature 75 sponsors, will numerous amounts of free giveaways.
I have been going to this event since 2007 and I can tell you from firsthand experience that there is nothing that can come close to comparison when you're at the race for the cure in downtown St. Louis. When you're down there it is literally a sea of pink and the energy is lively will thousands of smiley faces, it is truly one of the greatest feelings.
STL TV LIVE — Race for the Cure – 2 of 2 – 2012-06-12
This Designer Came Up With A Stylish Facial Recognition Shield
The problem is: it's not for sale.
In May, a man is walking along the streets of London with his green jacket when he noticed a van that he thought to be a police surveillance vehicle. While he walked passed the car, he covered his face with his hoodie in fear that there might be some sort of facial recognition system around. Much to his surprise, he was stopped by the UK police and fined him more than a hundred pounds for "disorderly behavior."
Facial recognition systems are everywhere. It is in your car to automatically unlock it without a key. It is in your smartphones and smart homes. It is even in airports to help you board your flights without hassle. The reality with facial recognition is that it becomes a staple technology in many aspects of human life that it becomes almost impossible to get away from.
Thankfully, Ewa Nowak, a graduate from the design department at the Academy of Fine Arts in Warsaw thought of an ingenious and very stylish way to shield your face from the gawking eyes of facial recognition cameras. He has created a jewelry design that can trick facial recognition systems and hide key facial features to prevent them from identifying someone.
"I was just amazed how they could identify our gender, age, and mood," Nowak explains her curiosity towards securing oneself from unauthorized and unconsented facial recognition. "But also how the development is constantly leveling up. I was surprised about how even if we have our face partially covered, how [face recognition] can still follow us and distinguish us."
Nowak is currently co-founding a design and arts venture called NOMA together with another artist Jarosław Markowitz.
According to Nowak, she was inspired by the release of light-up glasses that was developed by Japan's National Institute of Informatics to fight facial recognition systems. Because of her creativity, she developed a device, or more like face jewelry. Her design included two brass circles that hang down from the cheekbones and an additional long piece of brass that stretches up to the forehead. A long wire can be used to attach the entire piece into your head, similar to how glasses work.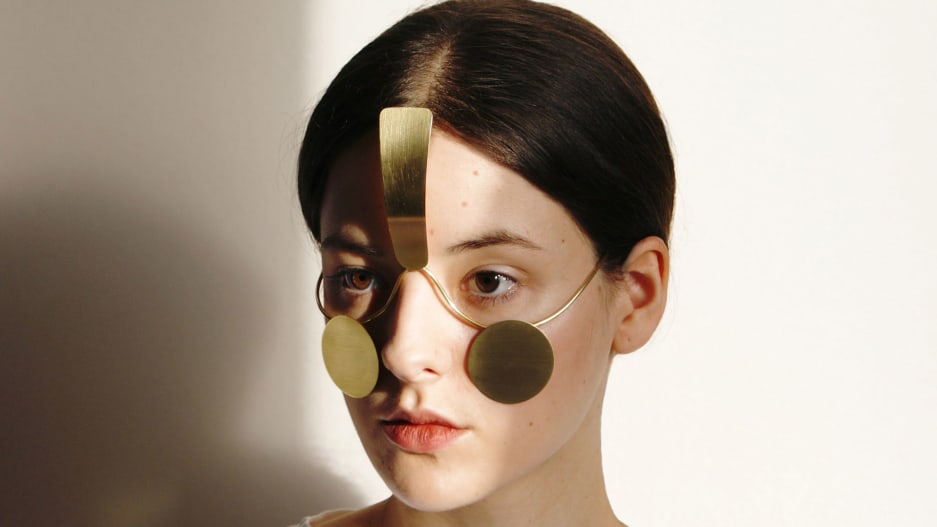 Nowak has previously worked with other designs too, but this specific jewelry design is the first that worked and has actually prevented a facial recognition system from recognizing her facial features.
Mazda Design Award granted her the trophy at the recently concluded Łódź Design Festival for her ingenious way of preventing facial recognition from identifying someone.
"I worked on the [face jewelry] for two or three months, and then it waited," Nowak says. "The reason I showed in Łódź is that there was a competition. I entered, and the project won. It's the easiest way to get displayed. There are so many projects stuck at the university level. When we were studying, a lot of people asked how to show their work to people and share ideas. Education and business are disconnected from art."
There is one big problem, though. Because Nowak considers the design more as a conceptual work of art rather than a product, the Polish artist said that she has no plans of mass-producing it; especially that the product has to be molded to someone's face and to be perfectly fitted in order to work.
While it is unfortunate that Nowak's design is not much of a help to people; apparently, it opens a wide door for designers and technology experts to develop their own version of a facial recognition shield.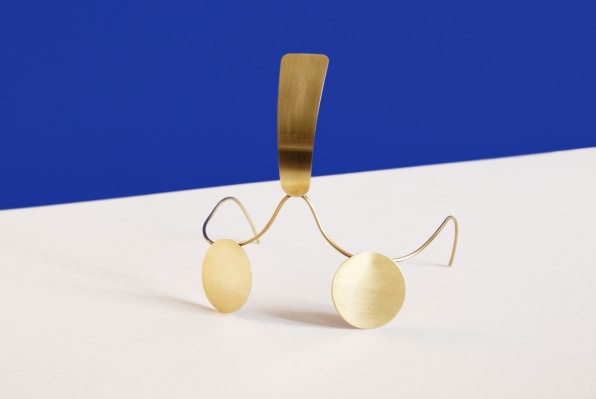 Her design can also serve as baseline design for innovations in the area of facial recognition shielding and could inspire younger people to develop their own.
With the growing popularity of facial recognition, a market for it it is very much open, and that serves as a strong incentive for businesses and intellectuals alike to produce something that could help people protect themselves from the privacy-violating facial recognition.
The unregulated technology that is facial recognition has continued to steer public dialogue on the protection of people's privacy. Human rights advocate that the growing prevalence of the systems makes legislation and regulation lag from their intended purposes. They hope that with innovators like Nowak, the world will see a balance in the benefits of facial recognition and people's privacy.
The Newest Sea Creatures-Inspired Tea Bags Strengthen Japanese Tea Tradition
In Japanese culture, tea is more than just a drink. The tea ceremony, also known as "Way of Tea," has been an essential part of Japan's culture for centuries. This high-valued celebration is matched with a performance that mirrors grace and beauty, accompanied by a ritual activity that strengthens the familial relationship.
For centuries, the country relies on its tea business — not just to adhere to its venerable tradition — but because drinking tea has been a part of Japanese daily routine. As companies continue to venture in tea business, creative approaches on how to spice up one's tea packaging are also booming. One great example is the recent innovation of the Japanese company known as "Ocean Teabag" — which takes the challenge of creating a different and unique approach to tea bags.
For tea lovers, the new design becomes a "breath of fresh air" since traditional tea bags have not changed for many years. The company decides to team up with an oddity shop and a local bookstore called "Village Vanguard" to produce the new animal-themed teabags that can alter people's mood by just looking at the cute design.
Ocean Teabag was created by Takahashi Shota, who launched the first-ever product with a dolphin design in 2015. It became the talk of the town, which transpired Shota to create another set of animals to the product line. The business gained orders from outside the country — making Ocean Tea Bag be the first and only company to introduce unique designs to teabags.
The custom of drinking tea, mainly for medicinal purposes, can now be associated with pleasurable reasons. From drinking the most boring bland tea comes to the new sea creature-inspired teabags. The design elevates the daily tea ritual into a zoological adventure; ranging from giant squids, otters, to red Pandas and cephalopods. Layers, folds, and perforations create the details of each creature's body, while the outside packaging mirrors with that of the inside. So, customers will know through the wrapping what animals to choose for their tea sessions.
The tea bags can be bought online or through personal transactions at a sum of 1,820 yen or $16. These tea bags once dipped, add life to your daily tea routines, simply because of the delicate folds, which look like an animal is swimming in your tea.
Tea was initially valued as medicine because of its health benefits and was only available to rich people like the noblemen and emperors. The first documented evidence of tea session in Japan dates back to the 9th century when it was brought by the Buddhist monks after studying the tea culture in China.
The monks personally served "Sencha," an unground Japanese green tea, to the famous Emperor Saga. Japanese nobles, later on, practice it, and through an imperial order in the year 816. And since then, tea plantations had become widespread in different regions of Japan.
Until today, tea becomes a daily beverage of both the affluent class and the ordinary people. It has become a symbol of a growing relationship among Japanese and their families, even nobles and commoners.
Aside from drinking tea as a way to bond and relax, one reason for the emerging tea businesses is the proven benefits of tea in our bodies. According to a study conducted by a group of researchers from Ohio State University in Colombus, tea, mainly green tea, has shown to help fight obesity and inflammation. The findings indicated that the said tea encourages the growth of good gut bacteria which lowers the risk of obesity.
However, today, Japan faces one of the pressing issues with regards to its tea farming. The Japanese Ministry of Agriculture and Forestry in 2016 indicated that the area used for tea farming declined from 46200 hectares to 43100.
Although Japan is the eight largest tea producer in the world, tea farming itself, unfortunately, decreased in the past years. One reason is the continued support of local government to private companies which build establishment and other infrastructures in areas where tea farming is mostly found.
With this, the country relies mostly on tea imports from other countries, including China. Ocean Tea Bag supports local tea producers and hopes that its newest sea creature-inspired tea bags will continue the country's tea tradition and strengthen the bond between Japan and its people.
How London's 360-Degree Infinity Pool Is Becoming A Reality
An infinity pool with a 360-degree view of the London skyline on top of a 55-story building.
London is eyeing for an all-new attraction in their tourist-packed city. It's not another bridge or another historic building though — it's an infinity pool with a 360-degree view of the London skyline on top of a 55-story building.
When Compass Pools first released the concept photos of the world's first 360-degree infinity pool, people on social media went haywire with satirical comments about its construction and purpose.
Compass Pools, a United Kingdom-based pool maker company, is taking charge of the entire construction, including the proposed 5-star hotel which the pool will be standing. The hotel (that they're going to name Infinity London) is presumed to be located at Central London.
However, as both exciting and intriguing as the project may sound, people still can't wrap their heads around the idea of a hotel whose roof is entirely comprised of a pool. The thought of getting in and out of the pool is baffling since there are no visible stairs or ladders of any sort.
David W. Mack, an American comic book artist, and writer, known for his creator-owned series Kabuki and for co-creating with Joe Quesada the deaf Marvel Comics superhero Echo, said on Twitter that he "still [has] no idea how you're expected to get into this thing," even after reading the article several times and studying the photos for 5 minutes.
Beth Mccoll, a London-based freelance writer, advice columnist, and author, humorously told that London Infinity's 360-degree infinity pool is a byproduct of "someone who played a lot of Sims."
In actuality, the infinity pool will have an entrance and an exit, just not in the usual places where you'll find one on any other regular swimming pool.
Described as a death-defying swimming pool, Infinity London's pool will be accessed through a submarine-like chamber. The door spirals upward and downward to enable the entrance to rise and hide above the pool's surface to allow guests to go in and out of the area.
It sounds way too technical for a pool entrance, but the pool designers were adept at making the pool a full experience with zero uncluttered side profile. "Normally a simple ladder would suffice, but we didn't want stairs on the outside of the building or in the pool as it would spoil the view – and obviously you don't want 600,000 liters of water draining through the building either," the company says.
Moreover, Compass Pool's swimming pool designer and technical director Alex Kemsley said, "architects often come to us to design [rooftop] infinity pools, but rarely do we get a say in the building design because the pool is usually an afterthought."
"But on this project, we actually started with the pool design and essentially said, 'how do we put a building underneath this?'
"When we designed the pool, we wanted an uninterrupted view, both above and below the water."
Moreover, the proposed infinity pool — which will house over 600, 000 liters of water — will be made with cast acrylic sides instead of glass. According to Compass Pools, using cast acrylic will reflect light similar to that of water to give the illusion of a completely clear pool. It will look as if there's nothing holding all of that water in place.
Other than the side, it will also be feature a transparent floor, "allowing the visitors to see the swimmers and the sky above them." Additionally, the designers plan to construct the marvel as a "sparkling jewel-topped torch at night" with the help of a spectrum of lights.
Finally, the pool also boasts its innovations on renewable energy. The water will be heated using waste energy from the building's air conditioning system.
The pool will also be fitted with a built-in anemometer to monitor wind speed and will be linked to a computer-controlled building management system that will regulate the pool's temperature and ensure the water doesn't spill onto the streets below.
One thing's for sure, this pool is very technical, and Compass Pools have covered all the necessary checkpoints to enable the construction of London's next tourist attraction.
Construction of the pool could begin in 2020 if partners and contractors are confirmed.